THE BIG APPLE CIRCUS RETURNS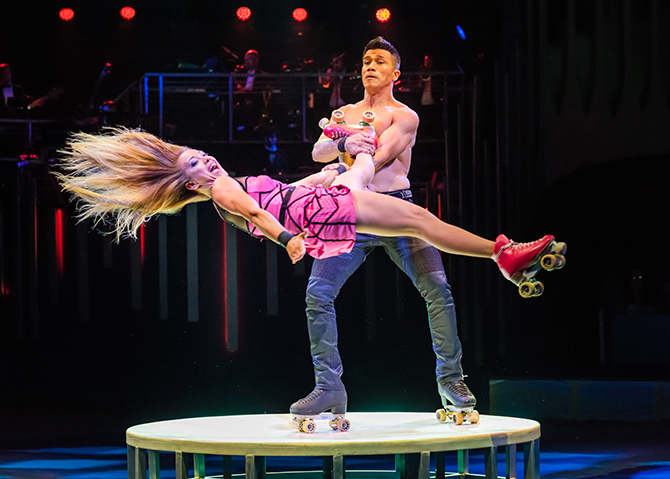 By Ellis Nassour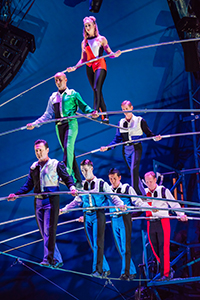 The Fabulous Wallendas - Seven Person Pyramid
After a one year hiatus, New York's home-grown Big Apple Circus has made a triumphant return, premiering its 40th Anniversary season at its longtime home under the big top in Lincoln Center's Damrosch Park, with performances through January 7th. Rescued by Big Top Works, this New York original and intimate one-ring "circus with a heart" is back bigger, better, and newer than ever.
This edition captures the family fun, excitement, and thrills you expect with bumbling clowns, daredevils, acrobats, jugglers, contortionists, majestic horses, playful pups, and rousing music from a live band. There's traditional sawdust, cotton candy, popcorn, and hot dogs slathered with mustard and relish to take you back to the nostalgic era when tented shows crisscrossed the country filling children of all ages with wonder and joy – and, no doubt, pounding heartbeats watching those daring performers on the trapeze and high wire.
"This is a dream come true," says Dr. Neil Kahanovitz, a now-retired spine surgeon, theatrical producer, and former circus performer. "The Big Apple Circus was a New York City cultural gem, and we couldn't let this beloved American pastime just disappear. We wanted the big top to rise again. Our goal," he continues, "has been to push the envelope, to go gently into new territory, but keep circus tradition relevant for modern-day audiences."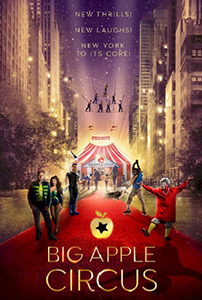 BIGGER & BETTER
Though there have been changes—including a multi-million dollar upgrade in technical aspects and infrastructure, one thing hasn't changed. "We wanted to keep the intimacy that a European-style, one-ring show offers," says Dr. Kahanovitz. Under the climate-controlled big top, no seat is more than 50 feet from the ring.
Ready, set go for lump-in-your-throat edge-of-your-seats thrills? For the first time in circus history under the same big top, two acts of audacious, death-defying acrobats go for the gold with edge-of-the-seat daredevil thrills. First, the Flying Tunizianis—with trapeze wiz Ammed Tuniziani—doing what was once thought unattainable, the quad somersault. And then the Flying Wallendas, probably the most daring family troupe in the circus world, on the high wire with a jaw-dropping seven-person pyramid. The latter act traces its roots back seven generations to the 1780s and the Austro-Hungarian empire. Headliner Nik Wallenda, who first set foot on the high wire at age two, holds ten world records.
In addition to thrills, ringmaster Ty McFarlan, Ringling Bros. ringmaster emeritus, presides over the high spirits and hijinks of Grandma, a 2016 inductee into the International Circus Hall of Fame, and his sidekick Mr. Joel. Also look for the talented barking brigade of rambunctious rescue dogs and 16 magnificent steeds trained by Vidbel, Italian skate acrobats Dandlino and Luciania, and the U.S.'s young Jan Damm making his BAC debut this season doing "rola-bola" balancing feats.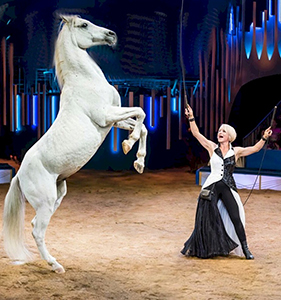 THREE RING ADVENTURES
It's not surprising to discover that Dr. Kahanovitz, former president of the North American Spine Society, has a love of circus. "I grew up in a blue-collar family and was the first to attend college. But I kept hearing the siren call of the circus. I arranged a leave of absence from the University of Maryland Medical School and ran away with the circus."
For five years, he lived the nomadic life, traveling with bus-and-truck companies. After starting in concessions, he graduated to clowning and, self-taught by watching, segued to trampoline and trapeze acts. On his retirement from medical practice, he says "I wanted to do something different and challenging, so I ran away with the circus again." This time "it took a village," states Dr. Kahanovitz. Compass Partners, a Sarasota-based investment firm led by managing partner Richard Perlman, formed Big Top Works and "our investors built a sustainable business plan to not only bring back but also revitalize the Big Apple Circus to restore it to its proper place in New York culture." The team includes industry veteran Larry Solheim, BAC former vice president and general manager.
The Big Apple Circus is directed by Mark Lonergan, artistic director of New York's award-winning theater company Parallel Exit, with choreography and associate direction by Antoinette DiPietropolo. Rob Slowick returns to music to direct his big little band. Broadway's Rob Bissinger is the scenic designer, and the dazzling costumes are by Amy Clark. For more Big Apple Circus information on schedules, community outreach programs and special family events, visit bigapplecircus.com or purchase tickets at the Damrosch Park box office.
---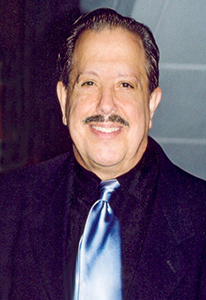 Ellis Nassour writes on the entertainment business. He's a veteran of The New York Times, New York Daily News, and Playbill; the author of the definitive biography Honky Tonk Angel: The Intimate Story of Patsy Cline and the hit revue Always,  Patsy Cline.