ON STAGE
By Lori Zelenko
FARINELLI AND THE KING
Treat yourself to the gift of music this holiday season and head to Broadway's Farinelli and The King for a bounty of beautiful melodies wrapped in a fantastic story. We recently met with playwright Claire van Kampen who revealed more about this exhilarating experience. Let the season ring!
Imagine if your world was dark, pitch black, and music became the light. Such is the vision of Farinelli and The King; the West End hit coming to Broadway in time for Christmas Revels. The tale of a mad king and the music that saved him is a "treasure trove" as playwright Claire van Kampen calls this true saga staged as a transformative theatrical experience. The characters were unearthed as she was researching the ancestors of the inhabitants of her favorite getaway spot "a tiny little Caribbean Island." She won't name for fear it would be overrun by tourists or worse paparazzi in pursuit of her husband, Academy Award Winner Mark Rylance (Best Actor Oscar for Bridge of Spies in 2015 and acclaimed recently for his role in Christopher Nolan's Dunkirk). He stars as the music-besotted King in this straight from sold-out shows in London production by Shakespeare's Globe.
Farinelli and The King arrives on Broadway on December 5th for a 16-week limited engagement (through March 25, 2018) at The Belasco Theatre (111 West 44th Street). Making her Broadway debut as a playwright, van Kampen has been lauded throughout her career as a composer and musician; she was head of music at Shakespeare's Globe during the tenure of her husband, actor Mark Rylance, as artistic director. In addition, she was the Globe's Founding Director of Theatre Music, creating both period and contemporary music for more than 35 of the Globe's productions. She has continued to be the Globe Associate for Early Modern Theatre Music since 2007, creating music for nine productions directed by the Globe's now former artistic director, Dominic Dromgoole, who helped her find the nugget in her sprawling Caribbean opus that was whittled down to become Farinelli and the King. Her original scores for Matthew Warchus's Tony Award Winning Broadway productions of True West (2000), and Boeing-Boeing (2008) are simply high notes in her phenomenal body of work spanning theatre, film, and television.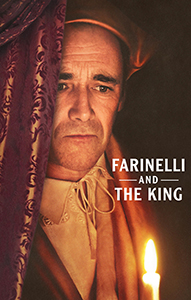 THE JOURNEY BEGINS
Farinelli and The King evolved as van Kampen set out to chronicle the lives of the slaves who worked on one Caribbean Island's sugar cane fields; the ancestors of the families still living on her adored Island. In searching out their roots, she found herself captivated by the success of the sugar trade emanating from the Caribbean, the trading ships crossing the Atlantic to Spain began to take her along on a journey. And so, as she puts it, "by nefarious means," discovered the mystery of how two brilliant, beguiling but broken people came together to illuminate one another's lives.
Music unites these spellbound souls: King Phillippe V of Spain (he held the throne during the 18th century from 1700 to 1746) and Farinelli, the castrato (considered then to be "irresistible" and so magnetic). For 3,600 performances (the better part of a decade) Farinelli sang Handel arias to the troubled King enabling Phillipe to rule the country and through the power of music, escape the shackles of his mental illness. "Phillipe became a man-made functional" through Farinelli's music explains van Kampen. "The king is trapped in a place where he can't show his hand—he's someone who has a great sense of truth, but he can't be himself," van Kampen says. "And he meets someone who feels the same way—Farinelli, who was damaged at the age of 10 by being castrated, and has become a celebrity but feels like a fake celebrity because he was not born with that voice. They meet headlong."
Van Kampen's voice as an author rings true; her portrait of mental illness was inspired by someone dear, "a relative of mine who lived with us when I was growing up served as inspiration. If anything, the accounts of mania are watered down from what I remember living with. I wrote the play from my own knowledge and my own heart."
A DELIGHTFUL EXPERIENCE
She calls the play "a magical thing," and indeed it is. Magic envelops the audience from the sheer etherealness of the angelic castrato voice to the staging entirely by candlelight, conveying the flickering realities Philippe experienced. "When the audience comes in and sees the candlelight and hears the music, it's like nothing else. As a piece, it's not a classic, and it's by a playwright no one knows," she says. "But they've heard of Mark (Rylance), thank God! It's a helluva spectacle. And for Mark's performance, every time he does Broadway he does something different and presents a different side of himself. People know that, and that is what they are coming to see." After all, Rylance is a three-time Tony Award winner.
But it is not only the words that are "magical," the audience will experience the most splendid operatic arias, mostly by Handel. Farinelli is voiced by Iestyn Davies praised as having "one of the most glorious sounds to be heard on the opera stage today" by the Express (London) and described as "superb" by The New York Times. Iestyn Davies is a Grammy Award-winning and Olivier Award-nominated countertenor. Sam Crane, however, acts the part, playing Farinelli as he did in the London hit.
"For a layperson who might be suspicious of the play, perhaps they never go to the opera and don't know about baroque music, it will go straight to their hearts. You don't have to be clever to understand this play. I know the Broadway audience will be moved by it," van Kampen confides. This play unfolds as King Philippe V of Spain (Mark Rylance), plagued by insomnia (a manic symptom of his severe bipolar disorder), lies awake in his chamber. The Queen, Isabella Farnese played by Melody Grove (Much Ado About Nothing, The Strange Undoing of Prudencia Hart) is desperate for a cure, hears of Farinelli—a castrato with a voice so divine it has the power to captivate all who listen to it. Philippe is astonished when Farinelli sings and begs him to stay. But will Farinelli, one of the most fabulous celebrities of his time, be content with a life of solitude over fame and fortune in the opera houses of Europe? You'll have to see the play to end the suspense. Farinelli and The King.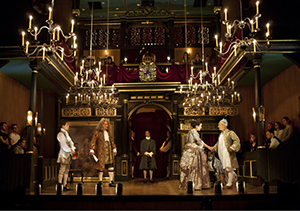 Farinelli and The King ©Simon Annand
ACCESSIBLE TO ALL
Like Broadway's Twelfth Night and Richard III, this contemporary work is presented in the signature style of Shakespeare's Globe. Not only do the actors perform by candlelight but traditional baroque instruments are played live in a gallery above the stage and to complete this remarkably intimate yet exhilarating experience the audience can sit onstage.
Over 200 seats at every performance of Farinelli and The King have been set aside to be sold for $32. These tickets include seating on all levels of the theatre, as well as a selection of seats on stage.
For more information on Farinelli and The King, visit farinelliandthekingbroadway.com.
---
Lori Simmons Zelenko grew up in NYC skipping school to go to an afternoon of theater so it's no wonder that she's dedicated to telling the stories of Broadway to the New York Lifestyles audience. With an eye towards pop culture, she seeks to bring a point of view that's fresh and fun. She is also a brand storyteller creating compelling marketing communications campaigns for start-ups and established brands.
Her website is lsz-communications.com.