30 YEARS OF PHANTOM OF THE OPERA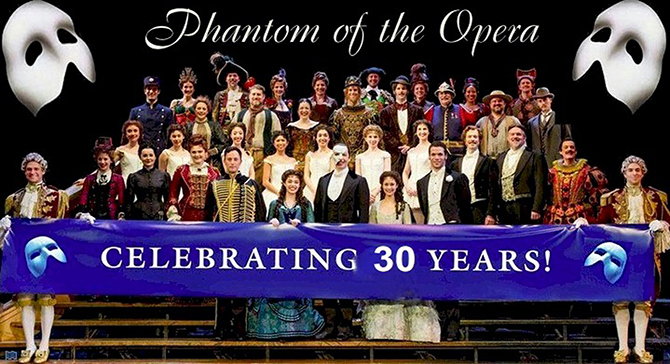 By Ellis Nassour
Sixteen years ago, Sir Andrew Lloyd Webber and Charles Hart's The Phantom of The Opera became the longest-running show in Broadway history, surpassing Webber's "now and forever" Cats' 7,485 performances. On January 26th, POTO continues its reign into a fourth decade, seemingly "now and forever." The Tony-winning Best Musical, with additional lyrics by Richard Stilgoe and his book with Webber, surpassed a whopping 12,500 performances before 18 million at the Majestic Theatre—where it opened in 1988 with a then-record advance of $18 million. Four years earlier, the show, based on Gaston Leroux's Le Fantôme de L'Opéra, premiered on London's West End, where it's still thriving.
The show has won more than 70 theater awards, including seven 1988 Tonys and three London Olivier Awards. Since 2010, thousands of high school and university productions have been licensed through R&H Theatricals.
BEHIND THE MASK
Though London advance sales and audience reaction during previews suggested an unstoppable hit, Webber states, "I wish I could say I had the best time of my life during those heady days. Phantom is the only show I've done that was entirely unchanged during previews. Our brilliant director Hal Prince was so certain we'd be a hit that he suggested we take a holiday and return for the opening.
"At openings," he continues, "even when you feel you have the public with you, you're at your most vulnerable. I couldn't bear to sit through the show." Cameron Mackintosh, co-producer, with Webber's Really Useful Company, found him and got him back for the curtain call. Amid the thunderous applause, Webber yearned to have loved ones around him. But (then) wife, Sarah Brightman, playing Christine, was basking in audience adulation with her Phantom, Michael Crawford. "While all were celebrating," Webber says, "I felt alone and frightened."
It didn't help when the first review, by the London Sunday Times critic read, "Masked balls." "Those were the only words uttered," Webber notes. "Most composers, let alone producers, would be suicidal to receive something like that from a major newspaper. It didn't faze Cameron one bit. He called while having a jolly good breakfast and said nothing any reviewer wrote could alter the fact that Phantom had chimed with audiences."
Webber, even after blockbuster hits Jesus Christ Superstar, Cats, and Evita was used to critical snipes. He points out POTO's reviews "were wildly polarized between those who really did or really wouldn't surrender to the music of the night." What was most upsetting was ruinous gossip that Brightman, an alumna of the West End Cats who'd been onstage since her teens, got the role because she was his wife.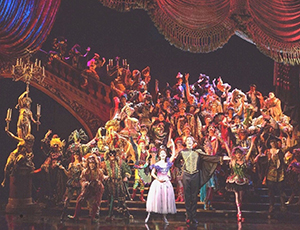 MUSIC OF THE NIGHT
"The fine line between success and failure is perilously small," Webber states. "I'm struck 30 years hence with the phenomenon Phantom has become. Much credit goes to the late Maria Björnson for her dazzling design and costumes. And would another choreographer have understood the period as well as former prima ballerina Dame Gillian Lynne (Cats)? Many said the chandelier moment could never work. It turns out to be the most theatrical moment I ever conceived—a moment that can only be achieved in live theater."
It's estimated 140 million people in 35 countries (15 languages) have surrendered to what many feel is Webber's best score. The two-disk original cast album spent five years on trade charts; a single-disc highlights recording spent over six years on Billboard's Pop Album chart.
Multi-Tony winning director Prince says he was instantly hooked on the idea that Leroux's classic was musical material. "The secret to the show's unparalleled success was the team of consummate professionals—producers, musicians, our super-prodigious choreographer and fabulous designer—who were always ready for anything. Andrew's idea to make the emotional center of the show a love triangle struck a chord with audiences. It's the crucial difference between our musical, the novel, and other versions of the story."
There've been 15 actors in the title role. Returning to the cast is Platinum-selling Swedish recording artist Peter Jöback (January 15th - March 31st). No stranger to the part, he donned the mask on the West End and Broadway. Co-starring are Ali Ewoldt as Christine Daaé (the first Asian-American actress to assume the role) and Kyle Barisich as Vicomte de Chagny Raoul.
For more information on the 30th Anniversary of The Phantom of the Opera, visit phantombroadway.com
---
Ellis Nassour writes on the entertainment business. He's a veteran of The New York Times, New York Daily News, and Playbill; the author of the definitive biography Honky Tonk Angel: The Intimate Story of Patsy Cline and the hit revue Always, Patsy Cline.