HOME FOR THE HOLIDAYS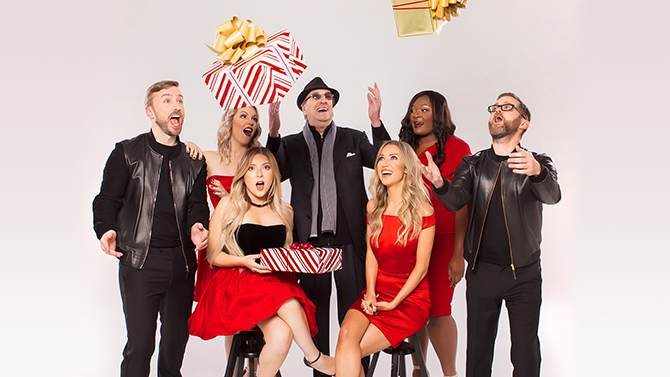 By Patricia Canole
This holiday season, three of the most famous voices of their generation, winners of American Idol, The Voice, and America's Got Talent come together to form Broadway's newest Holiday concert tradition, Home For The Holidays.
Candice Glover, winner of American Idol (Season 12), Josh Kaufman, winner of The Voice (Season 6), and Bianca Ryan, winner of America's Got Talent (Season 1), perform more than 25 beloved Christmas classics. "The opportunity to build such a rich, joyful concert experience for three winners of America's favorite singing contests has been a tremendous pleasure," said creator Jonathan Tessero. Home For The Holidays presents the most beloved Christmas favorites performed by a never before assembled, world-class group of performers." The show also stars Kaitlyn Bristowe, star of The Bachelorette (Season 11), film and stage star Danny Aiello, and YouTube sensations Peter Hollens & Evynne Hollens.
Bianca Ryan
By the age of 11, Bianca Ryan had already made history and won the hearts of millions of Americans that called in to vote for her to become the very first winner of the NBC hit show America's Got Talent. Now 23, the Philadelphia native, has gained the respect of some of the most prominent icons in the music industry including Simon Cowell who proclaimed Bianca to be one of the "best singers I have ever heard in my life." She has been sought out with some of the most gifted songwriters, producers, and recording engineers in the music industry including Quincy Jones and David Foster. Over the years, Bianca has not only established herself as a top-notch singer and performer but considered one of the most gifted songwriters too. In 2015, Bianca Ryan Records was established by the young singer-songwriter; her first single, "Alice," clocked over 1.7 million. This year, she's released singles including, "One Day," "Man Down," and her new single "Don't Wanna Come Down." The songbird continues to perform and tour throughout the world.
Candice Glover
A native of St. Helena Island, South Carolina, Candice is an R&B/Soul recording artist who was crowned the winner of American Idol. Since then, Candice has taken the music industry by storm and has headlined at live events to sold-out crowds. Candice also had the honor of singing at several sporting events around the country. In addition to the release of her debut CD Music Speaks, she has co-starred in Hallmark Channel's original Christmas movie, Northpole. Candice has captivated the hearts of many with her heartfelt performances and phenomenal voice. She's currently working on her second CD.
Josh Kaufman
As the winner of The Voice, Josh Kaufman, the Indianapolis-based singer-songwriter, is also a guitarist and piano player. His recently released self-titled EP channels his rich vocal work into a gracefully engaging blend of soul, rock, and classic pop. Growing up in a musical family in Florida, Kaufman first got his start singing in church. The family moved, and while attending high school in Blacksburg, Virginia, Kaufman began playing in bands and writing songs, inspired by Lenny Kravitz. Kaufman kept up with his music throughout college. He realized how important it was to keep on pursuing music; he needed a jumpstart. That jumpstart came in the summer of 2013 when Kaufman auditioned for The Voice. "Music creates this deep emotional connection that transcends explanation," he says, "and that, I think, is what keeps me making music."
Kaitlyn Bristowe
From the small town of Leduc, Alberta to the global stage, Kaitlyn Bristowe is the Canadian girl making waves—in a big way. Perhaps the most controversial and well-liked Bachelorette Kaitlyn started out with big dreams and ballet shoes. Kaitlyn is a natural born entertainer! She has taken the social media world by storm (with over 1 million loyal Instagram followers) which resulted in landing her appearances on network talk-shows including the likes of Jimmy Kimmel Live, Good Morning America, and Entertainment Tonight.
Evynne Hollens
She's a singer primarily known for her online videos on YouTube. A native of the Pacific Northwest, she resides in Oregon with her husband, Peter Hollens and is a performer, teacher, and artistic director. In 2001 she co-founded Divisi—University of Oregon's female a cappella group, featured in the best-selling book and is the inspiration for the hit feature film Pitch Perfect.
Peter Hollens
An American pop singer and producer, Peter Hollens is best known for his work on YouTube as an a cappella cover artist. With 1.6 million subscribers, his videos have reached nearly half a billion views on Facebook and YouTube since 2011. Hollens has collaborated and performed with several outstanding artists including Brian Wilson, Jason Mraz, Hunter Hayes, and Gladys Knight. He has released well over 125 digital singles and continues to release new music. He has been involved with music since 1999 when he co-founded the University of Oregon's male a cappella group On The Rocks.
Danny Aiello
Actor and critically acclaimed singer Danny Aiello, a native New Yorker, has a reputation for performances that brim with emotion. His many roles in over 100 films include Godfather Part II, The Purple Rose of Cairo, A Brooklyn State of Mind and his unforgettable portrayal of Cher's jilted fiancé in Moonstruck. When the award-winning actor is not performing in the theater or making movies, he's touring with the jazz band he affectionately refers to as "Joe Geary & the Guys." In addition to his film and music credits, Danny Aiello has received many awards for his numerous philanthropic endeavors. He has worked with Stand Up to Cancer as well as The Lustgarten Foundation on behalf of pancreatic cancer research from which his son, Danny III, passed away.
Home For The Holidays continues through Saturday, December 30th at the August Wilson Theatre (245 West 52nd Street, between Broadway and 8th Avenue).
For a complete schedule and more information on Home For The Holidays, visit holidaysonbroadway.com.