THE BEST GIFT OF ALL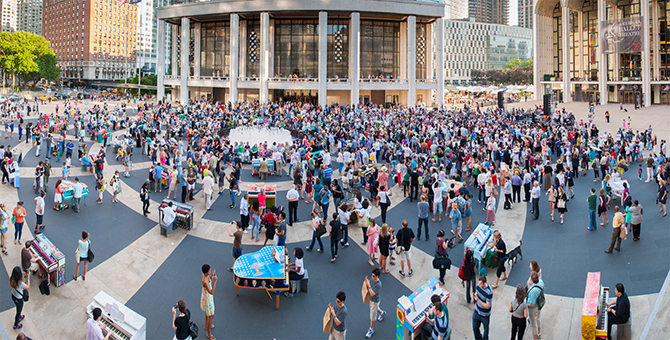 By Camille Zamora
As an opera singer, my work begins and ends with breath. Vocalized breath is the first indicator of human life, as any newborn's cry will tell you. It exists across all nations and eras, connecting us all, as simple as it is profound. And it is this pre-verbal, connected state that we tap into when we share music and art.
This sense of connectedness—harmony, in all senses of the word—is a powerful tool for healing, learning, and transformation. It can quite literally provide hope for our shared future. And it is this ideal that inspired the origins of Sing for Hope, the New York City-based "artists' peace corps" the non-profit that I founded over a decade ago at Juilliard with my best friend and fellow soprano Monica Yunus.
Sing for Hope traces its roots to a bright early autumn morning indelibly etched into the memory of every New Yorker: 9/11. Juilliard shares its city block with a firehouse—Engine 40 and Ladder 35, on 66th Street and Amsterdam Avenue—and on that crisp September morning in 2001, those firefighters were among the first responders on the scene. Twelve of the thirteen men who left their Lincoln Center firehouse that morning never returned.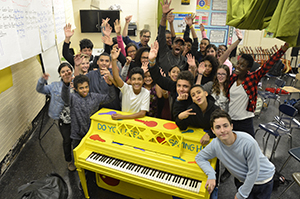 HEALING VOICES
For me, as for so many New Yorkers that day and in the surreal weeks following, the world seemed upside down. What had made sense only the day before no longer did, and emotions were raw. For those of us studying at Juilliard, there was a consuming desire to try to move beyond the sanctum of our practice rooms and see if there was some way, anyway, that we could bring something of value to the chaos and suffering outside of our school's doors. This impulse—if nothing else, a desire to mitigate our sense of powerlessness—led us to sing at the firehouse during that first nightmarish week.
What astonished us was the effect that our simple songs had on the firefighters on duty, and on the people gathered in front of the firehouse, waiting for news of their loved ones next to a growing pile of flowers and handwritten messages. It was as though our music cleared an emotional pathway for them, allowing for the release of emotion, and tears, which had been blocked until that moment.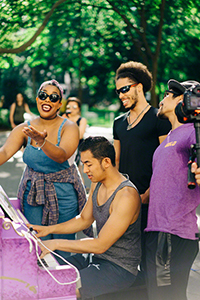 In sharing our music on the street that day, and in the months that followed at various firehouses throughout the city, we musicians were the ones receiving the greatest gift. We were given the reassurance that the world does, in fact, need our art, and one more artist, even one more soprano, is indeed necessary. We experienced firsthand, and for the first time, how art can be a change agent and a delivery system. And something as simple as a song can connect us and generate hope.
ART FOR ALL
Fast forward sixteen years. What started as a couple of Juilliard sopranos with an idea is today a New York City-based national organization serving thousands and poised to scale in increasingly impactful ways in the years ahead. To date, Sing for Hope has partnered with 250 nonprofits, involved 3,500 artists in community volunteerism, brought creative arts programming to 12,000 hospital patients and 42,000 schoolchildren, and, in our signature "art for all" project, placed 400 artist-created Sing for Hope Pianos throughout NYC's parks and public spaces for anyone and everyone to play. This year, we are proud to partner once again with the NYC Department of Education to bring 50 pianos to 50 public schools, reaching 16,000 school children through our artist-designed instruments and programming. Our goal for 2018 is to expand our programs so that we can keep up with this demand and reach at least half of the 150 schools currently on our waiting list.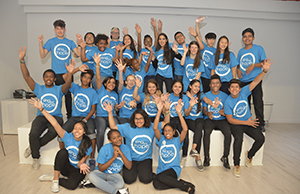 The act of sharing art in the community has become an integral part of so many of our artistic lives. For me, it dovetails in vital ways with my performance career in opera and on the concert stage, informing all of my work and, I believe, bringing aspects of authenticity and connectedness to my performances. It has become my heart's answer to my mind's questions about audience development, cultural relevance, and the mysterious alchemy of the artistic process.
The bottom line is that the arts fuel our imaginations and tap into parts of ourselves that nothing else can. The foundation of positive change (whether societal or individual) starts with the vision: To create change, you must first imagine it. There is no better tool for honing the imagination than the arts. The arts help us to form the lens through which we can first envision, and then build our best world.
For more information on Sing for Hope, visit www.singforhope.org.
---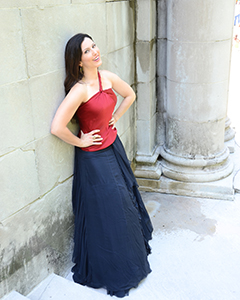 ABOUT CAMILLE ZAMORA
Soprano Camille Zamora has been hailed as "a singer blessed with intense communicative ability who blazes with passion" (Opera Magazine, UK), bringing "dignity and glowing sound" (The New York Times) to "luminous, transcendently lyrical" performances (Opera News) that "combine gentility and emotional fire" (Houston Chronicle).
Camille has appeared with the world's leading ensembles, including London Symphony Orchestra, American Symphony Orchestra, Orchestra of St. Luke's, LA Opera, Glimmerglass Opera, and Boston Lyric Opera. A graduate of The Juilliard School, Camille is the Co-Founder of Sing for Hope, the country's leading "artists' peace corps," which presents projects—including NYC's summertime street pianos—that make the arts accessible to all. A leading voice in the "citizen artist" discussion, she has presented and led panels at Skoll World Forum, Harvard University, The Aspen Institute, and The Fortune Most Powerful Women Summit; has received a Hispanic Congressional Caucus Citation and a UN Torchbearer Award; and was named one of the Top 50 Americans in Philanthropy by Town & Country Magazine.
For more information on Camille Zamora, visit camillezamora.com.