MEET DESIGNER SOPHIE BONVIN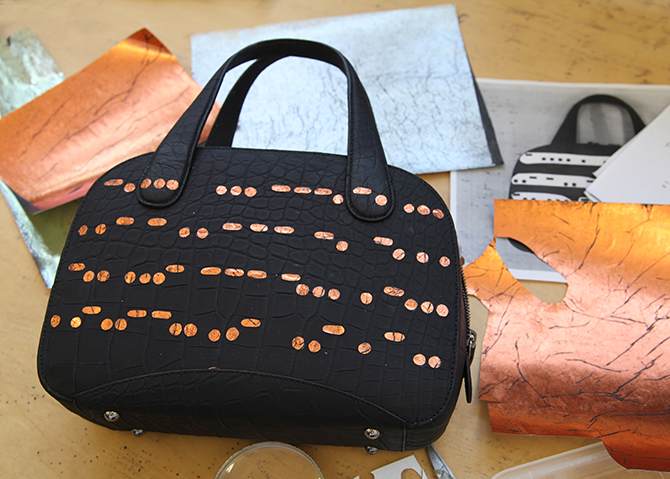 By Ann Grenier
Born and raised in Switzerland, Sophie Bonvin knew from an early age she had a passion for all things stylish. So much so that the young designer founded The Collector Geneva in 2014, a luxury handbag and accessories company. "I always loved nice things and so I decided that I wanted to get the style of life I was dreaming of, I will have to find my own way," she recently told New York Lifestyles magazine.
Her sought after designs are a worldwide sensation in the fashion world. Crafted from exotic skins including python, American alligator and South African ostrich, the interior of each bag is just as luxurious—lined with lambskin and finished in hardware of gunmetal or plated gold. Designed by Vietnamese-French interior and landscape designer Hom Le Xuan, the line's essence is uniquely Swiss with skins selected in Paris and Italy from the best tanning and finishing companies.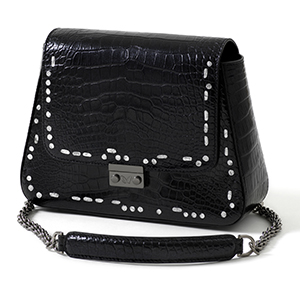 ART FEEDS THE SOUL
Sophie admitted that she loves to collaborate with successful contemporary artists to produce limited editions of hand-painted handbags in addition to producing her signature line. "Art feeds my soul and makes me dream. I love fashion and feel so great while I am wearing special clothes."
One of her most successful collaborations was with Laura Chaplin—granddaughter of silent film celebrity Charlie Chaplin. Recently, however, Sophie celebrated the launch of their Fall/Winter Code Collection, in New York with artist Bill Claps. His work evokes mysterious and inspiring messages and combines beautifully with the luxury feeling exotic skins and special texture of his pieces.
Bill, who hails from New Jersey, was trained at Harvard University and later studied painting and drawing at the Art Students League in both New York City and Florence, Italy. His paintings and drawings have been featured in solo and group exhibitions in galleries around the U.S. and Europe, including the Salomon Arts Gallery, Aspen Fine Arts Gallery and Art Monaco, among others.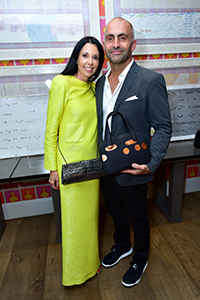 Sophie Bonvin, Bill Claps
WHAT IS IMPORTANT
Like Sophie, Bill is an active philanthropist, whose charity organization The Bill Claps Scholar-Athlete Award, grants scholarships to students on the basis of their academic and athletic performances. Additionally, prior to creating the Code Collection, Bill worked with Sophie during a 2015 charity gala event at Art Basel Miami. A handbag, customized by Bill with his signature Morse Code was auctioned by Sotheby's, with proceeds benefitting the Make A Wish Foundation.
For this recent collaboration, Claps reflected on communication in the digital age by embellishing the handbags with the dots and dashes most often used in Morse Code communication.
For more information on the Code Collection, visit thecollector.ch.