GLAM SQUAD
Saving the best for last: when is our style more on point than during holiday season? Here's how to put some glamour into your makeup look! -The Editors at BeautyPress.com
---
STARRY EYED
The holiday season is for most a beautiful time of year. Many of us are already impatient with the idea of imagining the first decorations. Like outdoor decorations in the form of angels, Christmas trees, and sparkling candles. It also is a beautiful time to make yourself shine as well. A big hit this season is applying metallic eye makeup such as a golden or silver colored eyeliner. Eyeshadows in warm colors such as olive, burgundy or bronze will bring a little color and glamor to your eyes. Finally, dabbing a highlighter will boost your complexion to perfection by bringing a subtle shine.
---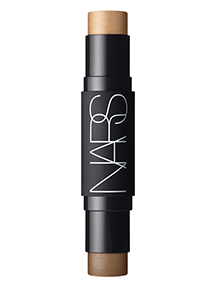 MULTI-TASKER
Nars Sculpting Multiple Duo two-in-one unit is foolproof. The darker shades blend effortlessly to create a contour enhancing the face's natural features, while the illuminating shades provide a sheer color that illuminates the high points of the face. Both double up on eyes, lips, and cheeks (narscosmetics.com).
---
GLITTERING NAILS
During the holidays, it is finally the opportunity to bring out the varnishes with iridescent reflections! With brilliant particles and patterns, your varnish will compete with your baubles. For a discreet shine, apply the varnish of the color of your choice then choose a subtle shimmery effect top coat to put a little madness in your manicure while remaining classy.
---

GLOW GIRL
NOTE Cosmetics Sunglow Foundation Liquid Glow & Highlighter is a radiant liquid glow and highlighter formulated with ultra-fine, light reflecting pearls and designed to achieve a dewy, radiant complexion. The natural bronze sun-kissed look is excellent for all skin types (notecosmetics.com).
---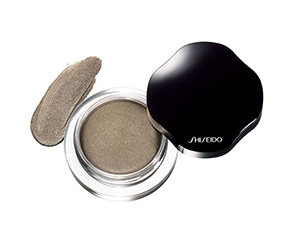 SHIMMER & SHINE
Shiseido Makeup Shimmering Cream Eye Color glides over eyelids creating a luxurious and deeply pigmented look in an instant. There is no need to apply an eyeshadow base or powder shadow on top as the eye color delivers strong color definition with maximum performance as well as unique luster and lasting brilliance (shiseido.com).
---
PLUMP UP
GrandeLIPS Nude Collection provides long-term benefits with Volulip™ which soothes irritated skin while enhancing collagen and plumping effect. Hyaluronic acid also moisturizers and improves firmness (grandecosmetics.com).
---
HOLIDAY POUT
It's finally the time to slip into your evening gown and slink down those stairs in style. Dark red lips will pair exceptionally well with an evening gown. Carefully draw on your liner with a precision brush and accompany these two features with a porcelain complexion - the best of allies of the lips to make them center stage. If you opt for a lighter shade, you can experiment with a more sophisticated look and use darker shades on the nails!
---
HOLIDAY HAIR
This season is all about sleek and straight hair. To accompany a statement dress and eye-catching makeup, hair must stay well kept. Use a smoothing shampoo and conditioner in the shower and follow up with a smoothing prep product like a leave-in conditioner. Blow dry in sections and heat up the straighteners—remember to apply a protection spray first! Once straightened, use a firm hold hairspray and spritz on a shine product to swish that hair with sass all night!
---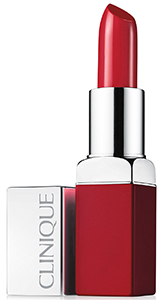 LIP SERVICE
Clinique Pop Matte Lip Colour + Primer is the one to catch if vivid color is to your liking, the moisture-rich Pop Matte Collection has got you covered. Bonus: It comes with a built-in primer to smooth lips over (clinique.com).
---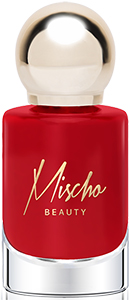 NAIL IT
Mischo Beauty "Own It" Nail Lacquer offers classic colors to show off during the holiday season and is a stunning testament to the grace and courage required to travel the road to success. Fiery, metallic gold "Through the Fire" will brighten up any holiday look (mischobeauty.com).
---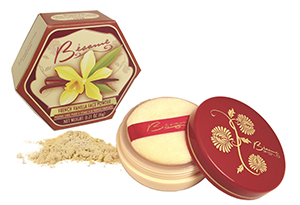 BRIGHT & BEAUTIFUL
Besame French Vanilla Brightening Face Powder is a cruelty-free, hand-made powder from Los Angeles. Use it to achieve a polished look which instantly brightens dark circles around eyes and can be worn over foundation to set or alone (besamecosmetics.com).
---
NATURAL AND SUBTLE
For an alternative to extravagant makeup, use nude shades. This type of makeup is ideal if you are already wearing a bright and colorful Christmas outfit. Apply a natural, brown eyeshadow to your eyes and nude lip-gloss. This elegant and tasteful make-up fits all the styles.
---

TRESS RELIEF
Mixed Chicks Styling Gel provides beautiful control to curly locks. The no-flake defining gel holds hair in place, sculpts into any style as it thickens and adds texture. The result: healthy and manageable tresses (mixedchicks.net).