PHILLY THREE WAYS
By Stacey Zable
There's no question, New York City shines brightly during the holiday season. But if you want a break and change of scenery, why not take in the sights and sounds of Philadelphia. A quick weekend getaway to Philadelphia—a World Heritage City—is a the place to discover where this nation was born and the many sites related to our history, as well as art galleries, restaurants, and an abundance of shopping. One of these three properties is sure to make your visit memorable when exploring the City of Brotherly Love.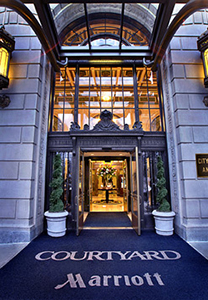 COURTYARD PHILADELPHIA DOWNTOWN
You might miss the entrance to the Courtyard Philadelphia Downtown by simply thinking it's one of downtown Philadelphia's many historic buildings. Well, in fact, you would be right as the property is listed on the National Register of Historic Places, enabling guests to start their historic tour right where they choose to stay. The lobby's décor and furnishings are reminiscent of the 1920s, an homage to its history. Guests are met with warmth and welcoming service that starts at the front desk.
Walk further into the hotel and guests will find a sundry/convenience market for snacks and drinks and a Starbucks for favorite coffees and light fare. The on-site restaurant Nineteen 26, featuring American fare and named after the year of the hotel's establishment, serves three meals daily with an expansive breakfast buffet, including cooked-to-order omelets. Modern touches in the restaurant include booths with their own televisions and remote controls.
Newly renovated large guest rooms (499 in total) boast 11-foot ceilings, fine linens, mini refrigerators, 42-inch LCD TVs, and iHome radio docking stations. Families traveling together will find that the two Queen bed guest rooms offer plenty of space and comfort for a family of four.
The property's location steps from City Hall is ideal, making it walking distance to Central City's top shopping and dining, and fabulous historic sites.
For more information on Courtyard Philadelphia Downtown, visit marriott.com/hotels/travel/phldc-courtyard-philadelphia-downtown.
---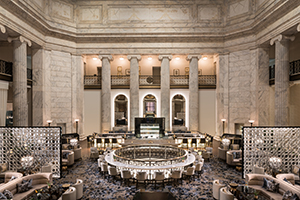 THE RITZ-CARLTON, PHILADELPHIA
Another historic option near City Hall is The Ritz-Carlton, Philadelphia set on the Avenue of the Arts. The building that now houses the luxury property opened in 1908 as The Girard Trust Company and was built as a reproduction of the Pantheon. The year-long $25 million dollar renewal project, which was completed in 2016, updated but retained the original bank architecture including the breathtaking lobby with its 100-plus-foot Rotunda dome, 16 columns, and 9,000 tons of Georgia marble. Other touches of the original architecture can be seen in the outside columned façade and the paneled high-ceilinged former bank board room that is now the 30th floor Club Level lounge.
Beyond history, other links to Philadelphia come in the form of incredible views in the Club Lounge as well as select guest rooms of City Hall—which stands just across the street from the property. Want more Philadelphia touches? You'll find complimentary Philadelphia soft pretzels and Goldenberg's Peanut Chews in the lobby.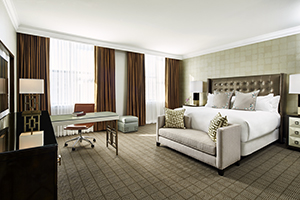 The 300 renovated guest rooms are spacious, with high ceilings, and indulgent features that include exclusive Asprey bath products and large marble bathrooms with separate tubs and stall showers. Make it a special stay in Philadelphia by upgrading to Club Level. Access to the 30th floor lounge beyond experiencing the views include a dedicated concierge to set up your dining and sightseeing and to answer any other questions you have about exploring the city. You'll also be able to drop in throughout the day to enjoy complimentary breakfast, light snacks, hors d' oeuvres, beverages and evening chocolates.
If you chose to dine in, the hotel's Aqimero restaurant features an open kitchen and a wood-burning Latin grill. It too was part of the hotel's renovation, with a June 2017 opening. After all the food indulgence, head to the hotel's fitness center. The hotel also offers services at the Richel D'Ambra Spa & Salon.
For more information on Ritz-Carlton, Philadelphia, visit ritzcarlton.com/philadelphia.
---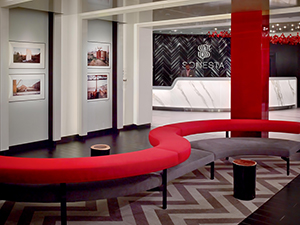 SONESTA PHILADELPHIA
Contemporary design dominates the Sonesta Philadelphia, located in the upscale Rittenhouse Square district in Center City. A hotel renovation completed in 2014 transformed the Market Street property (once the Crowne Plaza) into the art-focused Sonesta, featuring its own Art Gallery.
Included in Sonesta's most recent renovation are the fully redesigned and updated 439 guest rooms and the addition of 22 suites by architect Eric Rahe of BLT Architects and designer Melissa Wylie of Sims Patrick Studio. The result is large guest rooms offering a pampering respite. You'll be treated to modern furnishings and such welcomed amenities as a mini-refrigerator, flat screen LCD televisions, and iHome docking stations.
When not exploring the nearby sites of the city, Sonesta provides its own in-house excitement. The Art Gallery is in partnership with the Center for Emerging Visual Artists and offers a rotating exhibition of local Philadelphia artists. The art theme continues at the Art Bar, a lounge where you can dine on local cuisines, small plates and art-inspired cocktails. If headed out the door quickly for a day of sightseeing, grab-and-go snacks and a coffee bar from the café in Art Bar are available all day. Ruth's Chris Steakhouse is open in the lobby for weekend brunch, weekday lunch and daily dinner.
A truly special and welcomed surprise for guests, is the hotel also has its own 24-hour on-site fitness center, plus complimentary Philadelphia Sports Club passes.
For more information on Sonesta Philadelphia, visit sonesta.com/philadelphia.
---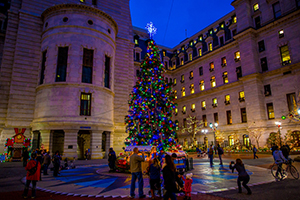 THE PHILLY CHECKLIST
Here are three of Philadelphia's most popular attractions for visitors looking to see the most of the city. Go to visitphilly.com for more details.
• Independence National Historical Park ("the birthplace of American democracy"), which includes Independence Hall, the Liberty Bell, and more sites.
• Philadelphia Museum of Art and the Rocky Statue at the bottom of the steps (extra points if you run up the Art Museum steps like the fictional boxer).
• Reading Terminal Market—housed in a National Historic Landmark building since 1893—including eating a Philly Cheesesteak (or plenty more delicious treats from one of the 75 plus vendors)
---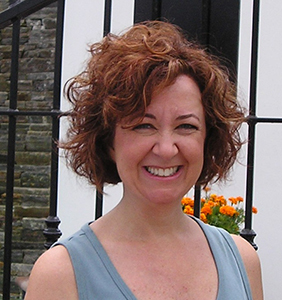 Stacey Zable is an award-winning veteran editorial professional with experience writing for both print and online publications. She has held senior staff positions at travel trade publications, and has freelanced for some of the industry's top consumer travel magazines. Visit her website at staceyzable.com.