AUSTRALIA'S IRRESISTIBLE LURE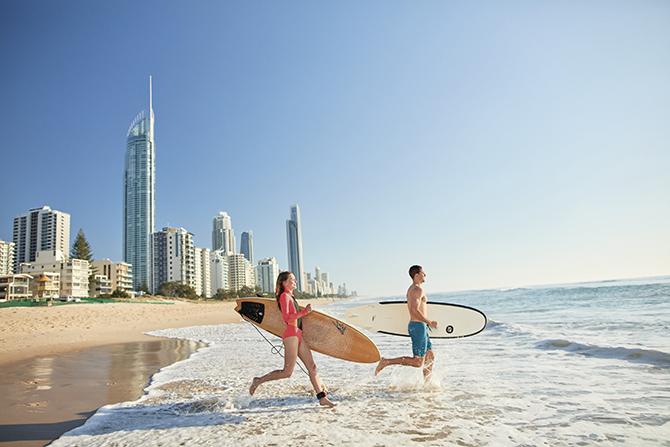 Australia Gold Coast
By Jenny Peters
If you've never taken the admittedly long trip from New York to Australia, we're here to tell you about what you've been missing. For the Land Down Under is truly a magical place, where the friendly locals speak English, the landscapes are breathtaking, and there's always a spot to settle in for a sip of wine, a pint of beer and a locally sourced bite to eat.
Join us on a trip that explores two of Australia's six states, encompassing areas on the East Coast of this massive island that roughly matches the United States in size and boasts 19 UNESCO World Heritage sites. The first-time visitor shouldn't try to see the whole county in one vacation-sized trip. There's always the next visit (or two!) to see Victoria, Tasmania, South Australia, Western Australia and the two key territories (the Northern Territory and the Australian Capital Territory). For once you finally discover the magical Land Down Under, the moment you get home you'll begin plotting out your next trip.
For more information visit australia.com.
---
NEW SOUTH WALES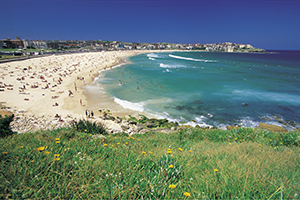 Bondi Beach, Sydney ©Destination NSW
Sydney The city is a melting pot of people and experiences, a place that honors the indigenous peoples and celebrates its diversity. Choose one of our favorite hotels—the Four Seasons for the views, the QT Hotel Sydney for the cool vibe—then take in the must-see key sights of the city, including the iconic Sydney Opera House, the nearby Botanical Gardens, Circular Quay and the Rocks. Try climbing the Sydney Harbour Bridge; visit Bondi, Manly, and Coogee beaches, for each, has its own distinct charm and surfside vibe; and then head to Barangaroo, Sydney's new waterfront destination. Think shopping, restaurants, art exhibits, all in a former industrial dock area that in even earlier times was once a center of Aboriginal living; take a fascinating tour of the area.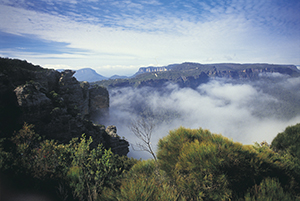 Blue Mountains ©Destination NSW
The Blue Mountains Find breathtaking natural beauty—which this country overflows with—by heading two hours east to the Blue Mountains National Park, the incredibly biodiverse UNESCO World Heritage area. See the Three Sisters rock formations, explore the vast Jenolan Caves and take a walkabout into the bush (a hike in the woods in Aussie speak) to see ancient Aboriginal rock art. Dine at Solitary (formerly known as the Fork and View) for its elegant fare and—you guessed it—incredible vast views of the park.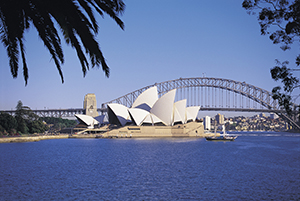 Opera House, Sydney
©Destination NSW, Jann Tuxford
The Hunter Valley, Byron Bay & Tweed Heads If your idea of fine art is found in a bottle of world-class wine, then add the Hunter Wine Valley to your NSW plan, a two-hour trip to the north. Australia's oldest wine region with vineyards dating back to the 1820s is also a beautiful place filled with lovely inns, guesthouses and top-notch local restaurants like Circa 1876 in Pokolbin. Keep the adventure going to the north by continuing to beautiful Byron Bay and Tweed Heads. There the Tweed Regional Gallery includes a fascinating permanent exhibit on famed Australian artist Margaret Olley; you'll find sophisticated farm-to-table eateries like the Harvest Café and Paper Daisy, as well as gnarly surf breaks and a chance to kayak with frolicking dolphins in the pretty bay. Stay at the elegant Elements of Byron beachfront resort or the sleek boutique Halcyon House Hotel on Cabarita Beach; both places will pamper you with spa treatments and attentive service.
For more information on New South Wales, go to visitnsw.com.
---
QUEENSLAND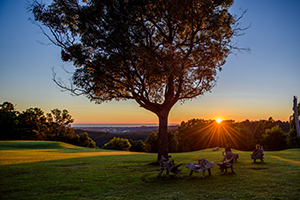 Gwinganna Lifestyle Retreat
Brisbane, Gold Coast & Hinterlands Twice the size of Texas, Queensland is a state with a lot to see, including the Great Barrier Reef and four other UNESCO World Heritage natural wonders. The southern end of Queensland is the state's most populous area, with Brisbane the hub of a burgeoning arts culture. It's chockablock with museums, galleries, theaters and more, a place where you can kayak the Brisbane River in the morning, shop the designer-filled Collective Markets in the afternoon and dine at the renowned, avant-garde restaurant Esquire in the evening. It's a city that can be whatever your heart desires, sophisticated or sporty, elegant or casual. Nearby is the Gold Coast, where the surf breaks are legendary, and the sunny beaches are lined with skyscrapers filled with happy vacationers.
Up above it all in the Gold Coast Hinterlands is the ultimate Aussie hideaway. Gwinganna Lifestyle Retreat, the luxury wellness-spa destination high in the hills boasts a world-class spa with 33 treatment rooms, which is part of their program of rest, relaxation and rejuvenation melded with nature hikes and yoga classes, all with the goal of helping you find a healthy life balance. It's a must-do stop-and-smell-the-roses experience in the beautiful landscape of south Queensland.
Tropical North Queensland The Great Barrier Reef extends for 1,400 miles (it's the world's largest) and is a spectacular tropical and underwater paradise that's warm year round. There are numerous jumping off points to get out to the reef, which is a two-hour boat ride from land. To get the most of a visit to Tropical North Queensland, which also includes the ancient Daintree Rainforest, Mossman Gorge, and Cape Tribulation, fly into Cairns as a base for adventures even further north and make the luxurious waterfront Pullman Reef Hotel your home.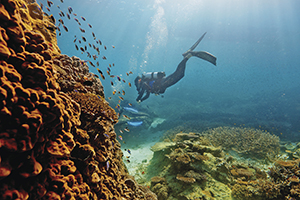 Great Barrier Reef
From there, it's a short walk to catch one of the day boats that take snorkelers and divers to swim in the reef's warm waters and see the vast coral formations, giant schools of tropical fish and plenty of sharks, rays, sea turtles and other incredible undersea sights. Catch a Quicksilver Cruises day boat or go all in and spend a few days out at the reef, on Reef Encounter's liveaboard ship; think three full days on the water, diving (or snorkeling) different sites four times a day, wining and dining, too.
We love Port Douglas, too, about an hour drive north, the pretty coastal town with the famed 4-Mile Beach nearby (unlike Cairns, which has no beaches), a thriving art scene, terrific restaurants and plenty of boats headed out for full-day trips that go further north on the reef. From there, the Daintree, Mossman and Cape Tribulation are an easy day trip filled with crocodile sightings, biodiversity, and breathtaking wild landscapes. Splurge on a helicopter ride over this incredible landscape for an unforgettable experience, which will cap off your first adventure in Australia. We guarantee that it won't be your last.
For more information on Queensland, visit queensland.com.