SPLENDID HAMBURG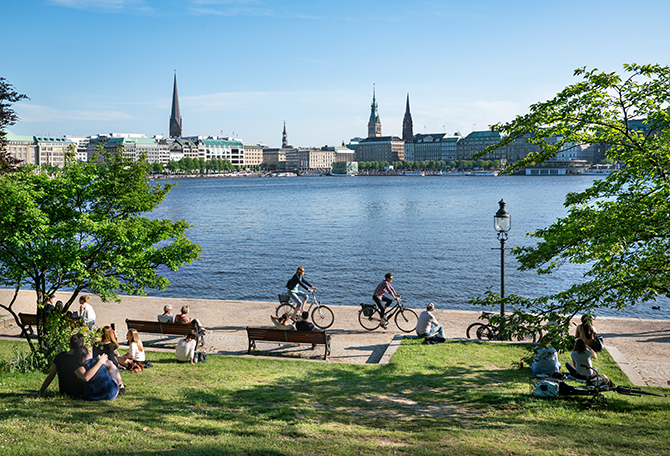 By Ruth J. Katz
In the 1955 film Daddy Long Legs, the actress Leslie Caron, playing a teenage waif in an orphanage, is plucked out of her drab milieu and introduced to a posh life, where she can have just about anything. What she asks for is an "'amburger with chocolate sauce," homing in on the most tasteful delicacy she can imagine. Many would still agree that a hamburger slakes a hunger, any time, any place. And where might that hamburger have come from originally? Why, of course, the city of Hamburg, Germany.
But that is not all the remarkably charming city has given us. It is Karl Lagerfeld's birthplace, the home of Jil Sander, and corporate headquarters for Wempe Jewelers, Nivea face emollients, and Mont Blanc, makers of fine writing implements and luxury goods. The second-largest city in Germany, Hamburg is a verdant (bucolic parks weave through the city) and historic Hanseatic metropolis, and here are eight reasons why it should be on your bucket list.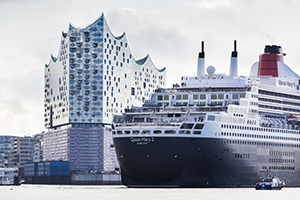 ELBPHILHARMONIE
The Elphi, sobriquet of the new, astonishing concert hall, opened last January. The undulating, entry "tube" housing the longest escalator in Europe—nearly 300 feet—transports guests to the marvelous asymmetric, organically flowing hallways and tiers of the hall proper. Conceived by Swiss architecture firm Herzog and de Meuron—and with rich sound engineered by acclaimed Japanese acoustician Yasuhisa Toyota—it is perched on the Elbe River, surrounded by a watery perimeter. The lower levels are red brick, vestiges of warehouses that up until the 1902 were repositories for cocoa, tea, and tobacco. With both curvilinear and rectilinear lines, the panels of glass on the upper floors reflect the water and skyline. Inside, the main concert hall seats 2,100 (with a 4,765-pipe organ!); a smaller recital hall, 500; additionally, there are countless terraces for viewing the stunning panoramas, several restaurants and bars, and capacious open space.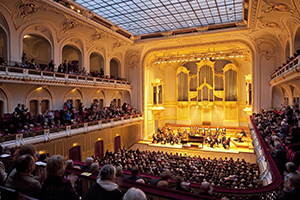 MUSIC SCENE
Hamburg was a hangout and showcase for the Beatles in the early 60s. Today, it ranks third in the world, after New York and London, for musical theater. Rocky previewed here and currently, Aladdin and The Lion King are huge hits. The musical scene is rife with jazz clubs, alternate performance venues, the Hamburg State Opera, and after-hours boites. And if ballet is your passion, the highly regarded Hamburg Ballet (along with its school, Ballettzentrum Hamburg—John Neumeier) should not be missed.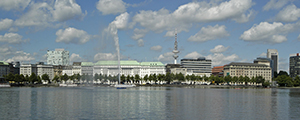 THE PORT
Hamburg is considered the second-largest port in Europe, and its waterways, including both Inner and Outer Lake Alster, are worth an afternoon sail. Nearly a dozen companies offer boat tours around the warehouse areas and there is a hop-on-hop-off boat tour that is a good starter. An atmospheric "nighttime lights" tour at dusk is a delight and a tour of the working harbor will amaze. Additionally there is a very scenic "canal" tour, weaving through a few locks, under the city's oldest bridges, and passing the massive Town Hall. If you are ambitious, the Fischmarkt is a Sunday morning (5 to 9 am) experience, featuring much more than fish—souvenirs, clothing, fruit and produce.
THE DAHLIA GARDEN
(Dahliengarten) What a hidden gem, with 14,000 blooms that grace the city from mid-spring until the October frosts. Riots of color have been exploding all over the People's Park (Volkspark) since 1920. With over 400 species of dahlias, it is a photographer's and horticulturist's delight—and entry is free.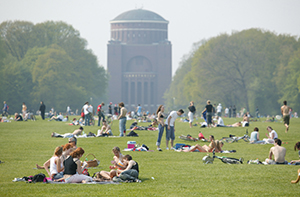 MUSEUMS
While there are several dozen museums in and around the city—including one dedicated to Johannes Brahms, one that showcases erotic art, another known as Spicy's (a museum chronicling the global space trade), a children's museum, and several port/maritime/naval/nautical museums—these two are a must: Museum of Art and Crafts (Museum für Kunst und Gewerbe Hamburg) has extensive collections of everything from faïence to fashion, including period rooms, vast photography archives, and a world-renowned collection of musical instruments. At Hamburger Kunsthalle, one of the largest museums in Germany, you find seven centuries of European art with outstanding works represented in every era (including Manet's Nana), from the Middle Ages (countless, priceless Old Masters) to post-1950 Pop Art.
WHERE TO STAY
FAIRMONT VIER JAHRESZEITEN HAMBURG HOTEL In 1897, South German entrepreneur Friedrich Haerlin bought the Hamburg Hotel zu den Vier Jahreszeiten, a hotel designed for "four seasons," as its German name suggests. Haerlin wanted his hotel to feel like warm and welcoming and he supposedly told his wife that "everything should be like it is at home." As the hotel was enlarged, and as the next generation took over management, Haerlin's mandate remained in place. (Today the hotel is a Fairmont).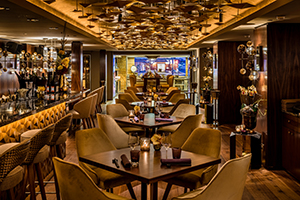 To stay here, is to feel at home—even in the kitchen! The lower level sculleries are designed as if they were in a private home—the patisserie kitchen has checkered curtains, floral tapestries, and elegant crystal chandeliers, amidst the necessary wrought-iron ovens; the spic-and-span butchery can be rented for private dinners; the kitchen for the two-Michelin-starred Haerlin restaurant is partially wallpapered. Guests are even allowed to tour the kitchens. Do not pass up dining in the amazing Nikkei Nine, a new addition to the hotel's culinary offerings—it is a Japanese-Peruvian gastronomical surprise! And watching the bartender make elaborate cocktails is a theatrical experience; the restrooms feature life-like, painted fish tanks on the floor!
The upper-level, elegant spa/health club is at once comfy and sophisticated; the beige furnishings, wood-burning central fireplace, cushy throw pillows, chockfull bookcases, and plush carpeting feel stylishly homespun, particularly in the handsomely furnished, casual lounge. From the roof terrace bar, one can see the Elbphilmaronie and at the gracious, street-level, outdoor café, you are adjacent to tranquil Alster Lake.
Great care is taken to make guest rooms feel comfortable. Open the door to your room, and you will find—another door! Double hallway doors ensure quiet, so no chatter from the hallway breaches your sleep. Home, indeed. —RJK