WHAT DETERMINES VALUE IN NYC RESIDENCES?
By Daniel J. Bollinger
Purchasing a condo/co-op in NYC can be a daunting task. With the vast amount of inventory on the market today (and more new development in the months to come) there is indeed so much to choose from. So, what determines the value of a residence in NYC? Eight characteristics assess value. These components are going to help your investment not only hold its value but also increase its value in years to come.
LOCATION
I'm sure you have heard the adage "location, location, location." This is true, but seeing that we're in one of the safest cities in the entire world for value retention—and as a hedge against inflation in investment terms—let's break this down a little more. Yes, location is essential—but do you want to live on the Upper West Side, Upper East Side, in Chelsea, the West Village, or maybe Tribeca? Each area of the city has its own charm and cultural definition. But other things may be necessary to you. For example, how important is it to be close to a major subway line? Do you want to be close to Central Park (or maybe the river)? Do you want to live on a primary avenue or would you prefer to live on a cross street? Everyone has their own desires and wishes when it comes to location.
Another interesting fact about location in NYC is neighborhoods can grow from obsolete into one of the most desirable in all of the city. One example is Williamsburg, once considered an abandoned slum in the 1990s, it is now one of the hippest communities in Brooklyn. Also, consider Bed-Stuy and Crown Heights real estate which has certainly become some of the most valuable in all of Brooklyn. Watch for this trend to continue in areas like Bushwick, East New York, Flatbush, and East Flatbush. In Manhattan, Hudson Yards is an entirely new neighborhood being built right in front of our eyes. Through the new development, areas like Hell's Kitchen and West Chelsea have seen vast improvement and growth where new development abounds.
LIGHT
How much natural light does the residence provide? Natural light is not only a healthy choice, but it also makes our apartments seem more significant and most certainly brighter. That is why you read in many ads, "floor to ceiling windows for maximum light exposure."
Northern exposures are cooler and clearer (less burning than southern exposures). Northern exposures are better for fighting fading on fabrics and artwork. Southern exposure is just the opposite—it's more for those who want to bask in the sunshine all day. Southern exposure also heats your residence more. East and West are pretty simple: are you more of a sunrise person (east)? Or do you prefer sunsets more (west)?
VIEWS
It's a personal choice: Some people want them, still others don't care. I have dealt with people who were perfectly content looking at the tops of trees in their third-floor apartment. And some others who wanted to live in penthouses to enjoy the majestic views. One thing that is very important to research is the air rights around the buildings' vicinity. Today you may have a beautiful view of the park, river, etc., but tomorrow's construction may cut that view. Something you and your real estate agent should be aware of when making a long-term investment decision since it can seriously change the value of your investment and your quality of life.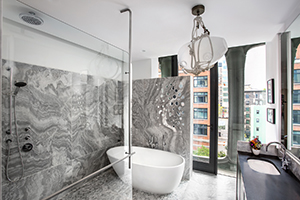 AMENITIES
This is a new category that is born out of all the new development that is happening in NYC. One of the principal selling points of new development always includes their amenities package. Standard amenities in today's structure include bike storage, fitness centers, rooftop lounges, and children's playrooms. But some higher amenities include pools, concierge services, parking, valet services, home theater rooms, soundproof music rooms, and much more. What amenities would you like in your building?
DESIGN DETAILS
This is another new category. The one thing that makes this modern age of development different than the past few decades is that developers, designers, and architects are finally starting to "get it." In years' previous developers built four walls, put a bathroom and kitchen in it and called it a day. But now you see new condos on the market with design details that are very well thought out.
The XOCO building in SOHO has excellent design details featuring recessed floating walls with curved edges made of sculptural plaster which give their residences an open sense of space and great 'flow' throughout the units. They are the only development that I know of that has taken the bathroom niche outside of the bathroom and put them in both the master bedroom and kitchen—brilliant in my opinion.
Additionally, 252 East 57th has thoughtfully laid out their units with a huge great room with a curved glass picture window for panoramic views of the city and then designed the kitchen/dining area as an intimate family space for people who know that dinner time is family time. Their decision to size these rooms appropriately for use is just another example of the thoughtfulness of architects and designers in today's market. The property's automated parking garage is a technological wonder as well.
BUILDING
The architecture in NYC is vast and beautiful. You may hear a lot about pre-war buildings which refer to buildings built 1900-1939. They are magnificent in that the architects and builders used masterful designs and construction materials and techniques to accommodate the swelling population at that time. The result was sturdy brick and stone buildings with high ceilings, which created a New York-style of architecture that was built for great form, function, and endurance. That is why the pre-war conjures images of high ceilings, thick walls, plaster ornamentation and generous layouts. Other factors to think about: Do you want to live in a large building with a lot of neighbors or do you prefer a small, boutique building? Does a walk-up bother you or are you looking for an elevator building? Is the architecture itself vital to you? Do you want a new development that probably has smart technology pre-wired into the building?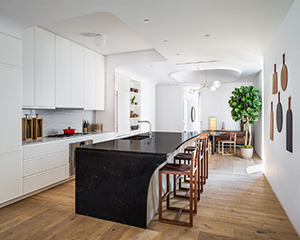 SPACE
How much space do you need/want? One bedroom, two bedrooms, or more? How much square footage do you seek? How big of a living room/den do you want? Do you want a chef's kitchen with a lot of space? Do you entertain often and need a large formal dining room?
These are the types of questions you should ask yourself to help find the residence that fits your needs.
AIR/FLOW
Air refers to the floor plan and air circulation throughout the apartment. Air is sometimes also combined with the term "flow" which refers to the layout of the apartment. In other words, how each room flows into another? Do you like lofts with their open layouts and high ceilings? Would you like a spacious kitchen/living/dining room which is quite popular in new development? Do you prefer a gallery layout with master bedroom on the opposite side of your residence than the secondary bedrooms?
These are the eight essential traits of a residence that most agents will advertise and market about a property. I recommend working with a buyer broker who not only understands these terms but can also apply this knowledge to each residence that you tour. Identifying these characteristics not just in the home that you are viewing but even being able to compare these to other homes on the market will help evaluate the value of each residence. These traits not only determine the value of your home but also help hold its value in the future.