HOLIDAY VOLUNTEERS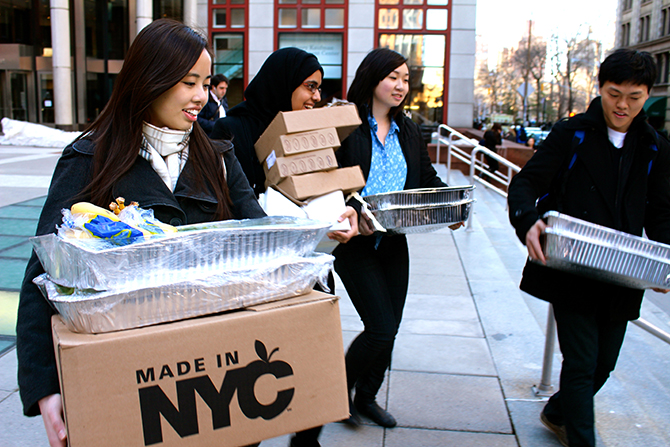 By Joan Hornig
The days may be short, the weather less than welcoming but that seems to have little effect on how many visitors flock to our city for their winter holiday. There isn't another city in the world offering as much diversity, the variety of entertainment, cultural institutions, fantastic food or shopping opportunities. So why not do like the tourists and consider a New York "staycation" with a volunteer component as part of your holiday plans this year?
Thinking of others at holiday time is well ingrained in our collective psyche. Thirty percent of charitable donations are made during the last month of the year. But aside from the traditional ways of giving back (i.e., check writing, gifts of toys, donations of warm clothing, helping out in food pantries, etc.), I was curious about other opportunities, I could discover in my search for new ways to give back right here at home.
I started my investigation with a simple question to Google: "What are the volunteer opportunities available during a winter vacation in NYC? "It took less than three seconds to get lots of great ideas. Despite having lived here over 35 years and having been immersed in the non-profit philanthropic world for half of them, I realized I hadn't even scratched the surface of options.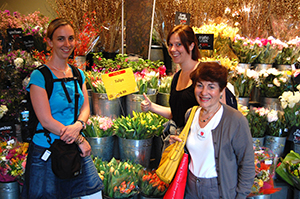 BIG APPLE GREETER
I discovered Big Apple Greeter (bigapplegreeter.org), a non-profit that provides free a welcome-visitor service from NYC volunteers in partnership with NYC & Company, the Make a Wish Foundation® of Metro New York, Inc., and Global Greeter Network. It piqued my interest because volunteers get to share in visitors' vacations!
In 1992 Lynn Brooks, the founder recognized that almost everyone she met wherever and whenever she traveled wanted to visit New York City. But many of them felt intimidated at the prospect. To New Yorkers our vast megalopolis of diverse neighborhoods, stores, restaurants and entertainment venues coupled with throngs of people is familiar territory, but to visitors, it can be overwhelming. We may grumble about things like potholes, traffic, subway meltdowns and being overscheduled, but we are experienced navigators of the city regardless of what hurdles come our way.
This is where Big Apple Greeter, a free welcome visitor service provided by a NYC volunteer fills the void by connecting visitors with knowledgeable and enthusiastic local NYC resident volunteers! Designed to build bridges between people and cultures, promote cross-cultural understanding, offer a friendly, inviting and manageable image of NYC, bolster tourism and foster economic growth, there is also a reciprocal benefit for the volunteers. New Yorkers looking to make friends from around the world, practice foreign language skills, discover our city's hidden treasures, engage in purposeful (and healthful) walking excursions can also join a community of like-minded volunteers proud of where they reside. With over 300 volunteer Greeters, more than 7,000 visitors a year are welcomed and get to experience more than 100 neighborhoods throughout the city with real-life locals.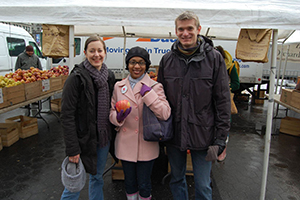 Volunteer opportunities are open to everyone at Big Apple Greeter regardless of race, color, creed, gender, age, sexual orientation, marital status or disability. One of the ancillary benefits of becoming a volunteer is the participation in Greeter Outings which enhance leadership skills and knowledge of our city. Neighborhoods and cultural sites in all five boroughs are explored. There is even an Access Program matching visitors with disabilities with volunteer Greeters knowledgeable about accessible travel options, public transit, and American Sign Language.
After learning about this fantastic program, I have decided to dive right in. Perhaps you will too, and we'll meet in the future as hosts to visitors as we explore the hidden gems of our city!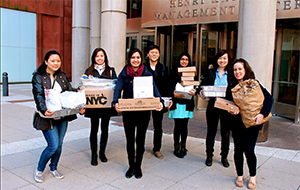 RESCUING LEFTOVER CUISINE
If being a tour guide isn't your thing but food and alleviating hunger are, why not consider becoming an Emergency Food Rescuer under the auspices of Rescuing Leftover Cuisine (rescuingleftovercuisine.org)? RLC is a national non- profit food rescue organization which operates in 12 cities and is headquartered here in New York City.
Food waste is a serious problem with some scary facts: 1,160 pounds, of food on average is lost to the garbage pail each year by typical American families. 40 percent of food gets tossed every year in the U.S. which could feed 2 billion people. The $162 billion worth of unconsumed food in our country could serve 58,064,516,129 meals a year. That is not a typo by the way!
When I considered all the food wasted during holiday celebrations, I became more interested in exploring RLC's volunteer opportunities.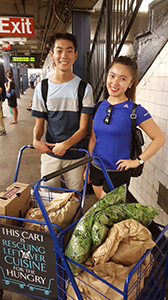 RLC 's protocol helps prevent excess wholesome cuisine from being wasted by linking volunteers through a technologically proven approach to identifying, obtaining and delivering good food efficiently. Communities in need, as well as homeless shelters, restaurants, hotels and catering companies nearby, are identified. The food resource providers are then enlisted to help and RLC "crowdsources" volunteers to provide the transportation for getting the food to the needy. Technology is leveraged to facilitate the identification and safe handling of excess food. Partner food providers report when surplus food is available, and a web application is then used to engage the volunteers. On average, it takes only 30 minutes to rescue an average of 50 pounds of food which helps feed 40 people! This efficiency is impressive—it requires rescuers to commit less than an hour of their time to help, and they can set their own schedule—daily, weekly or sporadically. Coupled with an easy to use daily website calendar, no matter what your appetite for getting involved, something on RLC's menu can satisfy your craving to help.
Big Apple Greeter and Rescuing Leftover Cuisine are just two examples of volunteer-driven organizations which reinforce some of the best things about being a New Yorker—whatever our circumstances we can give a lot in a lot of different ways and we are at our best when we are working together. It's part of the reason so many visitors want to come here for the holidays and why we are lucky to be able to enjoy "staycations" right here at home.
---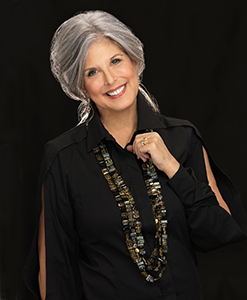 Joan Hornig is a New York-based Jewelry Designer, Social Entrepreneur, and Philanthropist. She left a Wall Street career 15 years ago to create a jewelry line at Bergdorf Goodman, where 100 percent of her profit is donated to the charity of the purchaser's choice.