EMERGE212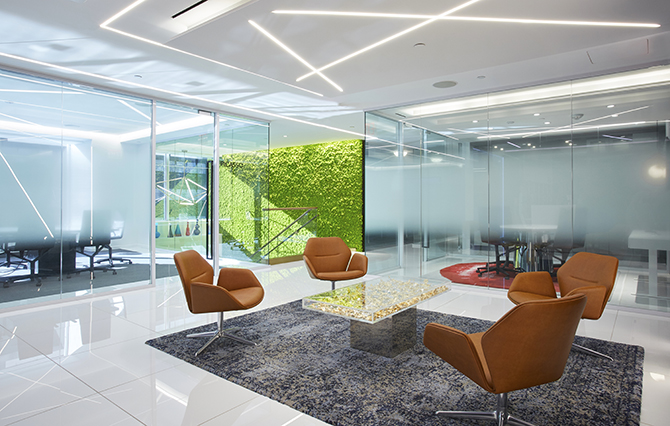 By Michael Alpiner
Professionals spend about one-third of their waking hours at work. So it seems only logical that one would want to immerse themselves in as much physical and emotional comfort as he/she can during that time. Some companies have provided this by allowing their employees to bring their pets to work, do their laundry between board meetings, or even relax during breaks with a high energy game of ping pong. These augmentations to workspaces parallel the way luxury travel is catering to the specific and individual needs of its passengers and clients.
James Kleeman pondered the same problem as companies like Google and Amazon. How can I elevate the standard office spaces to maximize business' production and augment the work experience? With a Master's degree in real estate and a passion for joining the fields of real estate and marketing, Kleeman sought to elevate the concept of office space to include hospitality, comfort, productivity, technology, and emotional balance. He infused all these elements with a splash of nature, design, continuity, and the arts. Even the first moment a prospective client exits the elevator, he/she is met with attractive and congenial front desk personnel, white mints, and a unique waiting area of both classic and modern design elements.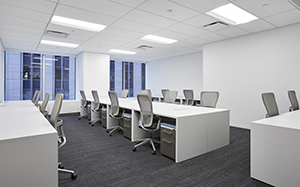 PREMIER OFFICE SPACE
Kleeman turned the standard idea of rented office space on its ear by creating Emerge212, New York City's premiere operator of full-service office suites. Instead of a patchwork of banal cubicles, Emerge212 offers fully-furnished spaces in a variety of sizes, shapes, and atmospheres, each equipped with the technology, mood, and flexibility to allow for optimized work experiences. Some of the spaces are modest in size but offer a dazzling view of Manhattan. Others are more spacious to accommodate a larger staff and the need for more office furnishings. Moreover, the rooms are designed to be adjusted to enable a meeting to turn into an after-hours social gathering. Most of the tables collapse and move easily (by Emerge212 staff) to allow businesses to use the space as a multi-functional office.
Though they already have two established locations (2 Columbus Circle and 125 Park Avenue), Emerge212 has unveiled its newest site at 1185 Avenue of the Americas near Rockefeller Center. Situated in a Class-A high-rise building on the southern tip of Corporate Row between 46th and 47th streets. These private offices come complete with a sleek and sophisticated aesthetic, unsurpassed technology and infrastructure with the highest level of administrative support, and a prominent New York City address for both occupying and virtual clients. Kleeman proudly stated, "We promise to give all our clients, including our virtual clients, the same advantages, and experiences. This is why there is a consistent aesthetic running through the entire floor of offices and suites."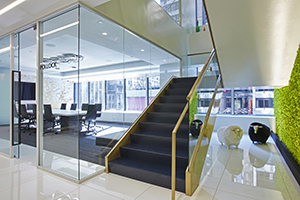 In addition to a wide range of modest workspaces, there are five main rooms in the 6th Avenue location which embody the design elements of famous artists such as Andy Warhol, Pablo Picasso, and Jackson Pollack. Kleeman stated, "These rooms, rather than being decked out with the artists' sculptures and wall art, suggest the artistic elements through shapes, colors, and patterns." For instance, the Picasso room only has one coffee table book about Picasso, but upon gazing at the ceiling design, furniture styles, and general angularity, one notices and even feels the sharp geometric quality of the father of cubism.
AN ELEVATED EXPERIENCE
Inspired by the best in hospitality, design, and technology, Emerge212 works to provide its clients with an elevated experience that other office space providers simply do not. Businesses have access to their own, privately leased space which can grow and contract based on the needs of their business, while consistently having access to the resources and amenities afforded by large organizations. The floorplan includes common areas for workers to relax, grab a coffee, or discreetly listen to music on their Spotify playlist. One such area offered four egg-shaped chairs with Bluetooth technology that hooks into one's mobile device for discreet downtime. Kleeman reinforced, "We want to allow for our clients to feel a sense of ownership over the space, but also be considerate of the others."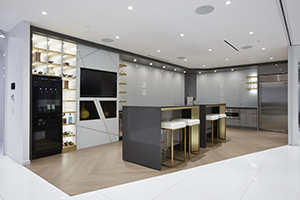 As pioneers in the growing co-working landscape, one of Emerge212's brand promises has been to provide what today's companies need most. Since launching the business in 1999, the operator has believed in continuously evolving its level of service to accommodate the ever-changing needs of companies year-over-year. Recent growth in the category signals that more business leaders recognize the value proposition of this model for their new and growing businesses. Emerge212 has met this increasing demand for spaces and services that make them a real partner for their clients versus merely a landlord.
"Not all shared office spaces are created equal, nor should they be. What sets Emerge212 apart is that we seek to define where office meets design and hospitality," says Kleeman. "We strive to create uniquely sophisticated spaces and serve as your partner in productivity and continued business growth. As with our previous locations, 1185 Avenue of the Americas offers our clientele privacy, professionalism, and truly the best-in-class infrastructure to power their businesses, all while doing so from a highly designed and innovative environment that all their clients and investors will envy."
A central location for commuters, 1185 Avenue of the Americas is within walking distance to Bryant Park, Times Square, Grand Central, Penn Station and the Port Authority Bus Terminal. The building also has direct access via the main lobby to 15 subways, numerous buses, and trains and is directly connected to Rockefeller Center's underground concourse.
For more information on Emerge212, please visit emerge212.com or for leasing inquiries, please email leasing@emerge212.com.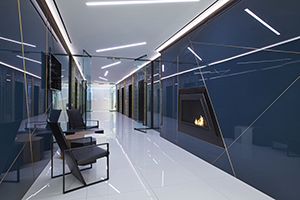 HIGHLIGHTS OF EMERGE212
Here, some features of the latest location at 1185 Avenue of the Americas.
• 56,000 square feet, occupying the 2nd and 3rd floors
• Suites ranging from 1 to 30-person workstations; equipped to accommodate a variety of companies and needs
• Bold design elements including a floor-to-ceiling moss wall
• State-of-the-art cafe areas complete with IT outfitted tables and charging stations
• Serenity Rooms with noise-canceling Bluetooth Beatnik Sound Station Chairs
• Beautifully appointed conference rooms and event space
---
Michael Alpiner's writing and publishing includes travel/hospitality articles as well as fiction and poetry. His poetry is included in the anthology, Blood to Remember. Michael earned an MFA in Creative Writing, teaches college writing, and has served as a Writer-in-Residence for the Louis Armstrong Museum. He is co-founder of ExtremeLuxuryGetaways.com.