SPA SCENE: GUERLAIN SPA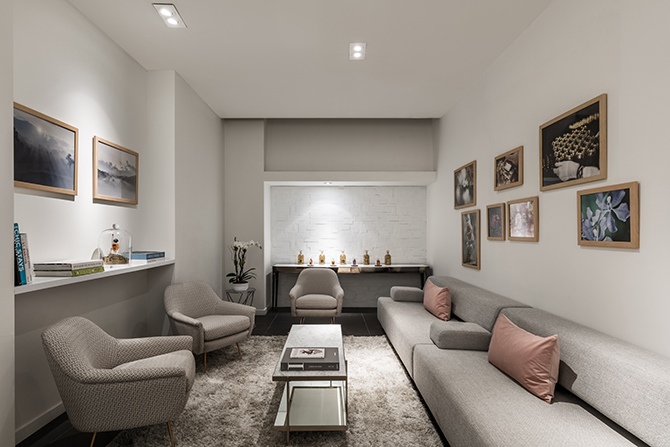 By Griffin Miller, Spa Editor
Sinatra's "Strangers In the Night" crooned from invisible speakers as I took in the orchid-embellished reception area of the recently unveiled Guerlain Spa at The Plaza. Decadently poised in a comfy chair sipping Champagne, my mind wandered to the mosaic of treatments taking place in the eleven flawlessly appointed treatment rooms just around the corner, sparking optimum anticipation.
It was a busy Friday evening at Guerlain, yet the atmosphere was laid back and tranquil. Nothing forced or controlled, just layer upon layer of seamless pampering, from a killer peanut butter macaroon presented on a silver tray (alongside my complimentary Champagne!) by spa attaché Jeanette, to the soothing way aestheticians address one's needs and desired results.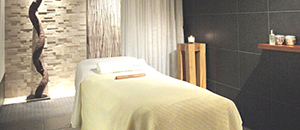 THE DESIGN
A dash of elegance laced with inviting contemporary details and relaxing earth-tones distinguishes Guerlain Spa at the Plaza from its former Waldorf-Astoria home (currently closed for major renovations). Here, white orchids tumble in greenery behind the reception desk. They nearly overflow recessed niches, while a statement orchid tree stands flanked by bookshelves featuring vintage Guerlain jars and beakers. Walls are lined with photographs "…showcasing how Guerlain sources ingredients from nature… enhancing the understanding of our cutting-edge therapies," according to spa director Jennifer Kirby, referencing close-ups of honeycombs, and the lush forest habitat where the spa's signature orchids come to life.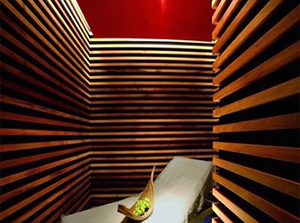 THE TREATMENT
Always luxurious and sparked by innovation; each treatment is created and executed to fulfill Guerlain's trademark personalization. This explains not only the Spa's multigenerational appeal—the clientele while during my stay ranged from Millennials to Boomers, and I suspect beyond—but also why the customized Signature Massage remains the most popular service.
Still, I couldn't help but be seduced by a couple of Guerlain's recent additions to its opulent menu: the 60-minute Orchidée Impériale the Black Orchid Treatment, a wrinkle-diffusing miracle. Even in a single session, the promise is reclaimed smoothness in terms of skin texture and wrinkle reduction, courtesy of the treatment's crucial precious ingredient: Orchidée Impériale Black Cream. And then there's the even more intense (90 minutes, no intermission) Orchidée Impériale the Black Orchid Cure, described as "...a masterpiece of luxury skincare and aesthetic expertise" employing "..a combination of ultra-powerful ingredients".
Considering New York's erratic weather conditions of late, and the way they play havoc with every aspect of our skin: pores, elasticity, cracks, crevices, and other miscellaneous objet d'face, the obvious choice would seem to be the Cure. But as an inveterate navigator of the indulgent, I find it's often best to take the incremental path, so in the end, the Orchidée Impériale the Black Orchid Treatment won out.
The overall experience begins in the spa's upscale changing room: dark wood lockers, pristine counters and sinks, cushy robes and—thanks to the attentive staff—a bit of a celebrity vibe with you in the role of superstar. From there it's off to the inviting lounge, where you can kick back in style until you're led to your treatment room.
As for the soothing wrinkle metamorphosis, it comes in a beautifully textured, perfectly lit treatment room: Your choice of music; your skin profile; your level of comfort.
Finally, come the tiers of facial indulgence, blending delicate massage with the masterful step by step application of Orchidée Impériale Black Cream, as if your face were a work of fine art.
THE PAY-OFF
In the end—which comes way too soon—the results speak for themselves. A finite youthful glow with barely a whisper of wrinkles. If you're anything like me, you're bound to come away wishing you could encase the entire experience in amber.
For more information on Guerlain Spa at The Plaza, visit guerlainspas.com.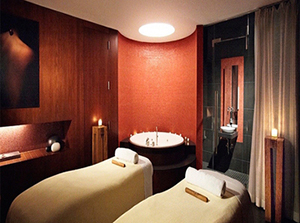 GUERLAIN SPA AT THE PLAZA PERKS
Champagne and macaroons aside, a visit to this luxury spa offers a wide array of perks, including complimentary…
• Access to the spa's new state-of-the-art workout center
• Make-up touch-ups après spa services at the intimate Guerlain Boutique* adjacent to the spa [Note: Full make-up sessions with make-up specialists are also available by appointment]
• Clothes steaming (so you never have to leave rumpled)
• Shoeshine
*Guerlain has also introduced a second Make-Up Center/Boutique (offering the same services and products) on the first floor of the Plaza in the shop area.
SPA GIFT GUIDE
You don't have to be a spa aficionado to crave a little pampering, especially when the weather outside is frightful. So I give you a few new spa-inspired items I'd like to find under the tree this holiday season!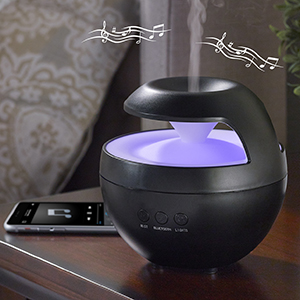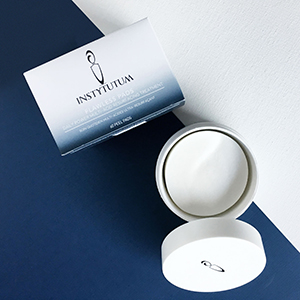 FLAWLESS PADS
Powerful and portable, these pre-soaked pads are laced with Glycolic, Lactic, Citric and Salicylic acids—a combo (along with Vitamin B3 and Sodium Hyaluronate). Daily in-home use boosts collagen while attacking pigmentation, fine lines, skin tone and pretty much anything standing in the way of complexion perfection. Instytutum (instytutum.com).
RELAXATION AROMATHERAPY ORB
So special on so many levels, this scent diffuser (think fragrant essential oil mist)—with a multi-colored glow, no less—ups the must-have ante with its integrated speakers that pair wirelessly with smartphones, tablets, or any other tech-friendly device housing your favorite music. Hammacher Schlemmer (hammacher.com).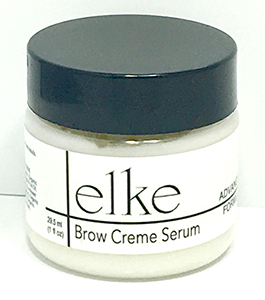 ELKE BROW CRÈME SERUM/ADVANCED FORMULA
Get ready for some seriously impressive eyebrows within one to two weeks. Easy to apply with clean fingers or with the Slant Brush. And while you're waiting for results, keep in mind you can use your favorite eyebrow make-up immediately after applying. ELKE (elkevonfreudenberg.com).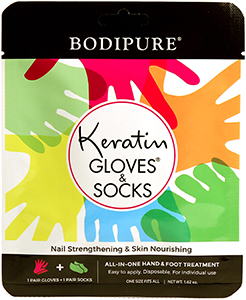 BODIPURE®'s KERATIN GLOVES® and SOCKS
Dubbed as "the first waterless, all-in-one manicure-pedicure treatment" these excellent hand and feet rejuvenators that had—up until now—only been available to professional nail salons and spas, are now waiting to moisturize your skin and strengthen your nails in the decadent spa privacy of your home. Bodipure (bodipure.com).