VETERANS IN CRISIS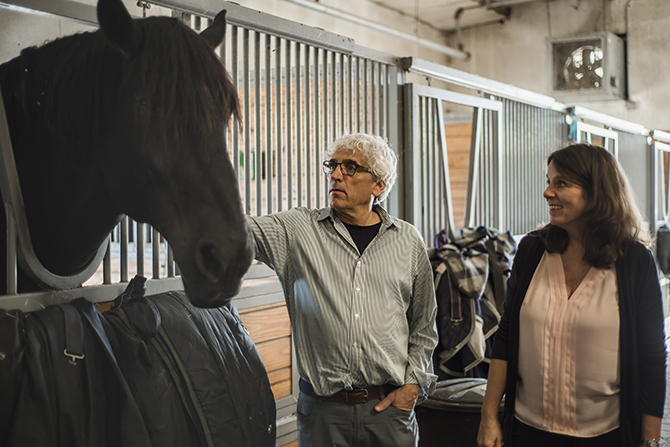 By Anne Poulson
He lived as a virtual shut-in. He couldn't ride the subway, avoided crowded places and needed a friend just to venture outside his own home. For 20 years, that was life for Rodney, a veteran who could not find the right kind of treatment for his Post-Traumatic Stress Disorder (PTSD). He spent years in and out of various treatment programs, only to drop out each time.
Eventually, he found the Man O' War Project, a one-of-a-kind equine-assisted therapy research program developed and administered by Columbia University Medical Center, which changed his life. The program has the potential to change thousands more. As many as 30 percent of returning veterans are affected by PTSD, a highly disabling condition marked by symptoms such as situation avoidance, nightmares, anger issues and negative thoughts, all of which can contribute to debilitating anxiety, depression and even suicide.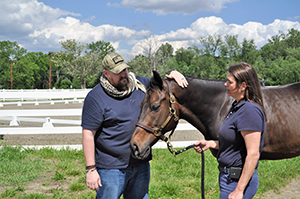 A PROMISE TO OUR VETS
According to the Department of Veterans Affairs, 20 veterans die by suicide every day in the United States. Such frightening statistics make it abundantly clear that we are not providing veterans suffering from PTSD the range of options they need to find a treatment that works for each individual. With today's conventional treatment options, half of all veterans with PTSD do not seek treatment, and of those that do, approximately 80 percent drop out.
Although there is good evidence for traditional therapies delivered in group or one-on-one settings, these are often experienced as overly demanding or too painful, as veterans are asked to "relive" or directly address their traumas. Doing so is a harrowing experience for anyone and many cannot take it. The result is that thousands of veterans with PTSD struggle to manage their symptoms on their own. Equine-assisted therapy offers great promise to help these veterans get the treatment they deserve.
A RESEARCH DRIVEN APPROACH
The Man O' War Project got its start as a question, posed by Ambassador Earle I. Mack, a former U.S. Army officer, thoroughbred racehorse owner and aftercare advocate. "I approached my friend Dr. David Shaffer from Columbia University Medical Center and asked, 'Can horses help veterans with PTSD?'" recalls Mack. "He brought the idea to his colleagues, who were intrigued. So we created the Man O' War Project to find out."
Many equine programs exist that provide valuable benefits for veterans, but no one knows how equine therapy actually works, if it provides a true clinical benefit or how it should be properly administered. Without answers to these questions, equine therapy will never achieve the same treatment status as traditional therapies, which will therefore limit its broader application and also funding for the treatment.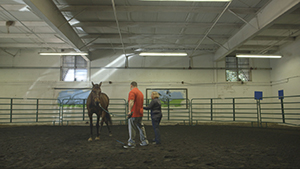 Led by Yuval Neria, Ph.D., Professor and Director of PTSD Research at Columbia University Medical Center and Prudence Fisher, Ph.D., Associate Professor at Columbia, the Man O' War Project is the first and only university-led clinical research trial aimed specifically at veterans diagnosed with PTSD to determine the effectiveness of Equine-Assisted Therapy for treating PTSD (EAT-PTSD) and to establish uniform, manualized guidelines for the application of EAT-PTSD.
"To test equine-assisted therapy, first you have to understand what exactly it is and how it works," says Dr. Fisher. "Through our study, we are collecting the first research data to examine its effectiveness and how it should be applied, so that in the future thousands more may get the treatment they need."
WHY HORSES?
When veterans sign up for equine-assisted therapy with the Man O' War Project, they experience a completely new approach to therapy. For 90 minutes per week, over an eight-week treatment period, they are not trapped in a therapist's office. Rather their "learning" partner is a horse.
Horses and veterans actually share much in common, including a mission mentality. Military life revolves around a given mission. Whether on base or deployed in a war zone, soldiers always have a defined mission before them. When they retire from military service, many veterans often feel lost or listless without this sense of mission. Horses have careers too and are accustomed to working. So when life as a racehorse or some other role ends, these noble animals also need a chance at a second career with a sense of purpose. In this unique way, equine therapy is of mutual benefit to the veteran and horse.
In addition, veterans and horses are both hyper-vigilant—veterans because of their combat experiences, and horses because they are prey animals. Horses act as mirrors to human emotion and behavior, responding in ways that humans can recognize and learn from to better understand their own behaviors and actions.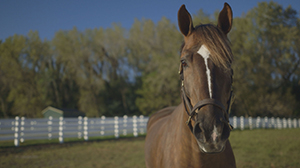 CHANGING LIVES
The treatment begins with simple introductions—the sniff of a hand, a touch on the nose, to eventually guiding the unbridled horse in the ring. Each step challenges veterans to go beyond their comfort zone to earn the horse's trust, thereby gaining confidence and an understanding of how their behaviors impact the horse, and in turn, those around them.
All of this is done under the strict supervision of specially trained mental health therapists and equine specialists who use these interactions to help veterans re-acquire the life skills they need to live healthy and productive lives. "What is surprising to me is the magnitude of the effect of the program," explains Dr. Neria. "We see improved mood and reduction in many PTSD symptoms. We see this as having great potential to change the lives of many veterans."
To date, Columbia University, through the Man O' War Project, has produced the first ever standardized manual for the application of EAT-PTSD, and is actively testing the manual with groups of veterans. The clinical results have been extremely positive, with veterans expressing great enthusiasm for the program. "I'm doing things I never thought I'd be able to do again, and trying new things too," says Rodney. "I'm taking a computer class, learning to fly fish and can walk through a crowd to get to where I need to go.
For more information on Man O' War Project, visit mowproject.org.
---
Anne D. W. Poulson serves as President of the Man O' War Project (a 501c 3 organization). A lifelong horsewoman, she is former President of the Virginia Thoroughbred Association and former Chair of the Virginia Racing Commission.