HOLIDAY COCKTAILS
By Trish Brown
Hosting a holiday party or just having a festive night at home? Whip up one of these delicious drinks. No matter what you're celebrating, this is the perfect time of year for sharing a festive cocktail with family and friends. We've got you covered with this roster of classic—and new favorites—every one of which is worth cheering.
---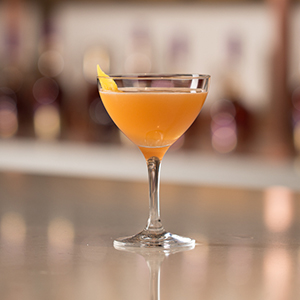 CHAMPS ELYSÉES
1 ½ parts Courvoisier® V.S. Cognac
¾ part Yellow or Green Chartreuse® Liqueur
¾ part lemon juice
1 dash of Angostura® Bitters
Lemon for garnish
Mix all ingredients in a shaker, add ice and strain into glass. Garnish with a lemon twist.
---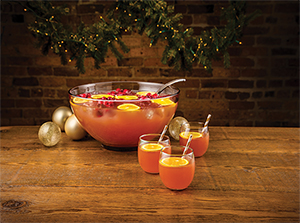 HOLLY JOLLY PUNCH
2 parts Pinnacle® Original Vodka
1 part DeKupyer® Triple Sec
3 parts cranberry juice
6 parts ginger ale
2 parts orange juice
Cinnamon allspice
Nutmeg
Sugar
Sliced oranges
Add ingredients to a punch bowl and stir. Slowly stir in orange juice concentrate as it melts. Add spices to taste, and garnish with orange slices.
---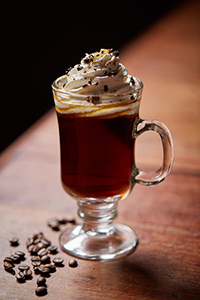 WAKE UP CALL
1 part Hornitos® Black Barrel® Tequila
4 parts hot coffee
½ part simple syrup
Whipped cream
Chocolate shavings
  Combine all ingredients in a coffee glass and stir. Top with whipped cream and chocolate shavings.
---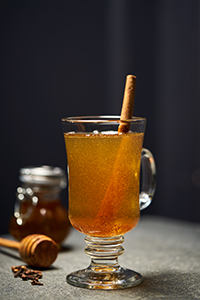 CINNAMON TEQUILA TODDY
1 ½ parts Hornitos Black Barrel Tequila
5 parts hot water
¾ part cinnamon bark syrup
¼ part honey
¼ part fresh lemon juice
3 dashes vanilla bitters
Cinnamon sticks
Combine equal parts sugar and water and 3 cinnamon sticks in a saucepan and bring to a boil to create cinnamon bark syrup. Remove cinnamon sticks from the mixture and combine the remainder of the ingredients in a coffee glass. Stir and garnish with a cinnamon stick.
---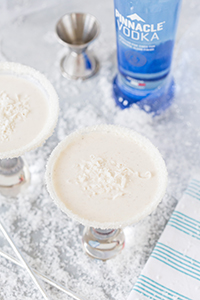 SNOWFLAKE CHILLER
2 parts Pinnacle® Original Vodka
2 parts heavy cream
3 tablespoons melted white chocolate
½ teaspoon almond extract
¼ teaspoon coconut extract
¼ teaspoon nutmeg
Shredded coconut or granulated sugar crystals
Rim edges of glasses by dipping in melted white chocolate and then in either coconut flakes or sugar crystals. Combine vodka, heavy cream and extracts. Shake and strain into the glass. Tip: The white chocolate and sugar rim gives this cocktail a touch of sweetness, but if you like your cocktails on the sweeter side, add a bit of simple syrup to taste.