Welcome Home, Bernadette!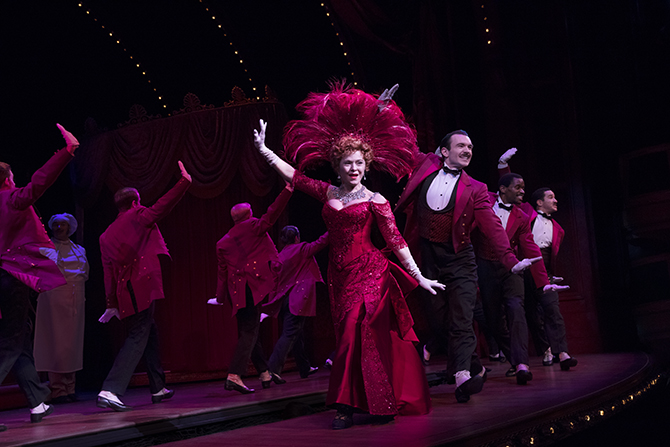 Bernadette Peters in HELLO, DOLLY! ©Julieta Cervantes
By Griffin Miller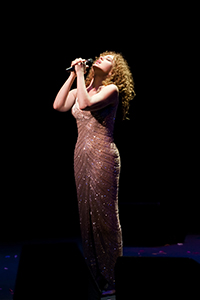 ©Kurt Sneddon
There's a Star on the Hollywood Walk of Fame for Live Theatre bearing her name; she spent several years working in TV and films on the West Coast; and she was inducted into the Hollywood Bowl Hall of Fame in 2002. But first, foremost, and forever, Bernadette Peters is a New Yorker who leaped onto the Great White Way as a kid in The Most Happy Fella and went on to become the ultimate Broadway babe, scooping up three Tony Awards and stockpiling countless other honors, trophies and critical raves.
Along the way, Peters also amassed a battalion of fans, including Bette Midler, her celebrated predecessor in her current role of Dolly Gallagher Levi in Hello, Dolly! "She has created more historic roles in more legendary musicals than any living Broadway star, and most of the dead ones, too," noted the Divine Miss M just prior to passing the baton. "I cannot imagine leaving Dolly Levi in better hands than those of Bernadette Peters."
Nevertheless, Peters found herself weighing the logistic and the creative pros and cons before taking the official plunge. In the end, it was the story and the character that sold her. "It is so well written and the role so iconic, it's no wonder the show attracted so many fabulous actresses," said Peters, adding, "I had seen Carol Channing do it and she was amazing. And, of course, Bette was magnificent. But the more I read the script the more I thought about bringing my own vision to the role."
BROADWAY ROYALTY FROM QUEENS
Born Bernadette Lazzara in Queens, New York to Peter and Marguerite Lazzara, she changed her last name to Peters (after her father's first name), at a time when ethnic-sounding names were a drawback in the world of show biz.
The youngest of three children, Peters—whose talents surfaced while she was still a toddler—began performing when she was three and just kept going. With her parents' support and advice (basically, "be yourself"), she was a working actress throughout her childhood. By the time she was 13 she was on the road in a national tour of Gypsy, understudying Baby June while appearing in one of Mama Rose's kid acts: The Hollywood Blondes.
Peters' breakthrough arrived when she was fresh out of her teens when—in the same year—she picked up a trio of awards playing George M. Cohan's sister Josie on Broadway in George M!, and tap-dancing phenom Ruby in Off-Broadway's in Dames at Sea. Her star status was ensured once she unleashed her talents in high-profile roles in a string of Broadway hits.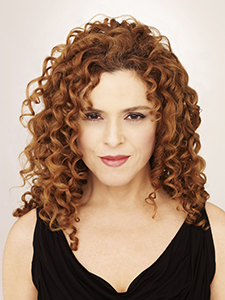 ©Andrew Eccles
SPOTLIGHT ON A SUPERSTAR
In 1985, Peters picked up a Tony Award playing Emma in Andrew Lloyd Webber's Song and Dance, a performance that inspired New York Times critic Frank Rich to proclaim: "[She] has no peer in the musical theater right now." And in 1999, she won her second Tony starring in the hit revival of Annie Get Your Gun, for which The Washington Post critic wrote: "For anyone who cares about the American musical theater, the chance to see Peters in this role is reason enough to see the show."
Still, according to a number of theater experts, it's her Tony nominated work in Stephen Sondheim shows that catapulted her into the superstar spotlight. From Sunday in the Park with George and Into the Woods to A Little Night Music, Gypsy and Follies, Peters has acquired the reputation as the foremost female interpreter of Sondheim's music.
When presented with decades of kudos, Peters credits only good fortune on the casting front: "I'm lucky to have been given such wonderful roles to play—Sally in Follies… Mama Rose in Gypsy… Annie Oakley… so many, and now Dolly. I feel I've been given a wonderful gift."
"In the show, Dolly says she's 'rejoining the human race'," says Peters, explaining that, while in a literal sense the phrase refers to the character leaving her widowhood behind, the concept is far more universal. "We all go through ups and downs and here you have a show with a wonderfully uplifting message. I can't describe how, but it touches the people who come to the show in these times that are rocky with life and the world."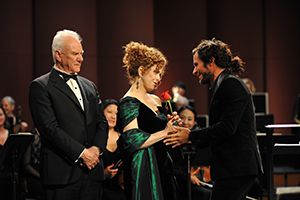 Production photo from Mozart in the Jungle
BERNADETTE'S OTHER PASSION
It's difficult to imagine anyone as committed to her craft as Peters, but there is another part of her life that runs parallel to her career—one that evolved during her run in Annie Get Your Gun.
"The cast had just won the Broadway Cares/Equity Fights Aids Easter Bonnet Competition, and we started thinking about what other kind of charity we could do," recalled Peters, who has always been a beacon for important causes "I had visited a shelter and suggested doing something to promote shelter adoptions. So it kind of came together that we'd be able to get Broadway celebrities to come to Shubert Alley and partner with shelters to place animals in permanent, loving homes."
Teaming up with her good friend and fellow animal advocate Mary Tyler Moore, the first Broadway Barks became a reality in 1998 and it has gone on to become one of the theater district's most popular annual events.
YEAR OF THE DOG
"Every year we like to honor somebody at Broadway Barks. Last year it was Mary who had just passed away," said Peters, adding that they find themselves looking for ways to enhance and promote outreach. For example, Peters, who shares her home and life with shelter dog adoptees Charlie and Rosalie, has authored three children's books dedicated to Broadway Barks/saving animals, both in subject matter and proceeds.
"On the Chinese calendar it's the Year of the Dog," pointed out Peters, adding that there's a synchronistic element at play here: this year's Broadway Barks on July 22nd marks its 20th anniversary.
"I think we'd be surprised to learn how much the animals know," said Peters. "We rescue them to be on this earth and as companions. We rescue them so they can save us."
For more information on Broadway Barks, please visit broadwaybarks.com.
---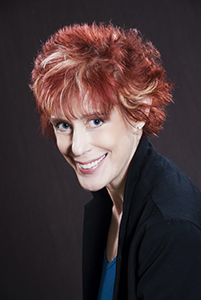 Griffin Miller specializes in spa travel and New York theater. Her resume includes writing for The New York Times, For the Bride and Hotels. She also creates promotional materials for the Metropolitan Opera, BAM, and Guggenheim Museum. A member of The New York Travel Writers' Association, she is a playwright and award-winning collage artist.