HAIR APPARENT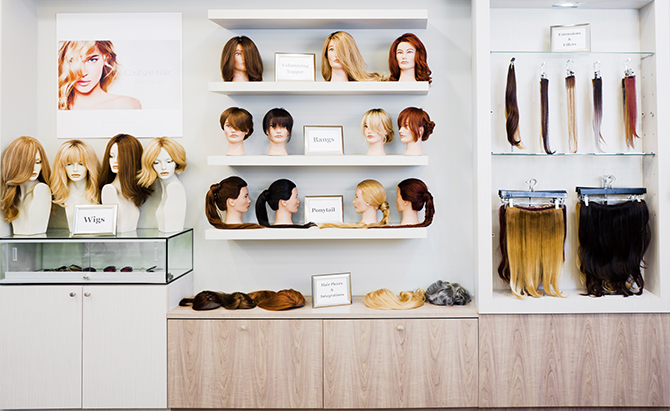 By Genevieve de Massey
Angelo David Pisacreta is one of New York's leading authorities on fine and thinning hair. For well over 25 years, he has been transforming the hair of men and women who have a range of style challenges.
At his luxury salon, located on Madison Avenue, Angelo and his team have elevated hairstyling to a true couture art form. The highly skilled staff not only create highly customized styles, but they can also completely transform anyone's look with Angelo David Couture Hair Extensions, Fillers, Additions, Toppers, Clip-In Bangs or Wigs.
TRESS RELIEF The salon has seven private consultation rooms for discrete, highly personalized consultations. Here, experts examine sample strands of your hair, so that Couture Hair can be identically matched to texture, density, thickness, color, and wave pattern. Then, your natural hair is cut and styled for flawless blending. Whether you want to conceal a thinning area, go from short to long instantly, add lush thickness, conceal premature balding, or simply try out bangs for a day or two, it's all possible.
Angelo and his experts often work with those who are experiencing thinning hair or hair loss. His clients include cancer survivors and those undergoing chemotherapy, as well as clients experiencing hair loss due to other causes, including genetics, pregnancy, medical issues, stress, unhealthy lifestyles or hair stress caused by styling/pulling the hair too tight. By offering personalized, in-depth consultations, Angelo aims to conceal, inhibit—or when possible—reverse hair loss, regardless of the reason. Notes Angelo, "Whatever stage of hair loss a client is experiencing, we focus on three things: prevent, correct and maintain."
Angelo learned the craft of hairstyling at a very early age from his father Carmine, who was a pioneer in designing men's hair pieces, as well as an award-winning competition hairdresser and a salon owner. Naturally, Angelo found a niche within the wig-making industry and went on to design his Couture Hair—100 percent human hair customized for each client. "Hair extensions and hairpieces are part of our culture and our industry now," says Angelo. "They are no longer a secret of the rich and famous—they are everyday hair wear that's within every man and woman's reach."
ALL NATURAL To maintain the health of any hair type, Angelo developed his line of VOL hair products, which include a volumizing shampoo, conditioner, conditioning spray, and dry shampoo. Using them will instantly boost volume. Best of all, the collection of products are sulfate- and sodium chloride-free. They also contain natural hair-loving ingredients like honey extract for moisturizing, antioxidants to inhibit damage from free radicals and silk amino acids to build protein and strengthen hair.
Additionally, Angelo has created his line of hairbrushes explicitly made for use on hair extensions and hairpieces. They use the ideal balance of naturally conditioning boar bristles and gently separating nylon bristles to promote healthier hair and stimulate the scalp.
Angelo David Salon is not only loved by clients but the media as well. His expertise has been sought after by national magazines including BELLA, Avenue, Hampton's, New Beauty, Cosmopolitan, Self, Parents and many more. He's also appeared on Inside Edition, The Today Show, and Good Morning America to name but a few.
Angelo has worked with A-listers including Kelly Rutherford, Tamara Tunie, Coco Rocha, Carrie Preston, Christie Brinkley and says, "There is nothing more rewarding than being able to change how someone sees herself, boost her self-esteem or uplift her feelings within an hour or two. I'm so lucky that every day, I get to make someone look and feel beautiful.
For more information on Angelo David Salon, visit angelodavid.com.