SEEING RED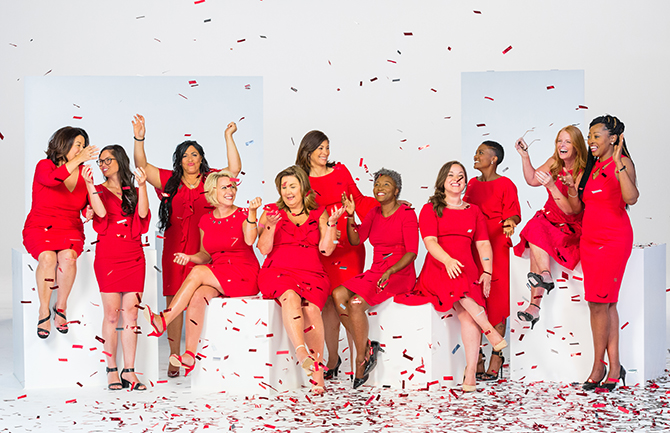 By Joan Hornig
Our eyes are drawn to the color immediately. It has the power to signal "stop and pay attention!" From fashion stylists, makeup artists to job coaches, we all know the color red gives that instant boost of confidence and a surge of power.
In 2003, the American Heart Association (AHA) and the National Heart, Lung and Blood Institute (NHLBI) put red to work to fight the No. 1 killer in women—cardiovascular disease, which claims the lives of nearly 500,000 American women each year. Not only a U.S. concern, heart disease and stroke cause 1 in 3 deaths among women each year worldwide, killing approximately one woman every 80 seconds. To address this major global issue, the Go Red for Women campaign, a passionate, emotional, social initiative designed to empower women to take charge of their health, was born.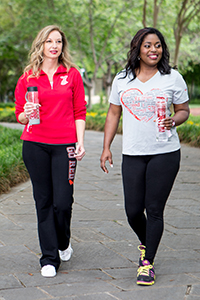 Photo by Rance Elgin
HELP NON-PROFITS
The Go Red for Women "branding" not only impressed me with its effectiveness, it also played a role in inspiring me to start my own jewelry business which enables women to become "walking advertisements" highlighting the importance of helping non-profits, and foundations they care about. Every purchase of my jewelry supports a donation of 100 percent of my profit to the charity of that customer's choice. My belief that fashion, philanthropy and the power of the purse cannot be ignored is proven by the effectiveness of the Go Red for Women campaign which has had measurable, substantial effects in changing behavior for the better.
Go Red for Women is nothing short of a healthy revolution movement—corporations, a host of non-profits, consumers and the press have all embraced it. It has been so effective in changing behavior that the AHA has set a realistic goal of reducing death and disability from cardiovascular disease and strokes by 20 percent, while improving the overall cardiovascular health of all Americans by 20 percent by the year 2020. This is based on the success of the programming that has supported women having healthy hearts.The campaign has been credited with having contributed to the following accomplishments:
• Nearly 90 percent of women have made at least one healthy behavior change.
• More than one-third of women have lost weight.
• More than 50 percent of women have increased their exercise.
• 6 out of 10 women have changed their diets.
• More than 40 percent of women have checked their cholesterol levels.
• One-third of women have talked with their doctors about developing heart health plans.
• Today nearly 300 fewer women die from heart disease and strokes each day than they did 15 years ago.
• Death in women has decreased by more than 30 percent over the past ten years.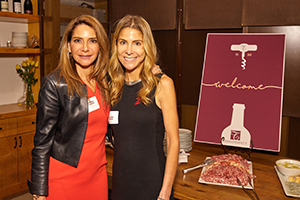 Jessica Eker, Senior Vice President, TransPerfect and Elizabeth Elting, Co-CEO, TransPerfect. TransPerfect is a local Go Red For Women sponsor in New York City. Photo courtesy of TelyFoto Inc; Alphonse Telymonde.
RED LETTER DAY
This year National Wear Red Day® falls on February 2nd. It's a day when we see more red dresses worn than at a Christmas party! In 2003 NHLBI introduced the red dress as a national symbol for women and heart disease awareness and the AHA adopted this symbol to create synergy among all organizations committed to the fight. By working together to advance this cause, we have witnessed the benefits of collaboration through additive programs, rather than competing ones which further fragment the non-profit landscape.
Significant funds are raised by Go Red for Women activities which the AHA uses to support awareness, research, education and community programs which benefit women's health. Scientific research findings are used in materials and tools for women's healthcare providers and decision-makers. More than 200,000 healthcare provider offices have received Go Red for Women educational tools to help ensure that women are being treated according to guidelines set by the most current research and with the protocols tailored to a woman's individual risk.
This game-changing campaign has inspired millions learn more and find the five numbers all women need to know to take control of their heart health: Total Cholesterol, HDL (good) Cholesterol, Blood Pressure, Blood Sugar, and Body Mass Index (BMI). To learn more about this campaign, visit goredforwomen.org.
Corporations have jumped on the wagon to add sponsorships despite having to comply with requirements in their commercial messages, advertising and brand messages to ensure no endorsement of a company product is implied. The commitment of Macy's, CVS, Britta, Jamberry, and JTV® as the national sponsors play a crucial role in championing Go Red For Women.
If a red dress isn't your thing, but you want to show your sartorial support for women with heart disease and stroke you can visit Shop Heart (shopheart.org). You can take a selfie, organize your office to wear red, organize a walk in your neighborhood, dress every member of your family in red, wear red lipstick and nail polish or just use your creativity and share it by posting photos using the hashtag #wearredandgive. Also, follow on Facebook: click.heartemail.org; and Twitter: twitter.com/goredforwomen.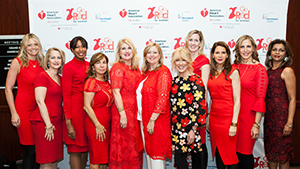 New York City Executive Leadership Team for Go Red in New York City. Photo courtesy Great Heights Photography
REMEMBER THE GUYS
Women also know that we must also take care of the men in our lives when it comes to having a healthy heart and a lifestyle and so do our city and state governments. The NYC Department of Health and Mental Hygiene has instituted an ongoing campaign to help all our citizens, and health providers address hypertension, the leading risk factor for heart disease and stroke. Together they account for more than 18,000 deaths in NYC annually. Keep your eyes open for free blood pressure kiosks in pharmacies, kits available in your health care provider's offices and information about reducing your sodium intake and making healthy food choices, all of which are part of the city's effort to build on the effectiveness of campaigns like Go Red for Women.
Consider sending donations to donatenow.heart.org/goredforwomen. Even better why not send a Valentine in honor of your loved ones. It will send a message that conveys "your heart means something to me." Doing so will pair perfectly with a box of dark chocolate (good for the heart), flowers and, of course, jewelry—preferably Joan Hornig Jewelry. All donations go to the AHA.
---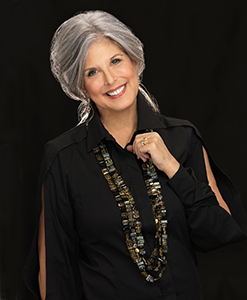 Joan Hornig is a New York-based Jewelry Designer, Social Entrepreneur, and Philanthropist. She left a Wall Street career 15 years ago to create a jewelry line at Bergdorf Goodman, where 100 percent of her profit is donated to the charity of the purchaser's choice.