50 WEST STREET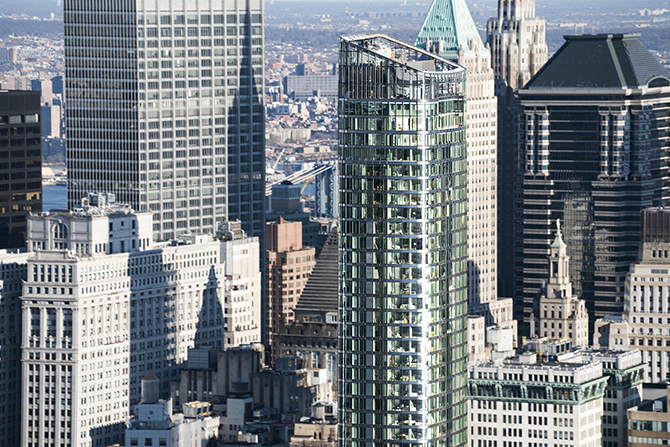 By Daniel J. Bollinger | Renderings by DBOX | Photography by QuallsBenson
On the Lower West Side of New York City, blocks from Battery Park City and the West Side Highway, there is a new area that is becoming known as Billionaire's Row Downtown. One new development here is 50 West Street. Developer Francis Greenburger has designed this with thought to personal living, social environment, and terrain in mind. The residences themselves "defy the laws of luxury" as their website says. An amenities package like this is seldom seen. The engineers and architects that constructed this development deserve accolades.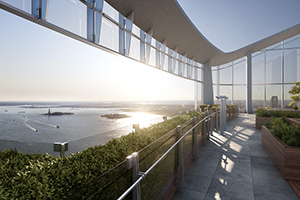 TERRAIN
Because of its location downtown, the foundation is waterproof: think of it as a bathtub that keeps water out. There are generators located on upper floors to keep all functions of the building intact at all times should anything fail. All of the interior space in this building is built above the flood plain, so there is no need to concern yourself.
World renowned architect Helmut Jahn and interior designer Thomas Juul-Hanson have designed this beautiful project. From the outside, the curved glass of the façade is a breath of fresh air for the area architecture. This follows to the interiors as floor-to-ceiling curved glass provides for outstanding double exposures with views of the city's most iconic scenery.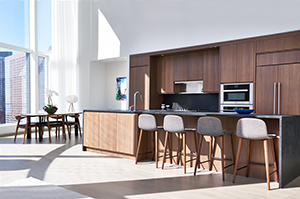 PERSONAL LIVING
Three bedroom apartments (up to the 34th floor) have 20-foot ceiling heights with this curved glass aspect: all others have 10-foot ceilings.
The open concept great room composed of the kitchen, living and dining rooms are all featured within this curved glass. It is the perfect place for family and entertainment. Colors are neutral, patterns are minimal, and fixtures are subtle so that you can enjoy the most compelling element of the residences: the New York skyline.
The stained walnut integrated cabinets and brushed black Absolute Zimbabwe granite countertops, and backsplashes create a warm, regal feel especially with the Axor Citterio polished chrome fixtures. Top notch Miele and Sub-Zero appliances are what you would expect in a project like this. One design detail worth mentioning, the stainless steel Miele hood vent (that vents out) has a nice functional ledge in the design. There is a deep stainless steel kitchen sink, and the integrated cabinetry includes pantry shelving and built-in garbage containers.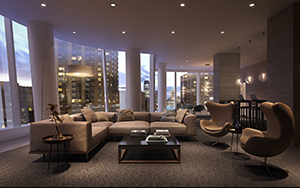 The master baths are equally chic with floor to ceiling polished Siberian Sunset marble and Hans Grohe fixtures. The fluted glass bathroom wall brings the design to a higher level. With custom medicine cabinets and wall to wall mirrors, these master baths are quite grand.
SOCIAL ENVIRONMENT
The amenities package is spectacular. Four floors are devoted to amenities for everyone from toddlers to adults. A library, children's room, theater with stadium-style seating, and a private full floor fitness center are just some of them. The Entertainment Floor has a private dining/demonstration kitchen, an arts and crafts room, lounge, and game room. The 60-foot indoor pool in The Water Club is fantastic, along with the hot tub and sauna, and since all are professionally managed, there are organized activities for children and adults. The Observatory on the roof is another one-of-a-kind amenity. Glassed in to protect from winds at such heights, with barbecues, outdoor kitchen, banquet tables, and private reservable dining areas. Binocular tower viewers allow for an extraordinary experience on your rooftop amenity.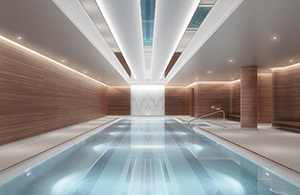 Another unique offer at 50 West Street is office condominiums available for purchase for residents only. A dedicated office elevator lobby allows for both discretion and the feeling of an away from home work environment. All offices share a conference room and pantry which can be accessed via a separate commercial entrance on the plaza. If that's not all, there is even a bar and restaurant inside of the building which makes for convenient and leisurely dining and socializing. Taking a client to lunch before having a business meeting in your office or conference room so close to home has never been easier or more thoughtfully designed.
You will find 50 West Street has thought of everything for the modern urban family. From the structural design and mechanicals to living to social experience, this development is really in a class by itself. In the ever competitive luxury real estate market 50 West Street is setting the bar.
For a full list of amenities and more information on 50 West Street, visit 50westnyc.com.