SURGEON AS ARTIST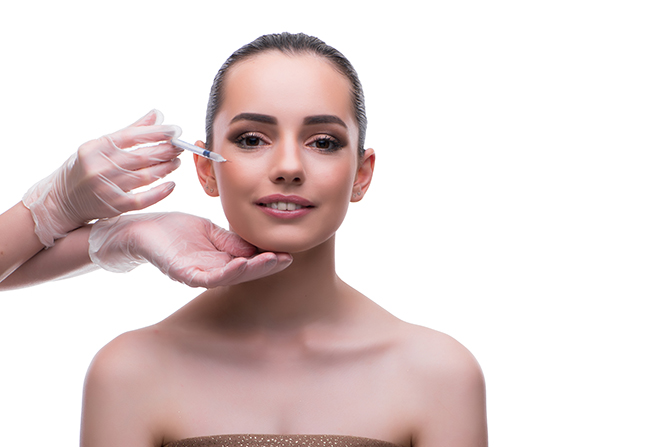 By Ruth J. Katz
"You are wearing my work on your face, so to speak, and I want it to be subtle, yet successful work," observed Russian-born Dr. Konstantin Vasyukevich, with a wry smile. Dr. Konstantin, as his patients kindheartedly refer to him, is a double board-certified plastic surgeon who specializes in "work" from the neck up, having performed over 2,000 procedures in that heady stratosphere, with facelifts accounting for half of that number.
"The relationship between a facial plastic surgeon and a patient is very special," he notes. "It requires tremendous trust. My patient is saying, 'I trust my face to you.' You can hide other parts of your body with clothes, but your face is visible to the world all the time."
Just as he wants his efforts with the scalpel to be classic and classy so, too, has he created an office that reflects the Upper East Side neighborhood where he presides. The reception area and meet-and-greet consulting rooms are very comfortable and living room-like, and it is only when you step back into the inner workings of the practice, do the more clinical and antiseptic treatment rooms appear.
Dr. Vasyukevich, 48, is an assistant clinical professor at the Albert Einstein College of Medicine, having served a five-year residency in otolaryngology and head and neck surgery at the Montefiore Medical Center of the Albert Einstein College of Medicine as well as a facial plastic and reconstructive surgery fellowship at Mount Sinai Medical Center. In addition, he holds a master's degree in biological sciences.
Recently, New York Lifestyles sat down with Dr. Vasyukevich to learn more about his philosophy and practice.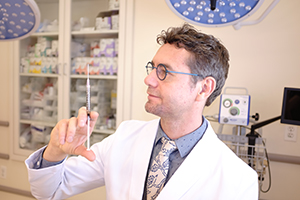 Dr. Konstantin Vasyukevich
Clearly, having performed over one thousand facelifts, that procedure is one of your specialties. How has the facelift changed over the years?
Facelifts came into being in the early 1900s, and during the subsequent hundred years, techniques evolved and improved dramatically, offering better and longer-lasting results. Today, surgeons employ a wide range of methods to achieve the most effective facial rejuvenation in people of different ages, with various types of facial structures, and with a wide range of issues. Because of these improvements in technique, facelift options have broadened dramatically. I like to group these options into three main categories: True surgical facelifts, non-facelift contouring procedures, and skin rejuvenation; among these possibilities, I can offer nearly a dozen different types of choices. Terminology can be very confusing, and we work patiently with our clients to determine which procedures and treatments are the best fit for the face and the budget. It is my goal to fully educate patients so that we know at the outset what kind of outcome to expect. We are partners in this journey.
You clearly perform surgery a great deal of the time—you operate two days a week—but what about the "little touch-ups," the subtle changes that can be achieved with injectables?
About 50 percent of my practice focuses on facial contouring with injectables, including Botox and assorted fillers, and I do believe that they are very valuable tools in keeping the face "in shape," up to a point, of course. Although injectable procedures and other non-surgical treatments are less complicated than surgery, injecting them requires a skilled hand and an experienced eye—someone who knows facial anatomy, to ensure achieving consistently excellent results. With Botox, for example, I would rather start out with less, and have a patient come back in a few weeks, to see if a little more is feasible, desirable, and appropriate.
When should a woman consider injectables?
At 30, a woman may consider lip enhancement, and perhaps a little cheek enhancement, and maybe even a little Botox in the forehead. In the 40s, more treatments are usually warranted, using different fillers for various sections of the face. Sooner or later, a more comprehensive plan is needed, and that is when a patient might consider a facelift, which will keep the face looking young and vital. But fillers and facelifts are not substitutes for each other. Each gives a particular result. As for Botox, in general, I think if you do it all the time, it helps relax the forehead muscles, so that those lines don't become deeper or more ingrained.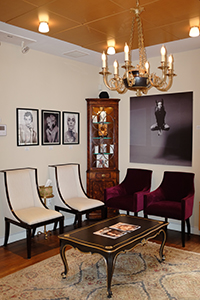 You have been speaking about women, but what about men?
Male clients make up about 15 percent of my practice, and I find that men like more radical solutions than women. For men, the most common reason for seeking surgical procedures is work-related, not wanting to look like the oldest person in the office. They want to stay 'in the game' and look and feel competitive, energetic, and capable. I do a lot of work on the eyes. In fact, blepharoplasty is one of the more popular procedures I perform on men. Patients tend to be surprised at what a big difference this procedure can make. The scars are well-hidden, the recovery is quick, and patients get a much brighter, more open look.
What drew you to focus solely on the face and not do tummy tucks, breast augmentation, and so on?
I like to use my surgical tools the way an artist controls his paintbrushes to create a pleasing canvas. I believe that facial plastic surgery is the most demanding, the most challenging, and the most rewarding plastic surgery specialty. Other specialties are important, assuredly, but what sets the face apart is that you cannot hide it.
For more information on Dr. Konstantin Vasyukevich, visit drkonstantin.com.
---
The author of five books, Ruth J. Katz served as style editor of Promenade magazine. She has written extensively for both The New York Times and New York magazine, has served as an editor at numerous magazines, and appeared weekly on Fox TV as the consumer services expert. ©2018 Ruth J. Katz. All Rights Reserved.