CHOCOLATE: THE FOOD OF LOVE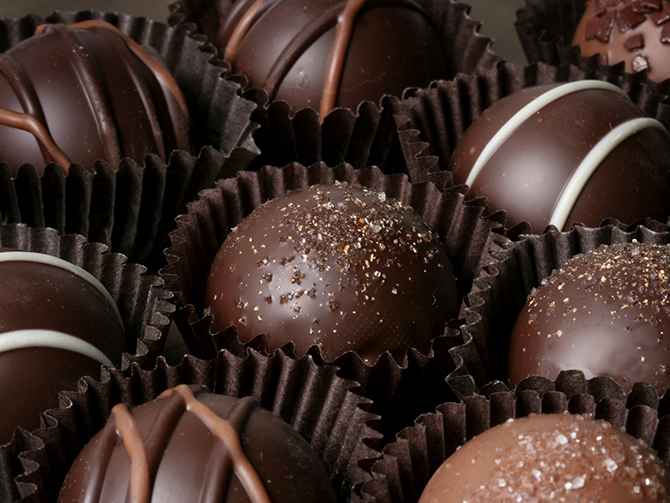 By Lori Simmons Zelenko
As Peanuts creator Charles M. Schulz famously once said, "All you need is love. But a little chocolate now and then doesn't hurt." And chocolate certainly helps pave the way for romance on Valentine's Day, after all, it's been connected with passion since the days of the Aztecs. So when it comes to this sweet treat whether you're looking for the perfect savory bite, an extravagant gift or just delicious, decorative delights, you'll find what you seek in our round-up of our favorite chocolate shops in Manhattan and beyond, inviting all to enjoy indulgences adored all over the world.
---
MAISON DU CHOCOLAT
Sweetness And Light
La Maison du Chocolat's Valentine's collection is a stylized study of Parisian landscape architecture. Meilleur Ouvrier de France chocolatier, the artistic director of this famed Chocolate House, Nicolas Cloiseau sets the stage for strolls through Paris' verdant pathways and hidden ponds, from rows of linden trees to the orangeries of the gardens. Tenderness is infused with this year's Valentine's Collection depicting the City of Lights in a beguiling melody of fragrances and flavors. Fresh, fruity and wow! What a delicious sunburst of flavor. Order online or visit the Rockefeller Center or Madison Avenue locations of this legendary chocolate boutique. Bring the sweetness and light of Paris home with you this Valentine's Day! Info: lamaisonduchocolat.com.
---
LI-LAC CHOCOLATES
Classic And Charming
Manhattan's oldest and most traditional chocolate house was founded in 1923 on Christopher Street in the West Village but has now expanded to five locations throughout the city. Li-Lac is known for their fresh, gourmet chocolate hand-crafted in Brooklyn with an array of gifts for Valentine's that are classic and charming. Passionate and devoted to the quest of bringing New Yorkers the most magical of chocolates, Li-Lac owner Anthony Cirone shares his enthusiasm, "I love the business of chocolate. I've noticed, and maybe you have too, that people are always happy when they are eating chocolate." So happiness really is a box of chocolates…rush delivery available in NYC. Info: li-lacchocolates.com.
---
ROYCE CHOCOLATE
From Japan With Love
No doubt we've all heard of Swiss chocolate. And there's familiarity too with Ecuadoran chocolate. But Japanese chocolate? That's as they say a whole new ballgame! And Royce Chocolate hits it out of the park. Founded in Sapporo, Japan in 1983, this chocolate is a home run. World class Royce comes from Hokkaido where the climate and the clean air are ideal for making confections. What makes Royce a winner is its intuitive indulgence. Would you confess to craving potato chips—salty and crunchy— dipped in white chocolate (Fromage Blanc)? Well, Royce anticipates your desire. They make these sinful treats too delicious to resist. But Valentine's cravings may be a little more sophisticated. Can't help but adore the Kir Royale harmony of fruity cassis and dry Champagne in the rich, smooth Nama chocolate from Royce. But my personal favorite is the Ghana Bitter—just sweet enough to take the edge off the bitterness of dark chocolate, sumptuous and velvety, the perfect accompaniment to a crisp bottle of bubbly or a snifter of cognac. Same day delivery in NYC from the chic Madison Avenue boutique so if you're stuck last minute, you know your sweetie won't be disappointed. Info: order.royceconfectusa.com.
---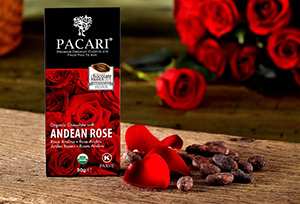 PACARI CHOCOLATE
Red Roses Naturally
Pacari has earned awards around the world though it is based in Ecuador, the source of treasured fine flavor cacao. The first single-origin organic chocolate made entirely in Ecuador, Pacari creates an unforgettable chocolate experience, the ultimate in sustainable chocolate. The word Pacari means nature in Quechua, an indigenous language of the Andean region, and this all natural chocolate takes an innovative approach to bringing out the best in Ecuadorian chocolate. It's my favorite among bars, dark, ever-sumptuous, so rewarding; one is not ever enough. Give in to temptation then and abandon the traditional bouquet of roses this Valentine's Day; enjoy the essence of Pacari's Andean Rose bar, a floral fantasy that's one in a million. Find this delicious, sweet and a little bit spicy surprise at 2beans (2beans.com) and The Meadow (themeadow.com). Info: pacarichocolate.us.
---
TO'AK CHOCOLATE
For The Man Who Has Everything
When it comes to a Valentine's gift for the man who has everything, why not partake of the most expensive chocolate in the world? Surprisingly seductive To'ak (a fusion of Ecuadoran dialects meaning earth and tree) produces small editions of single-origin Ecuadorian dark chocolate from the oldest and rarest variety of cacao on earth. And now, at long last, To'ak is releasing a limited edition, many years in the making: Single Malt Islay Cask Matured, was aged for two years in a Laphroaig Scotch whisky cask ($355 per 50-gram bar) a marriage made in heaven for whisky connoisseurs and chocolate enthusiasts alike. As it turns out, the co-founders of To'ak Chocolate are also unabashed devotees of Scotch whisky—particularly, the peated single malts of Islay, the most storied whisky-producing region in Scotland. To'ak founders Carl Schweizer and Jerry Toth marry Ecuador's most precious dark chocolate with Scotland's most charismatic whisky. "Delicately infused with the peat and smoke of an Islay whisky, the caramel and fruit notes of the chocolate… unlike anything we've ever tasted before, anywhere," says Toth. What could be more appealing than a chocolate ready to capture a man's heart? Info: toakchocolate.com.
---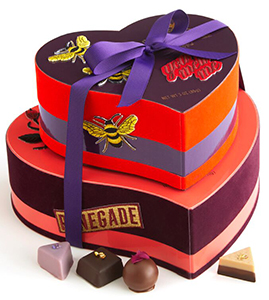 VOSGES HAUT CHOCOLAT
Rock 'n Roll Lovers Delight
Tactile and visually titillating, Vosges limited edition Renegade Heart collection arrives in a posh red velvet box you'll want to keep, decorated with embroidered rocker roses, a bumblebee or two and a Renegade patch; it's perfect for the sexy, daring, playful woman who craves sensory stimulation. Adore Italian hazelnuts and creamy dulce de leche caramel? There's an assortment for you. Exotic parfums like Bulgarian Rose Water or Australian Lemon Myrtle much less Rosé Champagne and white cocoa butter tempt you? Vosges is the heart of inspiration, a reflection of the gypsy spirit of Vosges founder/CEO Katrina Mankoff whose creative vision flows in from everywhere. Like Mick Jagger says, "it's only rock 'n roll, but I like it…" No doubt he'd enjoy the romantic edge of this rocker-ready chocolate. Info: vosgeschocolate.com.
---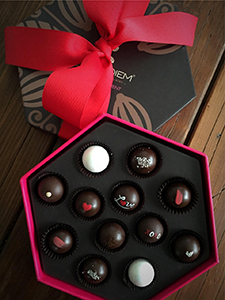 CHOCODIEM
Truffled Pearls
Jean-Paul "JP" Hepp, Founder and Co-Owner of Chocodiem, takes chocolate very seriously. After all, he's Belgian! Making small-batched chocolates by hand in a state-of-the-art kitchen in Clinton, NJ, he uses only premium chocolate discovered throughout his travels to various parts of the world on a quest to find the best cacao beans! This artisan approach is Belgian, which is, JP says "the gourmet standard by which all other chocolate confections are measured." Of course, do give credit as well to his fanatical adherence to Old World manufacturing techniques. Partnered with his daughter, Eveline, they make award-winning chocolate with scientific know-how and artistic flair. Personally, I crave their white-on-the-outside Pearl Truffles with a delightful dark heart—a center that's well, simply addictive. No wonder these glistening wonders are their best-seller. Info: chocodiem.com.
---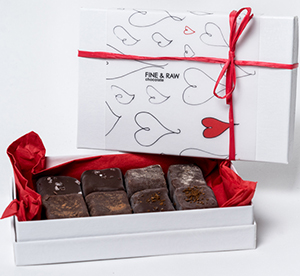 FINE AND RAW CHOCOLATE
On A Magical Mission
Fine and Raw has a mission, a magical one at that. Their goal? To "save the world through silliness and chocolate (artisanal, of course)," proclaims founder Daniel Sklaar who started Fine and Raw by making small batches and sharing with Williamsburg friends. Going deeper down the Rabbit Hole, a passion for chocolate craftsmanship and dedication to this tasty art took over. Vegan and made with coconut sugar, this raw chocolate tastes good and is healthy too. Being an immediate convert, I just can't wait to try more enlightened treasures from Fine and Raw. Info: fineandraw.com.
---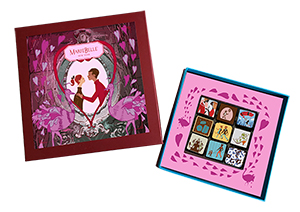 MARIEBELLE CHOCOLATES
Artistic Treasures
Chocolate covered caramels, painterly in their presentation, come in a box that is marvelous in mauve or pretty in pink from MarieBelle. With flavors like butter caramel, cherry, passion fruit, espresso, banana, rum raisin, dark chocolate, fleur de sel and orange, Maribel Lieberman the founder of MarieBelle New York, and its most inspired doyenne, reinvents how we enjoy chocolate. From her first chocolate shop in Soho, Maribel's passion has always been to celebrate life, "and the leisure and happiness we find in food, art, and beauty." Truly each chocolate is exuberant in its artistry, inside and out a gift that's joyful and fun. No wonder Maribel engages chocolate lovers across the globe with her beautiful and delicious artisanal approach. Info: mariebelle.com.
---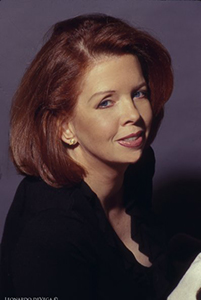 True confessions, Lori Simmons Zelenko is a chocolate lover particularly when there's a glass of champagne or a snifter of cognac nearby to accompany each luscious bite. A writer and luxury brand-imager, she's enjoying pursuing the pleasures of the food of love; this joyful journey has led her to discover the passionate commitment to artisanry from chocolatiers with roots near and far (France, Ecuador, Japan, Belgium and even Brooklyn). For more about Lori Simmons Zelenko, visit lsz-communications.com. All rights reserved ©Lori Simmons Zelenko.