ON THE SMALL SCREEN
By Jenny Peters
DELIGHTFUL DRAMAS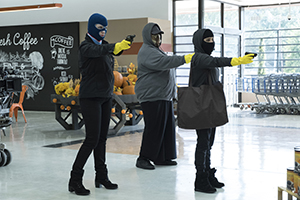 GOOD GIRLS
NBC
What happens when three suburban moms reach the end of their rope? Robbery, that's what. Christina Hendricks (Mad Men), Retta (Parks and Recreation) and Mae Whitman (Parenthood) star as neighborhood friends. The women get so desperate they turn to a life of crime in this modern crime drama series on NBC that's spiced up with a few laughs along the way. Created by Jenna Bans of Scandal and Grey's Anatomy fame (as writer and co-executive producer of both shows), so if those float your boat, be sure to check out Good Girls.
---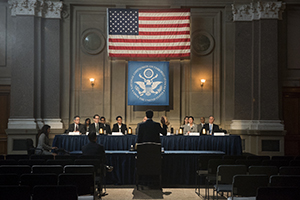 THE LOOMING TOWER
Hulu
Jeff Daniels stars in The Looming Tower, Hulu's new series tracing the events leading up to 9/11. Did the rivalry between the CIA and the FBI during the late 1990s lead to that American tragedy? That's the premise of this disturbing, fact-based tale adapted from the Pulitzer-Prize-winning nonfiction book by Lawrence Wright that explores the actions of both government agencies as each knew of Osama bin Laden and his Al-Qaeda forces long before the Twin Towers fell.
---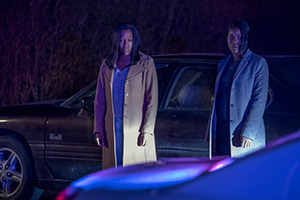 SEVEN SECONDS
Netflix
Taking on a topic that is very much in today's news feed, Netflix's new crime drama series Seven Seconds jumps into the issue of race relations between America's residents of color and the police who often unjustly target them. Emmy Award-winner Regina King stars in this compelling show that doesn't flinch from the issues, as a cop shoots a young black teen and the city he lives in explodes with anger as the police officer responsible is brought to trial. Also starring Clare-Hope Ashitey, Beau Knapp, Raul Castillo and Zackary Momoh.
---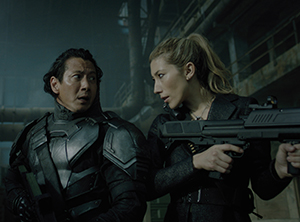 ALTERED CARBON
Netflix
It's 2384, and things have gotten very weird on Earth in this 10-part sci-fi adaptation of the award-winning Richard Morgan novel of the same name. Altered Carbon the TV series stars Swedish actor Joel Kinnaman (you might remember him from another Netflix series, House of Cards, where he played the handsome, ambitious governor running for president against Frank Underwood) and Tony Award winner Renee Elise Goldsberry (Hamilton). The dystopian plot is complicated—human consciousness is now digitized and can be implanted into new bodies, for starters—so plan to take this binge-watching session a bit slow to take it all in.
---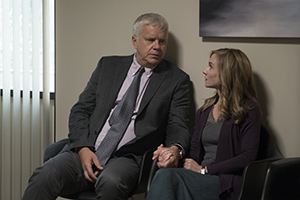 HERE AND NOW
HBO
Hooray! Show creator/writer Alan Ball (Six Feet Under, True Blood) is back on HBO this spring with Here and Now, an extended family drama that stars Oscar winners Holly Hunter and Tim Robbins. Together they are raising a blended family of three adopted children (from Vietnam, Liberia, and Colombia) and one biological, but when one of the kids starts seeing visions, strange things start happening. Ball's creative mind is legendary—he also wrote American Beauty, for which he won an Oscar, Golden Globe and Critics' Choice award—so anticipation is high for this multicultural dramedy with a twist.
---
CRACKED COMEDIES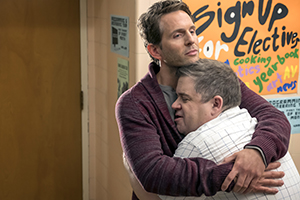 A.P. BIO
NBC
Catch the teaser premiere of A.P. Bio this month on NBC, then tune in to the series in March. It's a classroom comedy about a disgraced Harvard professor who returns home to Ohio in disgrace—but with a job teaching advanced placement biology honor students at the local high school. Glenn Howerton and Patton Oswald (we'll watch anything with him in it) star in this irreverent take on teaching, along with a slew of new teenage faces, in this show from the minds of Saturday Night Live team Lorne Michaels, Seth Meyers, and creator Mike O'Brien.
---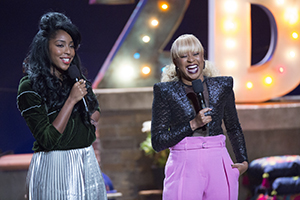 2 DOPE QUEENS
HBO
If you're already a fan of the 2 Dope Queens podcast, then you know the kind of kooky comedy that Phoebe Robinson and Jessica Williams throw out into the universe. If not, get ready for some serious laughs in this four-part HBO series of specials, filmed live at Brooklyn's Kings Theatre. The two queens aren't going it alone in their jump to the small screen—watch for Uzo Aduba, Tituss Burgess, Sarah Jessica Parker and Jon Stewart to join the fun, with comedian Tig Notaro taking the directing helm for all four shows. Check out the podcasts at HBO.com, too.
---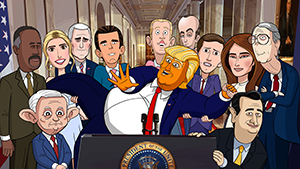 OUR CARTOON PRESIDENT
Showtime
Comedian and talk show host Stephen Colbert brings his animated vision of the Trump White House to Showtime in the irreverent new comedy series Our Cartoon President. You'll recognize everyone from real life—the Donald, of course, as well as Melania, Don Jr., Mike Pence, Ben Carson and the other players that wander in the ongoing stream of people passing through the Oval Office. Our advice, however, is to not get too cozy with any single character, as you never know when the next guy is going to get fired. If the real President of the United States follows true to form, expect to hear about a libel lawsuit against Colbert and his merry band of animators!