TIME OUT WITH FELICIA MADISON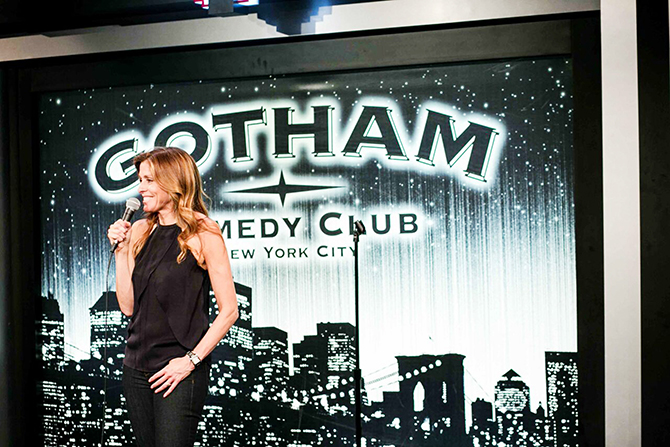 Felicia Madison at the Gotham Comedy Club
By Elizabeth Morgan
A modern-day Mrs. Maisel (but happily married and living on the Upper East Side), sharp-witted comedian Felicia Madison went from stay-at-home mom to an instant stand-up comedy hit, taking a cue from her professional role model Joan Rivers—with a dash of Phyllis Diller's "Second Act" story arc. Madison—once dreaming of becoming a Broadway dancer—offers an irreverent take on the topics she knows best: marriage, motherhood, sex, and the impossible standards of beauty faced by women everywhere.
Madison hails from suburban New Jersey, where she enjoyed a comfortable childhood. "Growing up, I felt like the poorest girl in my neighborhood. So I studied, went to a good college and succeeded the old fashioned way—I married my boss. Now I live on the Upper East Side of Manhattan and still feel like the poorest girl in the neighborhood," she jokes, channeling the self-depreciating humor that defines her popular stand-up sets.
THE EARLY DAYS
At the behest of her parents—who were eager for their children to pursue careers in medicine—she graduated from the University of Pennsylvania with a degree in Biological Basis of Behavior and a Marketing minor (she jokes that she's only qualified to sell drugs). After college, marriage and motherhood followed; the family settled in New York's tony Upper East Side. It was not until her children were "old enough not to care" that Madison began to pursue comedy seriously, starting with a class at the Manhattan Comedy School.
In 2016, she launched Laughing Affairs, which produces daytime and evening comedy shows for social events such as birthdays, showers, corporate functions, and fundraisers. Among these are her monthly Laughercise events, which eschews the traditional late night, male-dominated environs of comedy clubs, and instead treats guests to a mid-afternoon meal, dessert, and glass of wine as both up-and-coming and veteran comedians take to the stage.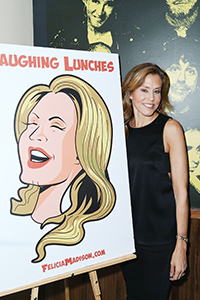 COMEDY DAY & NIGHT
Recently, Madison hosted a popular Laughercise event at the West Side Comedy Club located at Playa Betty's restaurant in New York. A typical afternoon lineup might include comedians Bill McCuddy, Ophira Eisenberg, Abby Feldman, and Jocelyn Chia. When Felicia took the stage, she offered her unique comedic take on raising teenagers, the keys to a successful marriage and, of course, life in Manhattan.
For those who prefer the traditional evening comedy show, F Comedy Club produces evening shows perfect for a post-dinner laugh. It is the latest venture from Madison's Laughing Affairs, which promises the same uproarious jokes as Madison's lunchtime events. A recent F Comedy Club event at the West Side Comedy Club located at Playa Betty's restaurant included entertainers Clayton Fletcher, Chrissie Mayr, Eric Neumann, Erik Angel, Jay Jurden, Adam Muller, Sandip Sen, Olga Namer, Amy Veltman, Yoni Downs and Dorothy Palin, who have performed at venues including the New York Comedy Club, the Stonewall Inn, Caroline's, and the Gotham Comedy Club.
Another one of Laughing Affairs' latest projects is Comedy for a Cause, where Madison and other comics come together to raise money for a foundation, charity, or benefit. The format "enables me to perform during the day, when I am completely free, and in front of 'my' audience. The lunches have been a huge success for both the beneficiaries and the comedians," Felicia told Broadway World.
Today, Felicia blogs, podcasts, and is in the process of developing a sitcom based loosely on her own experiences. "This is what happens when you don't support your kids' dreams," jokes Madison. "They turn 50 and become stand-up comedians."
---
For more information on Felicia Madison and Laughing Affairs, visit feliciamadison.com. Also follow her on social media: Facebook: @laughingaffairsnyc; Instagram: @laughingaffairs; and Twitter: @FeliciaLMadison.