Lea Salonga On Theater, Song & Family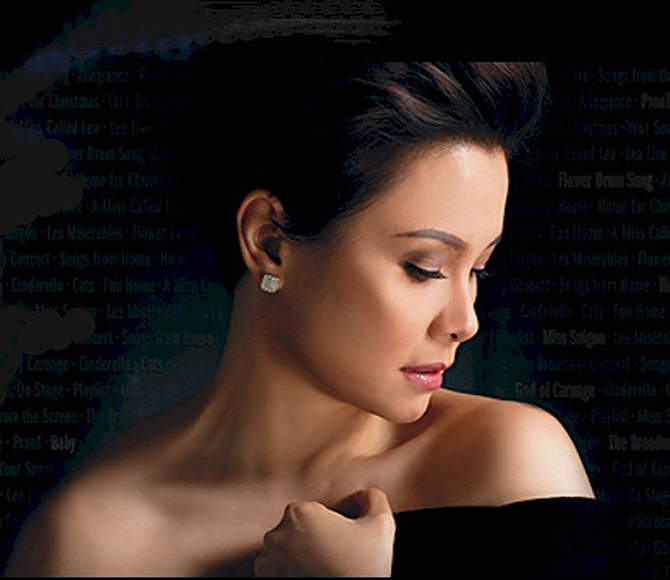 By Ellis Nassour
Olivier and Tony Award winner, Disney Princess, recording artist, and international concert star Lea Salonga has returned to Broadway in the exciting revival of Lynn Ahrens and Stephen Flaherty's Once On This Island. It's a love triangle set on a storm-ravaged Caribbean island with the lure of tropical rhythms and first romance. And there are gods—God of Water, Mother of the Earth, and Demon of Death. Salonga, a poor villager, named Erzulie, has the most enviable transition. She becomes the Goddess of Love.
It's an apt role for the beloved native of the Philippines who at age 17 was plucked from relative obscurity by producer Cameron Mackintosh and director Nicholas Hytner to star as Kim in Miss Saigon in the London West End premiere. The musical is set during the Vietnam War when Kim takes a job in a dive bar frequented by war-weary soldiers dreaming of the day they can get home. She has an affair with a well-meaning soldier, who after the birth of their child, wants to bring her back to the States.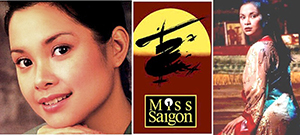 A STAR IS BORN
There was overnight stardom and critical acclaim. Suddenly, she was "The Pride of the Philippines" and a national treasure. However, nothing could have prepared Lea Salonga for the life-changing events of being cast in Miss Saigon. "There was pressure. What could compare to opening a major musical on London's West End and performing before the Queen of England? But I was disciplined, thanks to all the years I had done theater back home. The culture shock was the big thing. I had Mom with me, but homesickness set in.
"Heading to New York and Broadway," she continues, "there was some fear. I'd heard stories of how fast-paced and notorious it could be. But the minute I stepped off the plane and started rehearsals, I knew it was where I belonged. I didn't have a life, however. I did the show, which had its share of shattering moments, took my bows, and went home to bed."
She credits her mother Ligaya for guiding her down the right career and life paths. "Mother never heard the word 'impossible.' She shaped my determination to succeed at what I wanted to do and helped turn me into a strong-willed person. I believed I had talent and was ready to go for it, but Mom kept telling me, 'You've got to make sure you really have it.'"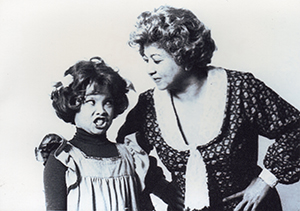 Lea Salonga in Annie
THAT'S ENTERTAINMENT
Long before becoming an award-winning actress, Lea had been entertaining audiences in clubs and in concert not only in her native Philippines but also throughout Asia and in the U.S. She's been performing since age seven and had her first album at 10. "We peddled my music, going from music store to music store. It didn't happen overnight. What does? Then, the orders were coming in—more than we ever imagined." Around the same time, she made her professional stage debut as one of the children in Rodgers and Hammerstein's The King and I. This was followed by a number of musicals including snagging the coveted role of Annie. With best-selling records, she had the name recognition of hosting her own national variety TV show Love, Lea.
Naturally, her parents stressed the importance of education. "Mom told me it was something no one could take away, that it would shape the way I look at things. I also learned that intelligence wasn't everything. If you want to succeed, preparation and perseverance are important."
Lea heeded her mother's words, and began studies in pre-med. In fact, she wanted to be a dermatologist, which might account for her ageless beauty and flawless complexion. Taking note of that, in 1991, People Magazine chose her as one of the 50 Most Beautiful People in the World. "I'm blessed," she says. "I'm Asian, but the youth gene runs in my family. I'm in a great business, doing what I love to do. It doesn't feel like work, so there's little stress."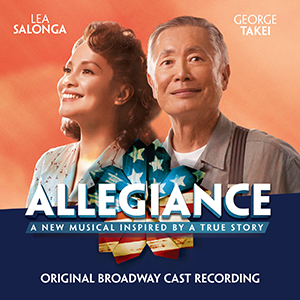 PRIZES HER PRIVACY
However, success did come with a price, she admits. "It took one thing I prize—privacy. As I've gotten older, I'm better with it. I quite enjoyed the anonymity of Los Angeles, where we'd visit and where I had my introduction to Disney." She voiced the songs of Princess Jasmine in Aladdin as well as the title character in Mulan.
Remembering her mother's dictate about education, she took time off to continue her studies, tackling philosophy and European history at Fordham University. However, she never stopped singing and had sell-out engagements at the posh Café Carlyle, 54 Below, and Town Hall. Broadway was never far away though. She appeared in Les Misèrables (as Eponine and Fantine) and the revival of Rodgers and Hammerstein's Flower Drum Song. In 2012, she co-starred at San Diego's Old Globe in the new musical Allegiance, which addressed the internment of Japanese Americans in 1941 following Pearl Harbor. It won local Best Musical honors, broke box office records, and had a four-and-a-half month Broadway run.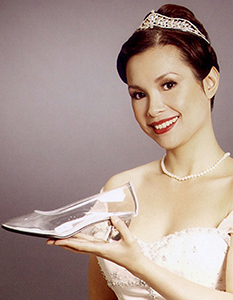 Lea Salonga Cinderella Asia Tour 2008
A GLOBAL SENSATION
Lea is always amazed at how popular Broadway shows are received overseas. One of her favorites was in the role of Rodgers and Hammerstein's Cinderella, and notes, "Over seven months, we did five cities in mainland China, Hong Kong, the Philippines, Seoul, Singapore, and Thailand—all in English." More recently, in the Philippines, she played Grizabella in Cats and appeared in Fun Home to great acclaim.
The performer becomes a bit embarrassed when acclaimed as a ground-breaking actress/singer from the Philippines. "Many others, either native born or American-Filipino, broke the ground for me!" She remembers well the intense worldwide search for the role of Kim in Miss Saigon. The subsequent frenzy when she made her London debut (1989), winning an Oliver Award, along with co-star Jonathan Pryce was overwhelming. "I never thought I'd win," she explains. Subsequently, she and Pryce repeated their roles on Broadway in 1991 and won Tonys. "I was 17 when I auditioned in Manila," states Lea, "Eighteen when I went to London, and 20 when we played Broadway." However, nothing quite beats the memory of her initial audition call back. Salonga came prepared. She knew the songs. When she finished, they'd found their Kim!
THE NEXT GENERATION
It seems music runs in the Salonga family. Daughter Nicole, 11, may be destined to follow in mom's footsteps. Performing in school plays since age five, she's a violinist in the school orchestra and under scholarship at Kids Act Philippines. She's also appeared solo at some concerts. Recently, she wrapped her first professional role—playing Alice in the Manila production of Matilda. Salonga says, "Wait and see. She enjoys singing, but may be inclined to visual arts. My husband was quite an artist when he was younger, and we have cousins that are animators and illustrators. That's also in her gene pool."
With her mentoring spot in the Philippines on The Voice, writing a newspaper column, concert schedule, and being a mom, how did she find time to return to Broadway in Once On This Island, where she's set to play into June. "You carve out the time, especially when it's something you want to do," explains Lea. "This is my first time doing the show, but it's been a favorite for a long time. When asked, I couldn't see any way of passing the opportunity by."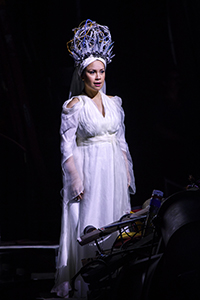 Lea Salonga in Once On This Island
BROADWAY'S SWEETHEART
Once On This Island lead producer Ken Davenport notes, "Lea is a Disney Princess and Tony and Olivier actress, not to mention an inspiration to people, especially young girls, around the world. For me, her voice is what love sounds like. She is the perfect choice for our Goddess of Love!"
Lea says the musical deserves an intimate setting. "But don't come expecting a copycat of the original. When you enter, you really feel you've left New York City behind and are in the tropics. The design is a great way to tell his enchanting story." Musically, the show only has five band members. However, much of the music is provided by the cast, who pick up broken glass and items displaced by the storm and create instruments from them. According to Lea, performing in the round delivers a new dimension to the story as the cast, often goes into the audience, drawing members into the story.
Lea's life is nonstop. She and her husband of 14 years Robert Chien have homes here and in Manila. We wondered with all the travel and work involved, how do you keep it together? Lea explained, "It's only difficult if the two of you don't have any idea of what you're in for. From the very beginning, I've had nothing but Bob's blessing and encouragement. I can never forget when he told me I was in a position to inspire people and he'd never take that away from me. I married the right guy!"
Lea Salonga has long been considered a treasure, and not only in the Philippines. She has a very dedicated following. "And, of course, in concert fans want to hear the Disney songs. My goal is to be the best representative of my country as I can be." She's done that spectacularly—and won our hearts!
---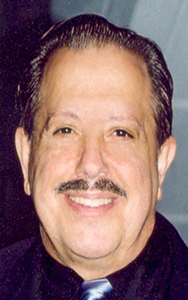 Ellis Nassour writes on the entertainment business. He's a veteran of The New York Times, New York Daily News, and Playbill; the author of the definitive biography Honky Tonk Angel: The Intimate Story of Patsy Cline and the hit revue Always, Patsy Cline.