PORTUGAL Europe's Best-Kept Secret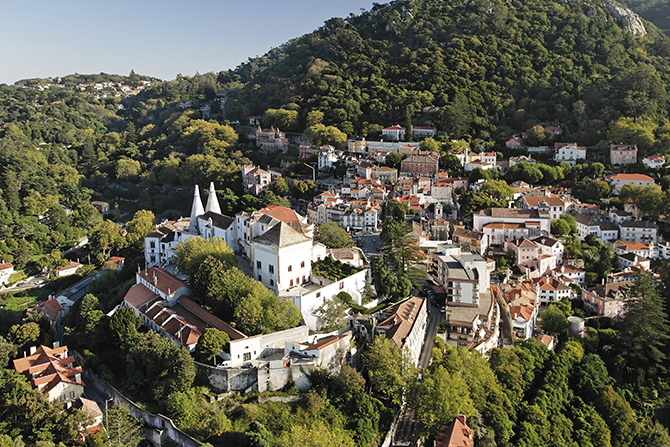 By Ruth J. Katz
Having visited glorious Portugal several times, I already knew that this slice of the Iberian Peninsula offers delicious food, wonderful wines, interesting history and sightseeing, and a warm and gracious people. But until this last trip, I had no idea the Portuguese had such a good sense of humor: While passing an office building in Chiado in Lisbon, I spotted a message on an entryway glass door, which admonished: "Hi, my name is glass!" That tongue-in-cheek warning sign endeared the country to me even more, and this past trip—to Lisbon, Sintra, and the Algarve—further cemented my love of this under-appreciated sliver of a country.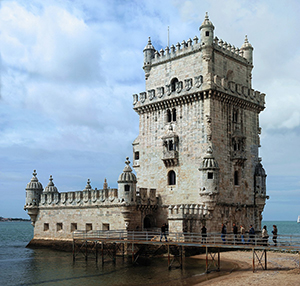 Lisbon-Belem Tower
LISBON
The Cidade das Sete Colinas (City of Seven Hills) presents vertical challenges, so if you want to see the old city on those hills with a native's eye, book a tuk-tuk tour and leave the driving to someone else. The hotel concierge at the Tivoli Avenida Liberdade, arranged a grand tour with a very knowledgeable driver-guide. This is the best way to soak in the palaces of the Bairro Alto to the shops in Baixa to the great vistas from the Graça neighborhood (one of Lisbon's oldest suburbs, atop the city's highest hill), and to Chiado, one of the city's best shopping areas, with a mix of old, established emporia and new, fashionable boutiques. (It is also worth noting, that along the Avenida Liberdade, right outside the hotel, are all the most luxurious boutiques.)
Do not miss the A Vida Portuguesa shop on Rua Anchieta, as it vends all things Portuguese, including the best triple-milled soaps, fine spices and olive oils, all manner of cork products, and many surprising handmade goods. The hotel also arranged for a singular walking tour and our savvy leader started us off at a popular, street-side watering hole, where it is de rigueur to sample the legendary ginja, a Portuguese liqueur made by infusing ginja berries (sour cherry) with sugar; a single shot and you are fortified for a half-day walk. During a free afternoon, I vegged out at the Tivoli's gorgeous spa, where you can revel in the brand's heritage of combining innovative techniques and holistic therapies, heightened by a stimulating Vichy shower and pampering attendants.
Another afternoon, I hopped over to the Belém neighborhood in southwestern Lisbon, where the Torre de Belém (The Belem Tower, completed in 1521) keeps watch on the Tagus River harbor. Nearby is the majestic, monolithic Padrão dos Descobrimentos (Monument to the Discoveries). Inaugurated in 1960, it commemorates the 500th anniversary of the death of the fêted Henry the Navigator. Nearby, housed in the celebrated Jerónimos Monastery, is the fabulous Museu Nacional dos Coches (Coach Museum), a true marvel. Afterward, reward yourself with a stop at Antiga Confeitaria de Belém, a former sugar-cane plant. Now a bakery, it cranks out 10,000 of the much beloved Pastéis de Belém, an ambrosial egg-custard tart.
Along any walking tour, you will note the charcoal and white decorative mosaic-patterned sidewalks (calçada Portuguesa). These hand-executed pathways are exquisitely wrought in basalt and limestone and are a hallmark of this city and of other Portuguese settlements around the world.
Do not leave Lisbon without a visit to the amazing Calouste Gulbenkian Museum and its gardens. With over 6,000 objets amassed by the collector, holdings include everything from Egyptian, Greco-Roman, and Islamic art, as well as pieces from the Far East and the West, to the decorative arts, sculptures, books, paintings, and a dazzling collection of René Lalique, purchased directly from the artist.
THE ALGARVE
The hustle of Lisbon melted away as I settled into a languid pace in the Algarve (the Portuguese Riviera), at the Anantara Vilamoura Hotel, a lush, sprawling, modern complex, awash with gorgeous fauna and flora and adjacent to the verdant Arnold Palmer-designed Dom Pedro golf course, where the Portuguese Open is played. There is something for everyone here and as the local population of half a million mushrooms to 1.5 million in high season, it seems "everyone" has discovered the lure of the Algarve. The hotel offers a kids' club, so adults can enjoy their time away while the little ones are kept busy with crafts, planting herbs in the garden, and other adventures; adult pastimes might include a cooking class, a hot-air balloon ride, wine-tastings, tennis, biking, or boating, as the area is home to Portugal's largest marina.
The Adventure Guru scheduled a municipal market tour to the Mercado Loulé, over 100 years old, where fish, spices, oils, chocolates, cork products, marzipan, herbed salts, and mouth-watering baked goods are among the tempting mix. We picked up many requisite ingredients for our Spice Spoons Cooking Class (an Anantara signature activity) and returned to Vilamoura, where we prepared a flavorful luncheon—seafood salad, fish stew, prawns with chorizo, rice pudding à la Portuguesa—under the supervisory whisk of the chef. Following that tasty meal, I once again tested Anantara's famed spa, and enjoyed a deep tissue massage and the "adventure" shower, with its colored lights.
The next day's big escapade was a Jeep tour, first to local villages, including Faro, and then into the interior of the Algarve, where the dusty terrain is punctuated with fig, kumquat, clementine, and banana trees and even quince and wild strawberries. Late in the day, we were treated to a taste of native grapes, with the hotel's Wine Guru, António Lopes (voted Best Sommelier of Portugal in 2014), who introduced us to many regional rarities, including the Dao, which he noted is "Chardonnay-like but with soul" and the Baga, which produces a more tannic wine. I capped off the day with dinner at Ria Restaurant, a fish-lover's delight—bountiful seafood prepared with Portuguese flair and flavor.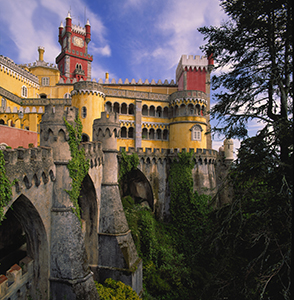 Sintra-Palacio da Pena by António Sacchetti
SINTRA
The town of Sintra (a UNESCO World Heritage site) showcases some of Europe's most splendid examples of the whimsical and colorful architecture of Romanticism. Arguably, the most popular day-trip destination from Lisbon, Sintra is host to three million visitors a year (local population is about 400,000). Situated within the bucolic Parque de Sintra-Cascais, the landscape offers dense, forested mountains that give way to the rugged coastline. There is plenty of opportunity for outdoor enthusiasts to enjoy hiking, cycling, and challenging rock-climbing. Sintra also has historic monuments and sites to visit and numerous palaces (from picture-perfect, opulent mansions to castles in near ruins). Not to mention, fine dining (think more amazing seafood) and shopping. (Tip: Look for white port, not found too often in the States, and the even rarer and new-to-market, rosé port.)
One palace not only worth visiting (the lush grounds are open to the public), but moreover, staying in, is the Tivoli Palácio de Seteais, a grand hotel that has been painstakingly restored to its former magnificence. In fact, there is so much history associated with the palace, that the Minor Hotel Group, the parent company of this Tivoli hotel, has a historian available, to share the story and secrets of the manse with guests. The opulent and ornate public spaces are dotted with frescoes, tapestries, lavish patterned carpets, prized antique furnishings, and even a treasured piano, built over a hundred years ago by the renowned German master, Steingraeber & Söhne.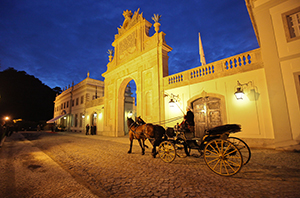 Tivoli Palacio Seteais Exterior
You can feel like an 18th-centuy monarch, yourself, by scheduling one of the hotel's Dining by Design meals in a splendid galleria, where you will be waited on by period-dressed service staff, as a musician plies a harp. (There is even harp music at breakfast!) You can also arrange for a meal (and a wine tasting) in the hotel's dedicated and comfy wine room.
Two palaces are a must to visit: The colorful Palácio da Pena, an example of Romantic architecture unrivaled in these environs; it almost looks as if Disney had decided to construct a few Magic Castles and cobble them together. Completed in the mid-19th century, the palace boasts marvelous history and eclectic suites and rooms, including a kitchen that will boggle the mind, as is so sophisticated for its time. The other is the Gothic-style National Palace, the best-preserved medieval Royal Palace in Portugal. Inhabited almost continuously from the early 15th century to the late 19th century, it, too, features a marvelously advanced kitchen, ornately painted ceilings, a room replete with wall-size pictorials of historic scenes rendered in Portugal's illustrious Azulejo tiles, and a chamber dubbed the Swan Room (look at the ceiling). No trip to Sintra is complete, without a stroll around the old city, up its charming, cobbled walkways, chockablock with restaurants, bars, and shops selling Portugal's fine wares
For more information on Portugal, go to visitportugal.com.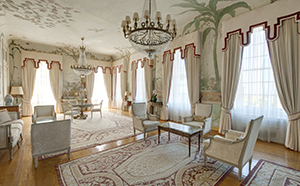 Tivoli Palacio Seteais Public Area
GETTING THERE
Fly to and from Portugal on TAP Air Portugal (flytap.com), the flagship carrier airline of Portugal, voted Best Airline in Europe for the seventh consecutive year by the readers of Global Traveler Magazine. Business Class offers very comfortable flat beds, soft quilts, delicious Portuguese wines and cuisine prepared with Iberian flair.
Both Tivoli and Anantara hotels are part of the Thailand-based Minor Corporation (minorhotels.com), with properties on five continents, and today, one of the largest hospitality and food conglomerates in Asia, boasting a network of some 2,000 eateries and hundreds of retail stores, in addition to its 150-plus hotels.
© Ruth J. Katz 2018 All Rights Reserved