THE TWO SIDES OF THE W FORT LAUDERDALE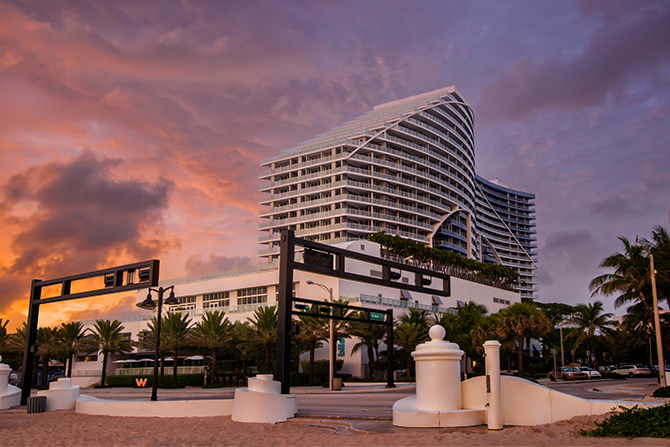 By Stacey Zable
Astay at the W Fort Lauderdale is all at once both hip and happening, beachy and relaxing. It's one of the hottest spots on Fort Lauderdale Beach, with its evening theme nights and rooftop pool deck, but the hotel's Bliss Spa and guest rooms provide quiet time just for you when you choose to escape the excitement. You decide on your own ideal vacation while at the 517-room property facing Fort Lauderdale's white sands and the Atlantic Ocean, and the W Fort Lauderdale will provide the rest.
A $55 million renovation of the W Fort Lauderdale was recently completed and touched every part of the hotel including its guest rooms, suites and residential suites, spa, and rooftop WET pool deck. James Beard Award winner Stephen Starr opened his second oceanfront restaurant at the property, El Vez, also as part of the renovation following the success of the hotel's Steak 954. El Vez offers regional Mexican food, while Steak 954 is known for its dry-aged meats and fresh seafood.
The soaring tower's design was envisioned to resemble a sailboat. All guest rooms have water views, with see-through paneled balconies that make you feel as if you are sitting out on the sea. The many public outdoors spaces also exude the sense of sailing the ocean, which lies just feet from the hotel. The new décor was influenced by its location, mixing metallic details with an open layout.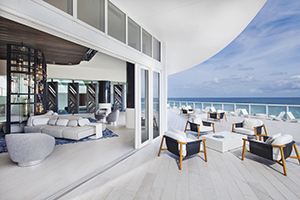 Living Room Terrace
TRENDY ROOMS & MORE
The large contemporary guest rooms, suites and residential suites are decorated in ocean blues and rose gold. The renovation brought new flooring, furniture, and accents to all rooms. The property's "Whatever/Whenever" button on the phone is at the ready for guest requests from small to large.
The focal point of excitement is the Living Room on the hotel's fourth floor, which is also where guests check-in. The expansive space is more than a lobby lounge, though as it name implies its seating does invite guests into a welcome respite to sit and mingle with friends. Here guests can simply order a signature cocktail, enjoy a morning meal at the breakfast grab 'n go buffet, eat at the new Sushi Bar, or head out to the ocean-facing expansive terrace.
Evening transforms the Living Room for nightly excitement offering a complimentary weekly line-up of programming for guests and locals. Each night of the week features a different theme with guests enjoying such treats as hand and arm massages, complimentary henna designs, live art demonstrations, and a DJ spinning tunes that run the gamut from Latin to '80s music, with live jazz kicking off the week on Sunday nights.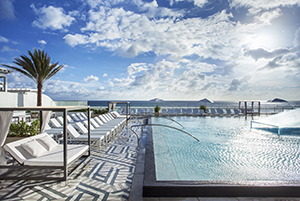 MAKE A SPLASH
The rooftop WET Deck overlooking the beach and ocean is dedicated to poolside fun with pulsating music, cocktails and food at the ready, and plenty of lounge chairs, umbrellas and day beds. The pool boasts a cool see-through wall on one side where underwater swimmers can have friends on the pool deck click them for Instagram-worthy moments. Fort Lauderdale Beach is across the street, with the hotel offering two lounge chairs and an umbrella complimentary for guests who prefer to spend their day in the sun on the white sands.
PAMPERING TIME
Quiet and relaxation is immediately felt when guests step into the hotel's Bliss Spa. A menu of massages, facials, manicures and pedicures are designed to pamper guests. Men's and women's locker rooms and lounges start treatments off right with a brownie bar with complimentary treats. The W Fort Lauderdale offers other ways to decompress in the form of the FIT Fitness Center and complimentary beachfront boot camp and yoga classes.
For more information on W Fort Lauderdale, visit wfortlauderdalehotel.com.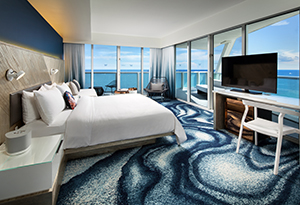 EXPLORING FORT LAUDERDALE
The W Fort Lauderdale's location is ideal for quick access to Fort Lauderdale Beach and a stroll along A1A for a choice of laid-back alfresco restaurants and beach bars. The popular Casablanca Café with ocean views pairs American and Mediterranean fare. The restaurant is in a restored historic home that dates back to the 1920s.
Be sure to also explore Las Olas Boulevard's 17 blocks of shopping, dining, nightlife and art galleries. A 10-minute drive brings you to such favorite restaurants as Louie Bossi for Italian comfort food, Rocco's Tacos & Tequila Bar for casual Mexican fare, and YOLO (You Only Live Once), known for its happy hour, Sunday brunch and Contemporary American cuisine. Shopping choices include such high-end clothing stores as Moda Mario's flagship.
A 10 to 15 minute drive from the W Fort Lauderdale also takes you to the NSU Museum in downtown Fort Lauderdale's arts and entertainment district. Among the highlights of the museum's impressive permanent collection of 6,000 works are the largest collection of paintings and drawings by American realist William Glackens and the largest collection in the U.S. of post-World War II avant-garde Cobra artists of Brussels, Copenhagen and Amsterdam. Also a short drive away, the Broward Center for the Performing Arts overlooking the New River in downtown Fort Lauderdale is the place to go for a night enjoying Broadway musicals, operas, ballets, concerts and more.
For more information on Fort Lauderdale, visit sunny.org.