A FiDi GEM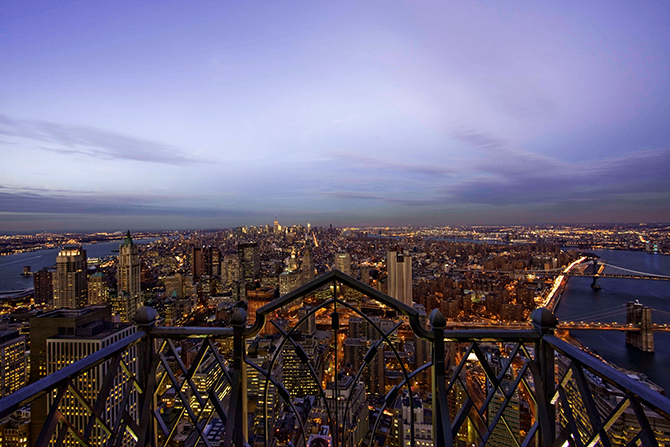 Photo by Frank Zimmerman
By Daniel J. Bollinger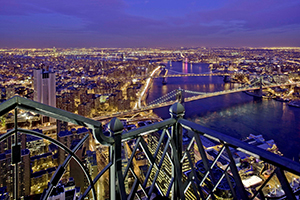 Photo by Frank Zimmerman
Located in Lower Manhattan's Financial District (FiDi), is 70 Pine Street which officially opened in 1932. This former AIG building's history is as staggering as its height: It was the last skyscraper to be built in Lower Manhattan before the start of World War II and was deemed the tallest building in the area until the opening of the World Trade Center in the 1970s. Today, after a three-year renovation the 66-story property shines as the third tallest building in Lower Manhattan. With over 600 rental apartments and a 132 key residential hotel, Q&A, the building also encompasses Art Deco details that will impress.
Because the FiDi district continues to evolve into a residential neighborhood, it has encountered some growing pains. To 70 Pine Street's credit they are helping by leasing space Williamsburg's Urban Market which is slated to open next year. The store will offer groceries, prepared foods and other necessities. The much-needed market is not only wonderful for residents of 70 Pines but the entire neighborhood.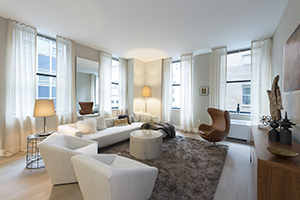 Photo by John Ortner
TOP OF THE LINE
The building offers studios-to-four bedroom apartment—all boasting open kitchen/living rooms. In fact, foyers are so spacious they can be converted into a small office/computer station. Most of the two-to-four bedrooms units are fashioned in the gallery style. All residences feature hardwood floors, gourmet kitchens with granite countertops, stainless steel appliances, Thermopane operable windows, and washer/dryer.
Prospective renters have the option of choosing from three Collections: The City Collection is located on floors 11–31, many with a private outdoor space. The Tower Collection is located on floors 32-54 and boasts 12-foot ceilings; most have private terraces and all of them offer 360-degree views. Some apartments in this line have wraparound terraces. Finally, The Penthouse Collection comprises of 16 ultra-luxury apartments with the most panoramic views available. Since there are no layouts of these penthouse apartments online, one must schedule to see them. All of the apartments from top to bottom are well-designed and feature top of the line appliances and fixtures.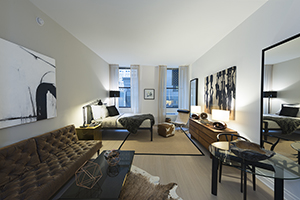 Photo by John Ortner
IT'S JUST THE BEGINNING
The Art Deco lobby is stunning. When the building officially opens, the public will be allowed to view the common areas. Don't miss the incredible designs on the elevators. Residents will be able to keep fit with La Palestra which will offer 23,000-square-feet of state-of-the-art aerobic and strength training equipment. There will also be a dedicated Pilates and yoga studio as well as private massage and treatment rooms. Like its other outposts at The Plaza and Hotel Des Artistes, it will have a full array of personal and sports-specific training along with nutrition sessions, lectures, and seminars available.
Also on the amenities menu: a bowling alley, golf simulators, and game/screening rooms including billiards and ping pong. One of the highly anticipated features is the opening of a restaurant/lounge which will be housed on the top floors and giving guests breathtaking views of New York Harbor, Brooklyn, Westchester, and New Jersey.
For more information, please visit: 70pine.com