SPOTLIGHT: CELIA SAWYER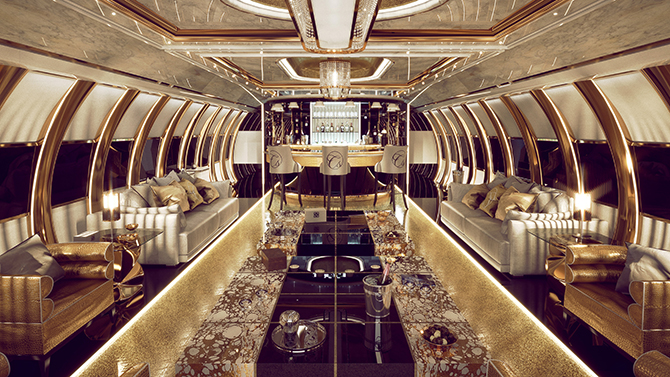 By Daniel J. Bollinger
Celia Sawyer is a luxury interior designer for the uber-wealthy. With headquarters in London, England, Celia works globally with clientele from the Caribbean and Middle East to Russia. She has worked with Chelsea footballer Cesc Fàbregas, designed a ground-up development on the famous The Bishop's Avenue in London, and even custom designed the interior of a private Airbus A340.
New York Lifestyles recently met with Celia to find out more about her fascinating career.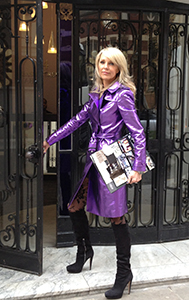 Tell us about your luxury design services?
I cover all aspects of interior design. For instance, we often get involved with developments from the start so that the interior is well orchestrated from the beginning. The concept of each room, the layouts, the lighting designs, the features in detail, fixtures, wall and floor textures, and all the soft furnishings when required later on. We even make some of our own bespoke furniture for clients (I designed a gold bath for one!).
Quite often we also come in later and just do the pretty stuff, i.e., colors and furniture and even down to turn-key items for busy people such as the footballers, and artists and actors who are just renting for six months or a year. All of our work is in the luxury market, so whether it be large apartments, luxury houses, aviation or yachts, we work on them all. We also work in the commercial market, designing office areas for upmarket businesses, and have worked on a couple of hotel projects, which we wish to expand on this year.
What has been the most significant project?
It has to be the Airbus A340 designed for Middle Eastern Royalty. Quite challenging as I have only really designed much smaller aircraft before; however, it was fabulous to work on, lots of gold, lots of lovely fabrics and I could get very creative with lighting and materials and give it a unique look. With aircraft, you can push the design boundaries so much more as a lot of clients see this as their way of showing off their wealth and although it is a small market, it is very competitive with owners.
Would you say you have a particular design style?
Oh yes, my design style is classical contemporary, glamorous, chic, sexy, inviting and warm!
How do you approach a project?
The most important person is the client. The first move is always to sit and listen to their requirements and understand their visions and what they desire, turning their dreams into practical day to day requirements. It can take some time, but this is key to creating great interiors that clients will love. Our company ethos is clear, distinct, and straightforward: to interpret our partners' ideas, ambitions, and requirements with flair, passion, innovation and excitement, executing and delivering projects with diligent attention to detail and timely professional execution.
What drew you to interior design?
When I was a young girl, I used to love looking at show homes, fascinated with how they could make something look so perfect. My mother used to take me to look at many, and it was the start of my real fascination for interior design.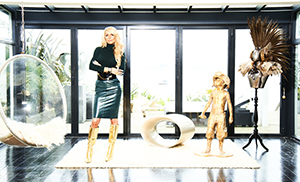 How did you get started in design?
I started by working on my own small project 25 years ago. I had saved hard and bought an apartment in central London of which I owned the roof space. Once I could afford it, I added another floor and modernized the apartment, and it had the most fantastic view of the London skyline. Once finished, I decided to sell and do it all again, as I enjoyed it so much, and once the agents came and viewed the property, they were so impressed with the design, they asked who did it! The apartment changed the selling price of the road, and many people saw it and asked me to design theirs, from then I eventually opened my own design practice 20 years ago.
Where do you get your inspiration?
Mainly from nature. I look at the way light falls, textures mix, and on the ground and how shadows form shape and depth. I re-create this with lighting. I might see long grass blowing softly in the wind, and it will inspire me to use a soft silk rug or carpet. A beautiful natural fossil shape will encourage me to design a spiral staircase, and it really is all about what is outside and all around us every day.
Tell us about your current projects.
Right now I am designing a thirty thousand square foot house in London for a client. I am also working on the most prominent warship for the Royal Navy in their Officer's Mess. These areas have only really been designed in a dull, bland way throughout time. I am on a mission to create something very special to raise morale and make them feel like they have gone somewhere really special in their time off. No one on board wants to feel like they are trapped in a utilitarian environment.
Have your talents taken you to New York City?
Yes, I designed a penthouse for a film director in NYC. However, I really would love to do more. London and NYC are on a par when it comes to the type of people who reside or stay there, so it feels a natural extension to be working there.
Who are some designers you admire and respect?
I have always been a real fan of the late David Collins, his Art Deco style is stunning, and I also love Lori Morris. She is one of my favorite designers; her style is very sexy with a balance of French classic and modern. Reymond Langton for yacht designing who is stylish and chic and likes pushing the boundaries.
What's your dream project?
I would love to design a very chic hotel. I am a sucker for a well-designed hotel and am continuously looking at how well they are designed when I stay in them, down to the bedding they use, the lighting and spatial planning.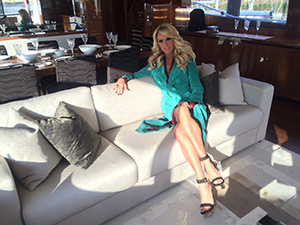 What are your other passions?
I am in my 6th year on prime time National TV in a show called Four Rooms on UK Channel 4. In this presentation, I am the only woman of four dealers, who buy artifacts and collectibles from the public who come in with their goods. I enjoy this as sometimes I can find some fascinating and unique pieces for my clients' collections. I also had my own prime-time TV show on BBC1, and BBC Worldwide called Your Home In Their Hands, where each week amateur designers took on homeowners in a design dilemma. The amateurs attempted to re-design some rooms in their homes. I must say that was challenging, as sometimes, the amateur designers ideas were somewhat bizarre and not all the homeowners were very happy!
What are you planning to accomplish in 2018?
My main aim, apart from keeping very busy with designing, is to collaborate with another designer in New York City, so that he/she can work on top projects in London and New York. Sometimes clients love to have an American designer in London, and I am hoping that the same happens in return with NYC wanting a British designer. It gives both parties an opportunity to expand across the pond!
For more information on Celia Sawyer, visit celiasawyer.com.