DEMARCHELIER Artful Fine Dining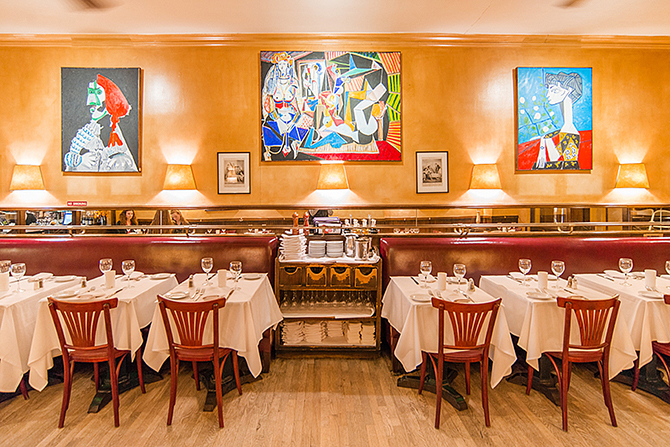 By Elizabeth Darwen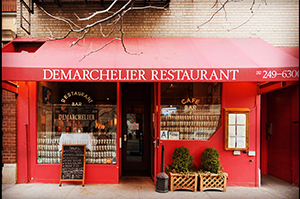 One of the true joys of dining in this city is the abundance of menu options available from around the world. From ethnic street eats to elaborate Mediterranean cuisine, to the exotic flavors of India and seasonal New American, there are plenty of exciting adventures to be had in NYC.
One cuisine that's always on the top of our list, of course, is French. And although there are plenty of incredible restaurants that fill that category, one stand out is the Upper East Side's bistro Demarchelier. Owned by artist Eric Demarchelier (brother of fashion photographer Patrick), it is now in its 26th year. Born in Normandy, Eric opened the very first location of his eponymous restaurant the same year he first moved to New York City in 1978. After having moved from its original location on Lexington Avenue, Demarchelier re-opened in 1992 on 86th Street and happily still frequented by its regular diners.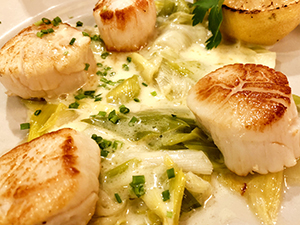 Scallops
MORE BOURGEOIS THAN BOHEMIAN
Demarchelier's lively and cozy locale showcases a rotating collection of paintings by the owner which, by the way, are all for sale. "Customers often comment on the paintings being a nice addition to the dining experience," he told us. But whether it's the well-prepared food, the classic French bistro ambiance (complete with lace curtained windows) or maybe the fine art gracing the walls, it attracts a long list of A-listers including actor, director, fashion model and painter Matthew Gray Gubler and Tony-Award winning actress, singer and producer Christine Baranski. Alec Baldwin visits especially for the Coq au Vin, and Mel Brooks has been known to call Demarchelier "his office."
Every meal that leaves the kitchen aims to capture the essence of authentic French bistro fare. The family owned and run restaurant radiates a comfortable, colorful, warm and familial spirit that has made it a neighborhood fixture for a quarter-century. Ideal for a quick bite to eat, a romantic rendezvous, or a simple family meal. The traditional French menu is paired perfectly with a wide range of predominantly French wines. "We offer special monthly wines in addition to the regular wine menu, which originate from select family estates," said Demarchelier.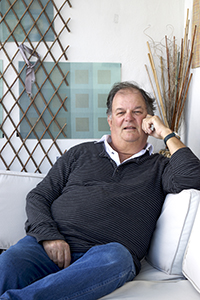 Eric Dermarchelier
CLASSIC BISTRO FARE
Diners will find many familiar dishes on the menu, which are coupled with daily organic selections. "Demarchelier provides an array of all natural, grass-fed, organic options brought directly from nearby farms," he said. Some of the restaurant's organic options—which are sure to suit even the most health-conscious diner—include Organic Mesclun Salad with a choice of warm goat cheese; Organic Beet Salad with Crème Fraiche; Grass Fed Angus Burger served with choice of side and sauce; Organic Pork Chop with caramelized onions, apple and butternut squash gratin; and Organic Calf Liver with shallot sauce and Pommes Frites.
From Demarchelier's a la carte menu, you'll enjoy appetizers including Onion Soup Gratinee, and Escargots with Garlic Butter. Signature entrees include such favorites as Moules Mariniere Au Vin Blanc served in a cream-enriched broth; Duck Confit served with a hearty mix of Tomato and Tarragon-scented Flageolets; and Pan-Fried Sole Meuniere, flour-covered, accompanied with wedges of Boiled Potato.
Demarchelier's dessert menu doesn't disappoint and features flavorful dishes such as Tarte Fine Au Pommes, a flaky tart filled with warm apples and served with fresh vanilla ice cream; Crepe Suzette, a classic French pancake drizzled with Grand Marnier; a velvety and creamy Crème Brulée; and a decadent Chocolate Mousse Cake. To complement your dessert, why not select a digestif from Demarchelier's select menu. A plentiful selection of coffee and teas are also available.
The restaurant also offers a two-course prix fixe dinner menu including a complimentary glass of wine for $35; and a one course prix fixe lunch menu on weekdays.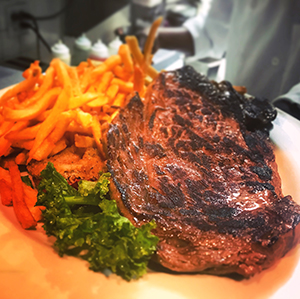 Steak frites
DELIGHTFUL BRUNCH
On the weekends, diners enjoy a classic French a la carte Brunch with all egg dishes featuring organic eggs. Choices include include Eggs Benedict with Hollandaise Sauce served with a choice of ham or salmon; a selection of Organic Omelettes; Pancakes; Classic French Toast; Smoked Salmon Plate; and Steak Tartare with a side of Pommes Frites. Also on the menu you might try the Bison Burger, Turkey Avocado Sandwich, Salade Demarchelier - a tempting chef's salad - or Grilled Salmon with Lentils.
"Demarchelier has remained consistent throughout the years," he says with an engaging smile, "both in terms of ambiance and menu." Hopefully, this will continue for many more years. A votre santé!
For more information on Demarchelier Restaurant, visit demarchelierrestaurant.com.