JADE SIXTY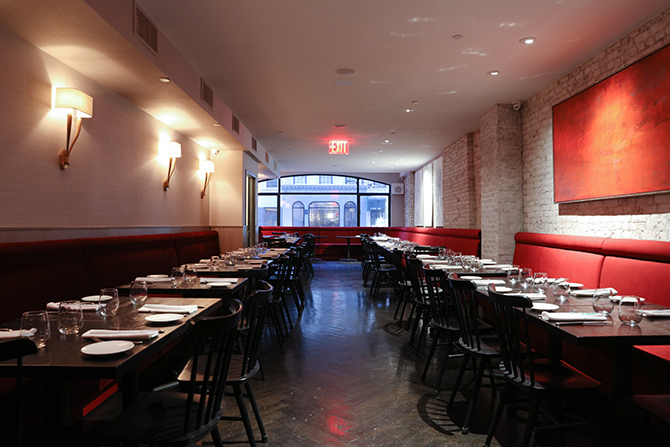 Upstairs Dining Room ©Alexander Stein
By Anne Raso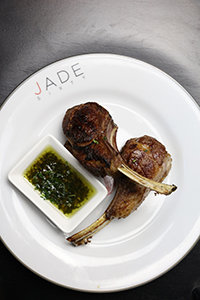 Lamb Chops
©Alexander Stein
Jade Sixty makes for an easy spot to visit if you've just been shopping at Barney's or staying at The Four Seasons. But no matter if you're Uptown, Downtown, East Side or West Side, make sure to reserve a table for an exceptional dining experience. This elegant 175-seat eatery mixes Chinese favorites, classic steakhouse fare and sushi on one menu. In the kitchen are chefs Skinny Mei of Philippe and Jue Lan Club fame and Albert Diaz, a veteran of Zuma in both London and Miami.
It's a dining experience so magical with incredibly delicious menu options: Chinese classics including the world's freshest vegetable Spring Rolls and Flat Noodles (aka Chow Fun) along with a variety of sushi and a classic 16-ounce aged Filet Mignon. This is a simple yet ingenious combo since these three cuisines are loved universally. Let us add right here that sometimes the different types of cuisines are intermingled resulting in one spectacular dish—a perfect example being the mega-popular pastrami dumplings (Jade Sixty may be the only place in the world to have them on the menu).
TRADITIONAL YET CREATIVE
New York Lifestyles asked co-owner Stratis Morfogen how he decided to open a midtown restaurant combining all three classic cuisines. He replied, "As a huge fan of acclaimed steakhouses like Peter Luger's and Smith & Wollensky, I wanted to create something that offers much more than the traditional mashed potato, creamed spinach and wedge salad—which is how the concept of Jade Sixty came to be.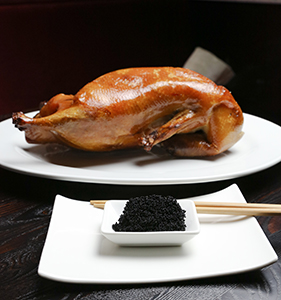 Roast Duck Imperial
with Sevruga Caviar
©Alexander Stein
"I brought Executive Chef Skinny Mei with me to this new space. I also invited Chef Albert Diaz to oversee our kitchen. I knew that Chef Skinny had a wealth of knowledge in traditional Chinese cooking based on my experience and trusted him to bring that to Jade Sixty," he said. "I thought it would be great to pair his style with Chef Albert, who is a seasoned creator of Japanese cuisine including sushi, sashimi, and crudo. It brings a unique dining experience to guests when you pair Asian classics like Peking Duck, Soup Dumplings and Spring Rolls with 45- to 60-day Aged Steaks. I find that guests prefer an even split between the steakhouse and Asian offerings."
NOODLES & STEAK
Prices are very reasonable for upscale dining. A serving of four meaty Chinese style pork spare ribs is $14; a serving of four large scallion pancakes is $12. We highly recommend all the Chinese appetizers and noodles that we tried but the Flat Noodles indeed set new standards. If you have avoided Chinese Chow Fun-style noodles because they seemed chewy, these are "rock star" quality. Because they are freshly made, the texture is perfect (without being mushy). Skinny Mei's self-invented Lobster Mei Dumplings seemed to be on every table during our visit, and you can count on Jade Sixty to have six different types of dumplings available (including ones filled with edamame for vegetarians).
On the "health side" are 15 types of sushi; regular diners report that both the tuna and the salmon are their "go-to sushi" every time. Meat-wise, the aged prime Porterhouse may sound pricey at $54, but it's 24 ounces and listed on the menu as serving up to four guests. As mentioned before, you never can go wrong with an aged filet mignon, and $49 is a fair price for a 16-ounce portion (most likely you will have some left over to take home).
We had to ask Morfogen his favorite dishes on the menu as well as which ones seem to be most popular with customers. "My favorites are the Porterhouse and the Peking Duck Tacos. I thought the tacos would be a great alternative for smaller parties who are not looking to indulge in a full-sized duck. I find that the Jade Sticks, Pastrami Dumplings, and Spicy Tuna Maki Rolls are also a huge success with customers," the noted restaurateur revealed.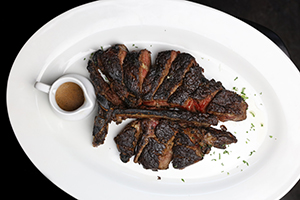 Porterhouse for two
©Alexander Stein
MODERN COMFORT
Jade Sixty serves up artisanal drinks at the long bar located on the main floor: well-trained and highly creative mixologists satisfy the after-work crowd. The restaurant's interior décor mixes "modern" with "comfortable," and the red velvety fabric banquets are large and inviting. All attention grabbing are the ultra-high ceiling and Jetsons-style ceiling fixtures.
We noticed that the dinner clientele were young and vibrant. We asked Morfogen what he thinks draws such a young crowd to Jade Sixty. "I would say, we have plenty of customers over 35 as well," he remarked. "I think Jade Sixty is a hotspot for Millennials to grab a drink and share some plates after work, but I think it's equally as enticing for older couples to come in and enjoy a date night before heading to the movies or after a day of shopping. I've met so many people from being in the restaurant business, and I think that people in their 60s and 70s are just as hip as Millennials, and that's why we attract a multitude of ages."
The over-the-top success of such a new eatery not only resulted from the immediate interest of top-flight food media including the New York Times but Morfogen and partner Franco Moscato's vast knowledge of the highly competitive New York restaurant business.
And for good luck, every new restaurant that Morfogen opens has one particular dish on the menu that has a nostalgia factor for him. He explained, "I've been in the industry as a restaurateur for years, and one dish that I always take with me from one place to the next is the Baked Chopped Clams. These were initially made in my father's Greek diners from 1955 to 1980, and I would watch people line up for them. To this day, the clams remain a top-seller, and the story behind them is compelling for customers."
For more information on Jade Sixty, visit jadesixty.com.
---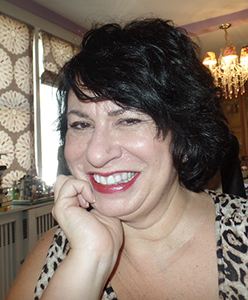 Anne Raso is a New York City-based freelance journalist. She is the former rock columnist for the Sunday New York Daily News and has contributed travel articles to Time Out New York and foxnews.com. Anne currently edits the lifestyle website luxelifenyc.com and contributes to Discovery Girls Magazine.