PERU MEETS JAPAN IN MIDTOWN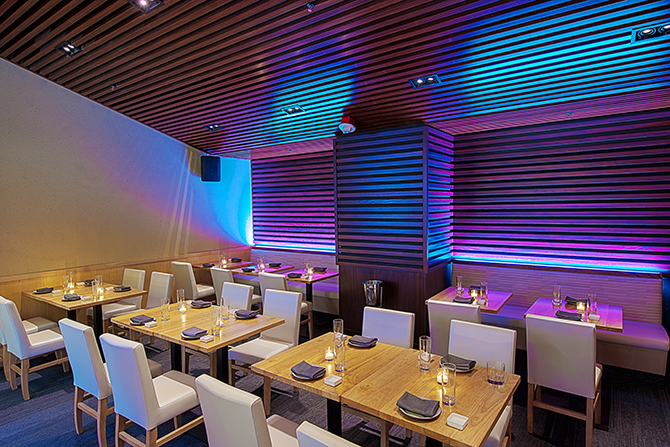 By Daniel J. Bollinger
Ready for an infusion of flavors from Peru and Japan? Get ready for Kushiyake, and Chicken NanbanYamitsuki. Brush up on the Rocoto Chile. Acquaint yourself with Cancha, Oba and Leche de Tigre.
These delicious choices can be found at Sen Sakana on 44th Street (between 5th and 6th Avenues). The restaurant focuses on Japanese-Peruvian cuisine. For devoted foodies, you may have experienced this cuisine from Nobu Matsuhisa—the Japanese sushi chef who happened to work in Lima for a while in the '70s. So, if you've ever experienced raw fish with yuzu and a pinch of Rocoto Chile paste (Nobu's interpretation of Tiradito), or grilled skewers with spicy Anticucho Sauce, then you've tasted Peru's unique Nikkei cuisine.
As owner Allan Wartski recently said, "Sen Sakana brings together Japanese and Peruvian culture but this is not a "fusion" restaurant, there is a deep historical association here." In the late 1800's Japanese immigrants traveled to Peru. They found a new home and gave Peru the rigor of their cuisine. The Japanese and Peruvians shared the flavors and practices of their cultures, creating a new style of food: Nikkei Cuisine. Nikkei is an intense intercultural exchange, expressing the diversity of flavors born from the union of two age-old civilizations.
The restaurant which opened last year on the West 44th b block is steps away from the Algonquin, the Royalton, and the Iroquois hotels. There is room for almost 200 people in the square bar up front, the main dining room with rows of light wood tables and chairs in neutral upholstery, and a raised mezzanine, and sushi bar. The six-page menu is extensive with categories distilled to appetizers, main courses, skewers and sushi.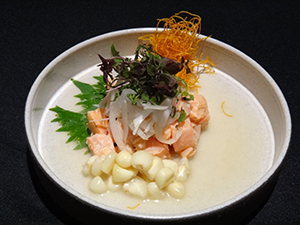 Nikkei Ceviche
UNIQUE FLAVORS
Savor Quinos Chaufa which combines pork belly, brown rice, plaintains, king oyster mushroom Onsen egg, and Oshinko and resembles a fried rice bowl. The Onsen egg yolk creates a binder and when mixed together is delicious. Or perhaps the Chicken Nanban will satisfy. The deep-fried black feather chicken breast is enhanced with quinoa, black vinegar sauce, aji tartare sauce. Perfectly prepared: tender and juicy and complements the crispy quinoa outer shell.
The sushi pieces and rolls are spot on and sure to please. Maguro, Chu-Toro (medium fatta tuna, Nikkei wasabi), Botan Ebi (spotted prawn, chalaca, ebi miso), Unagi Hako (sushi rice, avocado, topped with fresh water eel, crispy quinoa, tamago) are just a few examples.Peru and Japan are well represented in the kitchen where Chefs Mina Newman and Taku Nagai create unforgettable dishes. Ms. Newman is a New Yorker who spent summers as a child in Chiclayo, the city in northwestern Peru where her mother was born. "Being of Peruvian descent, I have long awaited the opportunity to present the cuisine of my heritage to New York diners, and it is with great pride that I'm finally able to do so." As she explained bringing Nikkei Cuisine to the Heart of Manhattan is exciting. Chef Nagai, an Osaka native, is a veteran of Japanese restaurants in New York and Asia. He told us, "I am thrilled to be able to combine the cuisines of both mine and Chef Mina's heritages to present true Nikkei style cuisine, for the first time ever, to the palates of New York. It's an opportunity to showcase the flavors and techniques of both cultures that was created with the migration of Japanese people to Peru."
For those who may have difficulty deciding what to choose (yes, it can be daunting), I recommend the Nikkei Experience: a collection of Sen Sakana's signature dishes. Indeed. Sen Sakana is a fantastic addition to our New York City food scene.