The Bootlegger A Las Vegas Jackpot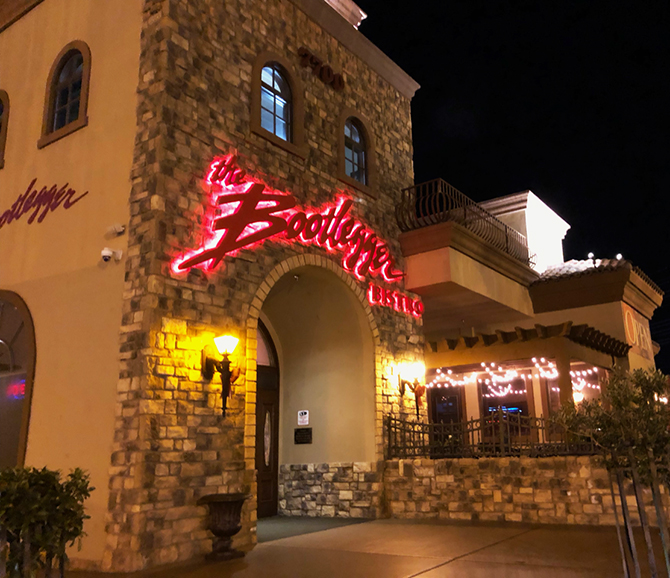 By Scott Cuollo
When it comes to food, New Yorkers are a tough crowd. We have thousands of restaurants—from fine dining to casual bistro. Italian, French, New American, you name it...it's here!
New Yorkers are spoiled and one reason I believe when we do travel many of us have high expectations. But I wasn't disappointed on my recent trip to Las Vegas when I discovered Bootlegger Bistro. Yes, I hit the jackpot!
After hearing about "Mama" (she's a young 100 years) who is head chef and owner, I had to get a taste for myself. Unfortunately, the night I visited, Mama wasn't in the kitchen. Yet, a warm welcome from the moment my guest and I sat down made us feel at-home comfortable.
The Bootlegger is the latest venture of a multi-generation family-owned Italian Restaurant firm that has been serving superb Northern Italian food for over 65 years. Our waiter was knowledgeable and attentive.
We were served generous portions of Chicken Cutlet Parmigiana, perfectly prepared crisp and juicy, and the pasta was cooked just right. The "gravy" reminded me of home. The Osso Bucco (veal shank) was tender and served with saffron risotto, asparagus, tomatoes and zucchini.
To end the meal Italian-style, why not a Cannoli (or two), or be truly decadent and try the Chocolate Lava (warm chocolate cake served with vanilla ice cream and sweet red wine sauce).
On any given night you can find live entertainment in the main dining room, and you never know when a celebrity may decide to join in. There are also private dining rooms to host your own event (or is there a wedding in your future?): The Vegas Room and Copa Room make celebrating memorable.
Planning to be in Las Vegas? Then head to Bootlegger Bistro (for breakfast, lunch, dinner, and late-night snack). The 24-hour eatery will not disappoint.
Info: 7700 S. Las Vegas Blvd., bootleggerlasvegas.com.