SOHO ART GALLERY MAKES A SPLASH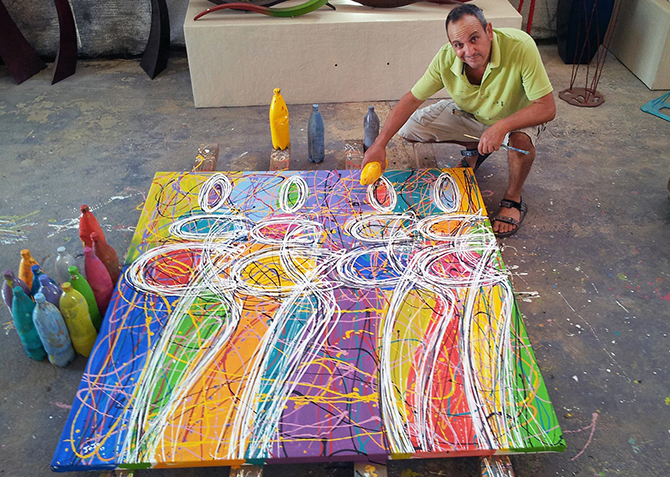 By Daniel J. Bollinger
For Israeli artist, Yosef "Jojo" Ohayon expanding his artistic footprint has been quite an experience. It began ten years ago with the opening of Jojo Gallery in Tel Aviv and last year went global with the opening of his second gallery located in Manhattan's SoHo.
The gallery's eponymous artist told us the story of discovering his way into the art world. After nearly 20 years as a farmer near the Dead Sea, Jojo decided to pursue his real passion as an artist. However, farming techniques were not left behind. He brought them to the art studio.
One of those techniques was the use of water-pressure-inflation, which shape metals into one-of-a-kind pieces of art, including chairs, coffee tables, wall sculptures and the like. Jojo discovered this after designing a machine to sort fruit on his farm. He noticed a large volume of water did not withstand pressure and swelled into the shape of a metal "cushion." What began as a flaw in the farmer's machine became the artist's inventive technique in creating his art collection.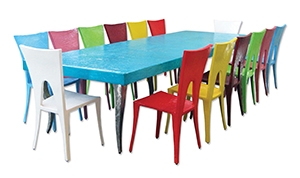 BOLD & BEAUTIFUL
In addition to the custom furniture and wall sculptures, Jojo creates expressive paintings, with each work characterized by its own personality. His work expresses bold vitality and human warmth, while deeply reflecting human hopes and dreams, aspiring to portray true beauty and harmony. As he says, "I want to make people happy." His use of bright colors, shapes, and mediums undoubtedly brighten one's mood.
As an artist who chose to live near the Dead Sea, Jojo creates his works with a contemporary flair. His pieces are exhibited in dozens of galleries across the world with items being sold to buyers in Israel, the United States, Europe, Australia, and China.
---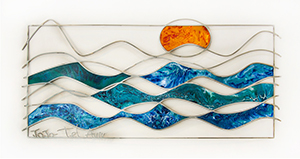 ABSTRACT PAINTINGS
Jojo creates abstract pieces using a unique process called "action painting" method. By using bottles of paint with a hole cut out of the cap, his swift hand creates signature pieces.
WALL SCULPTURES
Jojo creates metal wall sculptures with clean, elegant lines. With his use of color, these three-dimensional works take the form of umbrellas, boats, musicians are some of his inspiration.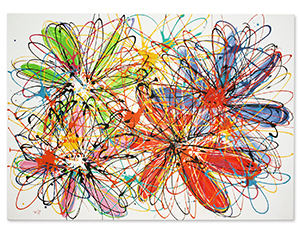 METAL FURNITURE
The artist's new method of manipulating metal which he calls, "water-pressure-inflating" creates chairs, coffee tables, and other pieces of furniture.
UNIQUE VASES
Jojo's large, tall vases have been his trademark since the beginning of his career. His inspiration for these vessels comes from the wavy movement of the Dead Sea dunes. Each vase is created with either a metallic finish or a special ceramic coating.