BROOKLYN BOWL Strike It Rich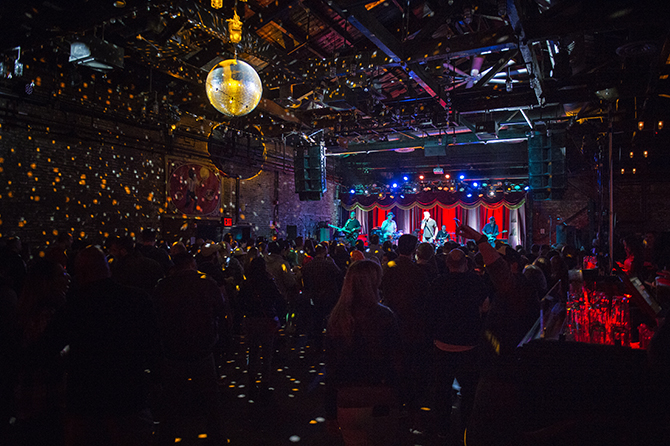 By David A. Porter | Photos by Geoff Tischman
Imagine you're a skinny, music-besotted high schooler, somewhere in the wilds of suburban New Jersey, circa 1985. You keep your records in plastic sleeves. You've got Springsteen and U2 pins on the lapel of your jean jacket. You've got Elvis Costello and Dire Straits lyrics written all over the inside covers of your three-ring binder.
You are serious. And let's say you're somewhere on the Jersey Shore, walking in the sand, and you stumble upon a magic lamp. You, of course, pick it up, rub it, and make a wish: For your basement to become the coolest nightclub on earth, with an amazing sound system, incredible food, psychedelic lights, fantastic bands playing for hours every night—and a bowling alley!
Welcome to Brooklyn Bowl on Wythe Street in Williamsburg, Brooklyn, a mere two blocks from the banks of the mighty East River and a short seven-block scurry from the Bedford Avenue L station. For many of us, music is a religion, and Brooklyn Bowl is a church, temple and oracle rolled into one—and that roll is a strike! What makes this a holy site for music lovers?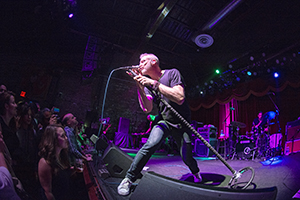 SpinDoctors
LET ME COUNT THE WAYS
The sound is fantastic, loud and clear, and the stage, which always looks as if it's been decorated for a Big Top birthday party, is low, about three feet off the floor; for most of the audience, the show takes place just above waist-high (and beneath a sparkling disco ball). If you get up close, you're almost onstage. I was in the front row for a Hold Steady concert last year, and I could have reached out and touched guitarist Tad Kubler's effects boxes. Another night, I was also lucky enough to see a knockout performance by late soul sensation Charles Bradley, who stepped into the audience toward the end of his show to give people flowers and hugs.
A MUSIC MECCA
Charley Ryan and Pete Shapiro founded Brooklyn Bowl in 2009 just about the time the neighborhood was becoming an epicenter of New York—and global—cool. Ryan and Shapiro built the 23,000 square-foot club in the historic Hecia Iron Works building, which was completed in 1897. Today Brooklyn Bowl hosts performances and events seven nights every week, sometimes even two the same night, eleven performances weekly and more than four thousand since it opened.
What kind of music do you like? Brooklyn Bowl books everything from blues, classic rock, jazz to punk, rap, reggae and soul, mixing legendary performers with up-and-comers, local acts and DJs. Since 2009 Adele, Elvis Costello, D'Angelo, Lauryn Hill, Dr. John, Phil Lesh, Bruno Mars, John Mayer, The Neville Brothers, Stevie Nicks, Robert Plant, Paul Simon, Toots and the Maytals (to name but a few) have all dazzled crowds at Brooklyn Bowl.
"We book national and international artists as well local acts," says Brooklyn Bowl Talent Buyer Lucas Sacks, "and we try to keep the ticket prices as low as possible. We try to get big name talent as often as possible, but we also add local acts for support slots and midweek shows. We often book multi-night residencies because the shows are unique, and they allow bands to stretch out and feel comfortable: they can cover some of their favorite songs, play extended versions of songs, or host opening acts or special guests. Our goal is to create a 'do-not-miss scenario for music lovers every night."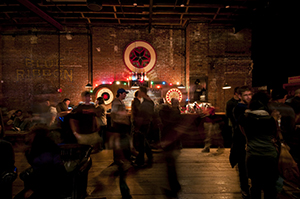 Blue Ribbon Wall
BURGERS, BITES & BOWL
Show up early, and hungry, as Brooklyn Bowl is also an outpost of Blue Ribbon, the legendary Lower East Side purveyor of fried chicken and other delights. Try the egg shooters with pickled peppers and olive oil mayonnaise, the buffalo cauliflower, spicy kale and quinoa salad or some of New York's best wings, smoked in-house, but leave room for Blue Ribbon's signature fried chicken platters. They will rock you, as will those mouthwatering burgers and ribs. You'll undoubtedly need to fuel up, as you'll be dancing until the wee hours of the morning.
One of the venue's two bars is inside the restaurant area, across from the entrance, and the other is across from the stage where, if bowling and delicious food and incredible live music aren't enough, you can watch the game, or games, on a TV above the bar. In addition to Blue Ribbon, and as part of its commitment to local products, Brooklyn Bowl serves beers from nearby Brooklyn Brewery, as well as Kelos and Sixpoint, alongside handcrafted cocktails.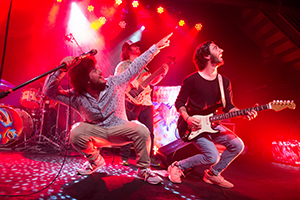 Ripe
Love bowling? Brooklyn Bowl is home to the world's first LEED-certified bowling alley, 16 immaculate lanes with Chesterfield sofas and tables. You can bowl before, after or even during a performance, and there's table service if you want to dine while you bowl. On Sunday nights mention "Sunday Night Special" at the shoe rental desk for 50 percent off beginning at 8:00 PM.
If you're going, hop an L train and leave yourself enough time to stroll through one of Brooklyn's most happening neighborhoods. After the show, take a gander at the bejeweled Manhattan skyline as you're leaving the club. You can take photos with your phone and with a small point-and-shoot camera, but GoPros, professional cameras, and selfie sticks are prohibited.
So, you see, wishes do come true after all!
For more information on Brooklyn Bowl, visit brooklynbowl.com.