ENTREPRENEUR'S CORNER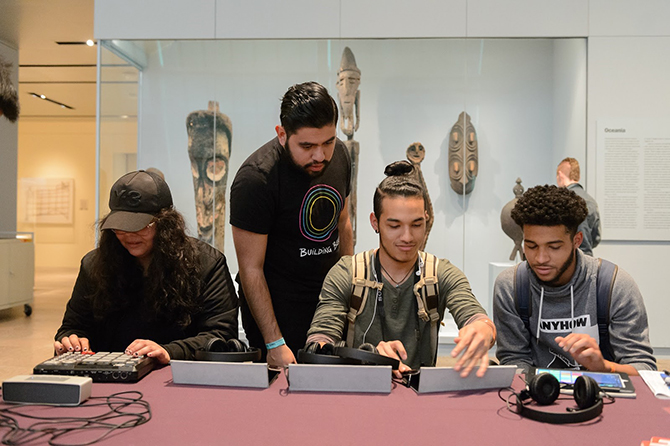 By Thomas Ferguson
It's a given: Music education helps young people stay focused, learn interpersonal skills, and gain confidence in their creative abilities. While most existing music education models rely on classical training with a steep learning curve that makes it hard to engage students, there is another unique approach.
Building Beats encourages students to learn through digital music. They aim to democratize music education and make it more enjoyable and accessible to youth. Building Beats engages students with music making that builds their creative skills through free and affordable digital music software. By engaging their creative talents, students become contributors to their communities.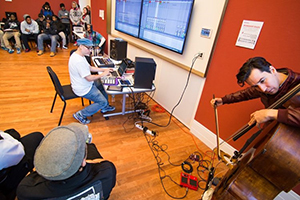 THE POWER OF MUSIC
Since 2013, Building Beats has provided workshops to over three thousand NYC youth. Beginning as a small project located in the Bronx and Manhattan, Building Beats has since expanded all over NYC. Building Beats partners include the NYC Department of Youth and Community Development, Carnegie Hall, Brooklyn Public Library, and the Metropolitan Museum.
HOW IT BEGAN
Phi Pham, a DJ and music producer of 17 years, founded Building Beats. His leadership and vision have helped build a network of music and creative professionals mentoring the youth of NYC. Growing up with a passion for hip-hop music, Phi stumbled upon the art of DJing in 7th grade. Within minutes of scratching records, the inspiration to get his own set of turntables was born.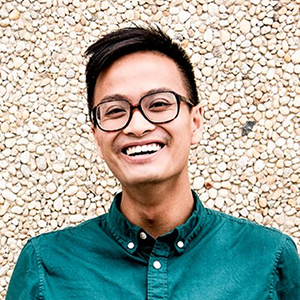 Phi Pham
Phi spent his weekends and school nights learning and developing his own skills (after finishing his homework, of course!). "I never imagined that something I loved doing would end up being my career," recalls Phi as he looks back on the past two decades.
After moving to New York in 2005 for college, he began gaining attention around the NYU community for his gigs downtown. He double majored in Neural Science and Psychology, but DJing and music was still his real passion. It was during his senior year that he came up with the idea of Building Beats.
Phi remembers there was a program at NYU called the Reynolds Social Entrepreneur Program that gave grants for social impact startup ideas. His initial vision for Building Beats was to start music studios around the world for youth and have them collaborate online. The $800 grant from the Reynolds Program helped Phi launch Building Beats' first project, starting a DJ school in Brazil. That project helped Phi learn the costs and difficulties of launching an international program. Soon after, he reset the team focus to start workshops in New York City. What started out as a group of volunteers has transformed to a growing staff continuing the work of digital music education.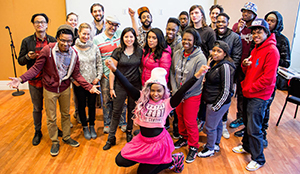 Phi with a group of his students
THE MISSION
Building Beats employs a team of 18 Workshop Leaders, many of whom are DJs and music producers with backgrounds in youth development. They instill music skills as well as develop a mindset in students to embrace the challenges of the creative process. This wisdom helps build students' Creative Confidence: the courage to fail or take creative risks, and the knowledge that all the ideas created have value. Creative Confidence allows students to believe in themselves and to build confidence in all aspects of their growth and development. This process begins with access—using free mobile software, Building Beats holds workshops in schools and community centers throughout NYC. All they need is a computer with an internet connection.
Workshops generally last from 90 minutes to 2 hours, and class sizes are 10 to 12 students and consist of a warm-up activity, skill-building, and collaboration. Students learn how to produce and record music using their technology. The workshops are culturally responsive and relevant to students. Music concepts like theory, harmony, rhythm, songwriting, and arrangement are integrated into the curriculum. Feedback is an essential part of the workshops. Students share their work and give feedback to one another. This allows each student to learn new approaches as well as help each other; they use feedback to get better every day.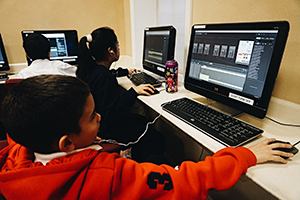 A young DJ in the making
DEVELOP SKILLS
Students also gain a set of transferable skills applicable to other arts, academic, or career endeavors. They develop social and emotional intelligence, mathematical aptitude, and design thinking skills. These skills will help a young person no matter what career they have. The goal of a Building Beats alum is not to become a superstar DJ, but to become a superstar community member.
An important aspect of the program is every student connects with professionals and companies in the music industry. This is a pipeline to future opportunities for their personal growth. They also get to complete the program with a digital portfolio. Students have used the digital portfolios for college applications and resumes.
To continue growing the work, Building Beats relies on the support of grants and generous supporters. Donors share the values of the Building Beats of empowering young people with creative skills to prepare them for the 21st century. Many jobs in the future need creative individuals with an imagination. Building Beats makes sure young people from under-resourced communities receive that training.
While serving over 500 youth in the 2017-18 school year, Building Beats aims to provide a platform for disenfranchised youth to tap into their passions and share them with the world. There are long-term plans to expand their partnerships beyond New York City.
For more information on Building Beats and to possibly partner with them, visit buildingbeats.org.