MY NEW YORK STORY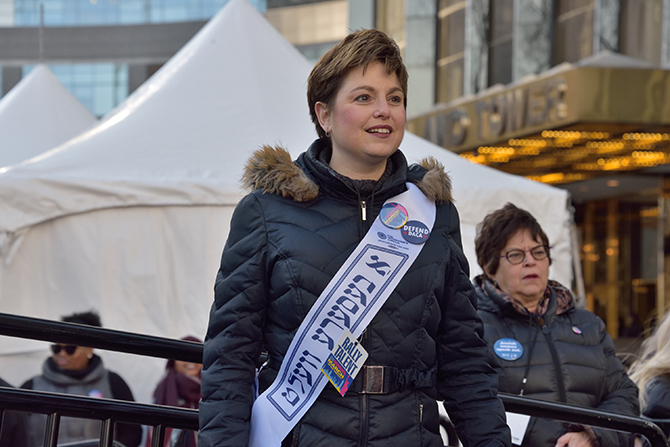 By Ann Toback
I was born to be an activist, as surely as I was born to be a New Yorker. Raised in a family where my father was a third-generation union activist, with my grandparents having met at a union hall, activism was our "family business." My parents taught us to live our values every day. We were progressives who never, ever crossed a picket line, and for over a decade, during the California grape boycott and strike, the only grapes I ate were Concords—grown locally and still my favorite.
I was born in Brooklyn. My mother worked as research assistant at Downstate Medical Center and was a staunch feminist. Her monthly Ms. Magazines were big favorites of mine. My father was an engineer and an active member of the Newspaper Guild. The culture and energy of New York City were very much interwoven into my childhood, from art classes at MoMA to walks and bike rides through Prospect Park. Our family moved to Long Island before I started school, but we made frequent trips back to Brooklyn and Manhattan throughout my childhood, and I was back in Manhattan, for my first job after college graduation. Except for law school at Boston University, I have lived in Manhattan ever since.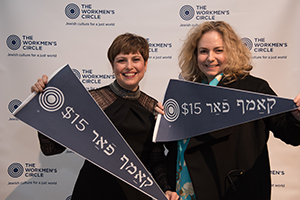 Ann with sister Eileen Toback
profl organizer & activist
WORD POWER
After I earned my undergrad degree, I took my place as one of the thousands of twenty-somethings immersing ourselves in New York life. I got a job in a publishing house and shared an apartment in Pomander Walk, the charming, quirky Tudor-style mews on the UWS, built from a theater set design in the 1920s. Books and reading were my passion. I was privileged to know legendary publisher Charles Scribner IV and to spend hour upon hour in the iconic bookstores: the Gotham Book Mart, the Strand, and Scribner's on Fifth Avenue. I felt like I had made it when I was able to purchase a season subscription to the 92nd Street Y Literary Series. As much as I enjoyed being part of the publishing world, it was not enough for me. I ultimately realized that I needed a career that allowed me to pursue my passion for advocacy and social justice activism. It wasn't enough for activism to be a sideline. I continued to be moved by so many issues of inequality and economic disparity around me; I felt that I had to change careers and become an advocate full time.
STRENGTH IN NUMBERS
I went on to law school, then became a labor lawyer for the Writers Guild of America, East. I have always felt compelled to speak for people who don't have a voice. Unions were formed so that people had the opportunity to be empowered through the support of a collective. Workers have strength in numbers and the protection of a contract. I loved my work for the Writers Guild, East, bargaining contracts, organizing workers, and representing them in grievance and arbitration procedures. Ultimately, I was much more connected to being a union leader than being a labor lawyer. For me, the idea of building coalitions, strategic activism and collective engagement is so important. I am very proud of having been the on-the-ground staff leader of the 2007-2008 Writers Guild strike, a bitter four-month struggle. It helped crystallize my future in social action leadership.
The idea of helping to build and lead a movement became my passion. In June 2008, I made the transition to the Workmen's Circle. I am proud to be the first woman leader of the organization in its 100-plus year history. In 2008, the Workmen's Circle was ripe for renewal in its second generation of life. It had been founded in 1900 as a progressive values-driven fraternal benefit society that helped over 100,000 Eastern European Jews transition into life in the United States. One of my first jobs here was to help re-envision the Workmen's Circle for the 21st century as an organizational leader in the progressive social and economic justice world through a Jewish lens. It was more of a rededication to its ethical core than a rebirth since the organization grew out of the pro-labor, pro-worker movement of the last century. I arrived with the passion and commitment to creating new programs to help train future leaders and progressive activists in and around the labor movement and the social and economic justice world. As the Workmen's Circle has reconnected to its activist roots, our partnership with the labor movement across the country has become one of our most important connections.
At the Workmen's Circle, we are fierce activists for social and economic justice, but it's not enough for us—or for me—to just show up at rallies or picket lines. We have to make sure that our activism is strategic and focused on effecting real-world change. First and foremost, I have to understand the problem that I want to change, how I can move a solution forward and how I can help to educate people and activate them.
THE START OF A MOVEMENT
To me, one of the most important activist moments of the past was the Uprising of the 20,000. In 1909-1910. Clara Lemlich, a young Yiddish-speaking immigrant woman, along with fellow immigrant and activist, Rose Schneiderman, led a strike of 20,000 immigrant workers, mostly young women in their teens and twenties. These incredibly brave strikers worked in unsafe, deplorable conditions, often for 60 to 80 hours a week and still did not make a living wage. In 1909, they walked out of their jobs en masse and shut down the then-lucrative shirtwaist industry. The outcome of the strike transformed the garment industry and led to the creation of a work week, holidays, the recognition of women's rights in the workplace, and many of the workplace safety regulations and union protections that have been in place for almost a century.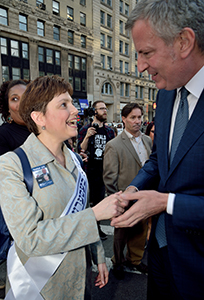 Toback - de Blasio
CHANGING THE WORLD
Today, as I proudly lead the Workmen's Circle in the 21st century, I am always cognizant that we are standing on the shoulders of so many great activists from the past. I think it is important to teach and engage children around issues of social and economic justice. The idea that they are empowered to change the world, helping new generations understand what meaningful activism can be, and how they can have a significant role in improving the world is a critical piece of our mission that we are now growing.
We are living in very challenging times. Even so, I have always been, and remain an optimist. I see people making alliances and partnerships that I have never seen before. I am hopeful that in the coming months, we will see an increase in collective action with more diversity in the ranks of the progressive movement going forward. Different cultural organizations are forming meaningful coalitions of activism and support in the face of attacks on so much that we all hold close – on our fundamental freedoms, rights, and in many cases, critical support. I am hoping this will become the norm. It is essential in the face of the rising national dialogue on Islamophobia, anti-Semitism, immigrant oppression, homophobia, gender bias , and racism, that all of the many impacted groups join together in support and activism.
Much like the Uprising of the 20,000, we need to stand firmly together and create a movement where strength and support are shared. All people who believe in a better world have to work as one. These alliances and connections will take us into a stronger future, here in NYC and the world around us.
For more information on the Workmen's Circle and Ann Toback, visit circle.org.