TIME OUT WITH… Jamie deRoy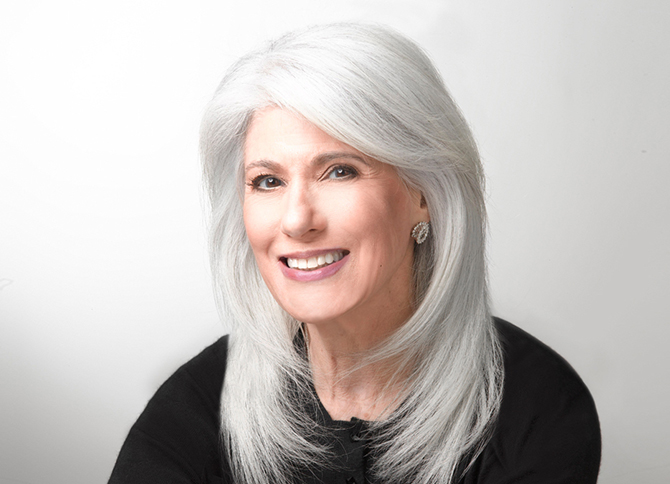 Jamie deRoy
By Clint Brownfield
When one enters Jamie deRoy's vast apartment at the historic Alwyn Court, there is a lot to take in. Meeting her and visiting with her for an afternoon in this setting—well, there's even more to take in.
One can easily lose track of exactly how many rooms there are in the apartment. The word cavernous comes to mind. Along the way are enough books, CDs, works of art and collections that could quickly fill a branch of the Library for the Performing Arts at Lincoln Center. Her mother, noted artist Aaronel deRoy Gruber—Jamie goes by her mother's maiden name—created much of the art on display. Collections on view in the living room range from large groupings of cat figurines, Kewpie Dolls and, casually thrown into the mix, are eight MAC Awards (Manhattan Association of Cabarets), four Back Stage Bistro Awards and 11 Telly Awards.
The three Tony Awards she has won for producing Broadway plays and musicals are not in the living room. But don't think her apartment resembles the Collier brothers' infamous digs. Everything is kept in mint condition and displayed in lighted display cabinets. The living room is big enough to contain a grand piano and provides plenty of space to tape her bi-monthly television show, Jamie deRoy & friends. Tiptoeing through all this is her intrepid cat Harpo, who never breaks a thing. Very stealthy!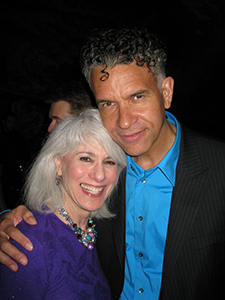 THE JOURNEY BEGINS
Jamie arrived from Pittsburgh to NYC in 1964 and began her multi-faceted journey by knocking on doors, going to auditions, taking classes at the American Academy of Dramatic Arts, and hasn't looked back since—sort of a living, breathing work of kinetic sculpture. Summer stock, club dates and parts in plays and musicals began to happen both in New York and LA. One of her earliest collaborations was with a young rising musician who went by the name of Barry Manilow. In LA she would become the opening act for another funny lady, Joan Rivers, who encouraged her to be as funny as she wanted—a rarity in those days when comedians didn't want their opening acts to infringe on their comedic offerings. Joan was very generous, and show people of all stripes, to this day, also know Jamie for her longtime generosity.
BROADWAY CALLS
In the 1980s someone in Jamie's orbit suggested she might try her hand at producing. Good suggestion—three Tony Awards and numerous successful plays and musicals are the evidence. Currently on Broadway are these productions that were helped by Jamie's involvement: Angels in America, The Band's Visit, The Play That Goes Wrong and Latin History for Morons, which just finished a successful extended run.
Her nurturing spirit manifests itself via her participation in the outreach programs at, among others, the Actors Fund, where she founded and runs the Jamie deRoy & friends Cabaret Initiative and the venerable Friars Club.
Women were not allowed to be members of the Friars Club until 1988; Jamie was admitted to the club that year along with such other superstars as Liza Minnelli. There were other honorary female members admitted, but Jamie was in the first wave of women to be admitted as regular members. Jamie's not one of those members who shows up once in a while for lunch or an occasional dinner. She believes that if you are a member of an organization that you should be an active member. To say the least, Jamie has been a very active member, serving on many committees, helping with tributes and roasts and raising money to help fellow show people all around the city and country via the Friars Foundation.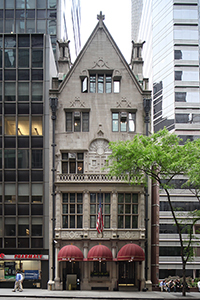 She's a wonder woman! Her longtime showbiz pal, Julie Gold, sums it up perfectly: "I've known Jamie for 40 years. She's a tireless, cheerleading, cat loving, purple wearing, entertaining, risk-taking, fund-raising, silver-haired wonder!"
HONORING A LIVING LEGEND
This month on the 11th, Jamie will be feted and celebrated at a Friars Club tribute called 30 Years A Friar!, when and where a who's who of Jamie's friends and colleagues will honor her for her 30 years of service as a treasured member of the Friars Club. The Friars Club was founded as a private club in 1904, and it's monastery-themed mansion on East 55th St., serves as its headquarters. Known for its famed rollicking roasts, the Club has historically raised funds to help entertainers in times of need. The club's membership currently includes about 200 women—20 percent of the club's total membership. Two-thirds of the membership is made up of people in the entertainment business, and the rest are corporate members.