ARSEN GURGOV
A Hot Stylist Creates "Shear" Perfection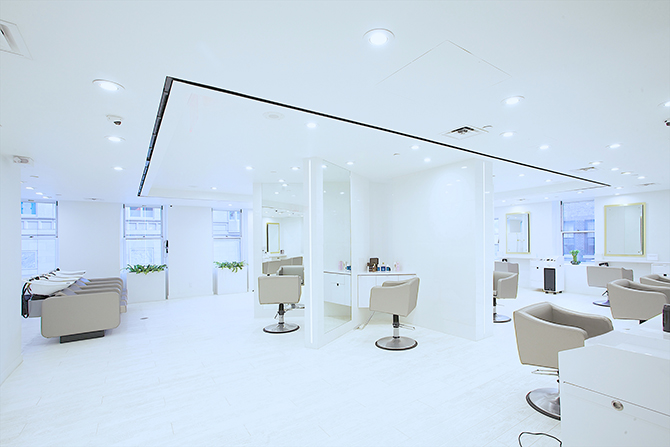 By Ruth J. Katz
You might say that Russian-born Arsen Gurgov is a czar. Not the kind who once owned coveted Fabergé eggs and dwelled in Romanov palaces, but rather, a czar of transformation.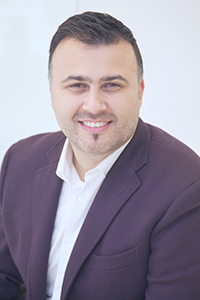 It was Gurgov who appeared like the proverbial Edwards Scissorhands every week for nearly ten years on Today's favorite Ambush Makeover segment. Wielding a pair of scissors and harnessing his discerning visual artistry for analyzing the face and its angles, he restyled and transformed hundreds of women's everyday hairdos into glam locks and gorgeous looks.
And while he was a wizard creating makeovers for two lucky ladies on TV each week, he also had his "day job" for nearly 20 years at the famous Louis Licari Salon (now Licari-Cutler), where he started as an apprentice. Today, he continues his magical transformations currently at his new, eponymous salon on East 60th Street. He is regularly featured in the media, including The New York Times, the New York Post, Vogue, Harper's Bazaar, W, Glamour, and InStyle as well as The View and GMA.
THE RARE STYLIST
In a field dominated by prima donnas with outsize egos, Gurgov is the rare celebrity stylist who is down-to-earth, warm, and genuine. His bold-face-name regular clients include Emmy Rossum, whose tresses he has tended for 17 years. Other devoted A-listers are Hoda Kotb, Kathie Lee Gifford, Julianne Moore, Ellen Barkin, Sandra Lee, and hockey great Brendan Shanahan. In his full-service, handsomely designed aerie off Madison Avenue, he and his corps of stylists (including renowned Ric Pipino) and colorists ply their magic with flat and curling irons, hairdryers, and pixie dust to help women look their best.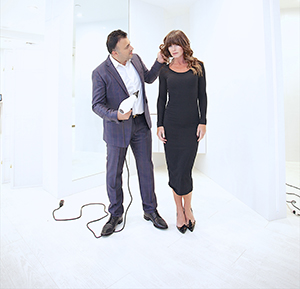 "I have always been fascinated by architecture and graphic design," notes the mane maestro. "Perhaps I would have studied something else that deals with spatial relationships, angles, and aesthetics, but it turned out that hair was my true calling." He explains that he carefully studies the angles and aesthetics of a person's face and determines the best way to visually create the most flattering illusion, to frame the face to its best advantage. Whether it's to shorten a long face, widen a narrow one, camouflage a high forehead, flatter cheekbones, highlight sparkling eyes, or accentuate a dazzling smile, Gurgov says that he "can orchestrate it to do what we need it to do."
THE MANE EVENT
To Gurgov, it's all about the aesthetics of facial architecture and how to enhance it. "I take the look that a client wants and adapt it, altering it to suit her face. Not every hairdo, for obvious reasons, is going to be right for different women's faces. I love to find the gold at the end of the rainbow—the perfect integration of a client's fantasy hairdo with one that is reality-based for her face. I enjoy engineering the makeover and then showing her how to maintain that look with ease."
The expert stylist is among the first to introduce "hot scissors" to the States from Europe. The implement itself, which can cost nearly $2,000, is electric and generates heat—just over 300 degrees. It is the ultimate tool to obliterate and prevent split ends. With a cut using a traditional pair of shears, the hair's cuticles remain open, but with hot scissors, the heat from the blades seals them, preventing split ends from developing further. It is an ideal method for taming frizzy and fly-away hair, and once cut with hot scissors, hair can grow stronger and more radiant, without the ends dividing.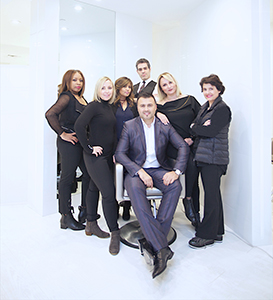 With heat and humidity just around the corner, Gurgov cautions to keep the head covered, if possible, as the sun wreaks havoc on all hair, especially colored hair. And for anyone with the frizzies, he recommends a keratin treatment for unmanageable, kinky, or too-curly hair, or simply unruly hair. Keratin (a natural hair protein) tames it all and Gurgov, an expert in keratin treatments, has developed a method that allows the hair to grow out without a line of demarcation. The keratin formula also includes silicone and other protein compounds and is painted on the hair, saturating it. With a flatiron, the solution is "sealed" into the hair shaft, taming it. The process takes an hour or two and results in shiny, smooth, straight hair, with generous volume and luster. The keratin will wash out over time, but likely will last three to four months.
For more information on the Arsen Gurgov Salon, visit arsengurgov.com.
© 2018 Ruth J. Katz All Rights Reserved.
---
HAIR ESSENTIALS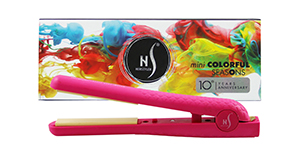 • Humidity spoiling your hairline? For those itsy-bitsy, fly-away short ends of your hair, the HerStyler Mini Colorful Straightener is the perfect tool to tame wild and wayward frizzy curls. Lightweight and easy-to-pack, the ceramic plates heat up in 30 seconds and the whole gizmo is less than 6" long. Priced $15.95 at herstyler.com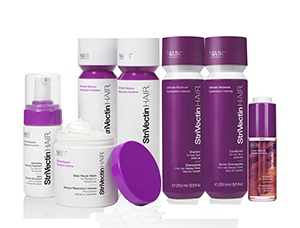 • Fifteen years ago, when Strivectin-SD Intensive Concentrate for skin, hit beauty counters, it was hailed as the best thing since sliced bread. Well, the StriVectin Company has done it again with a line of haircare products, geared toward keeping hair younger, vibrant, voluminous, sleek, and shiny. With seven products to choose from, there is bound to be something for you. Priced from $10 to $44 at strivectin.com. —RJK