HIDDEN HAWAII
A Visit To Less-Explored Places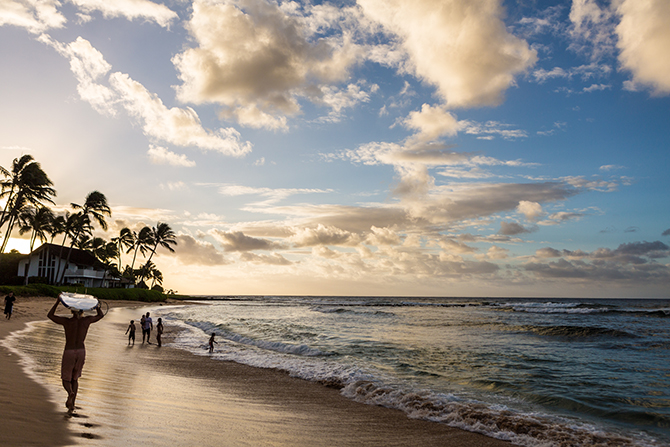 By Jenny Peters
Yes, it's true. The Hawaiian Islands are stunningly gorgeous, each with a different overall feel and some unique landscapes. And while the islands invite visitors to luxurious beachfront resorts and restaurants, we found other appealing ways to see the real Hawaii on the islands of Oahu and Kauai. Here, some places where you can discover nature and explore the ways that locals are still practicing ancient Hawaiian traditions.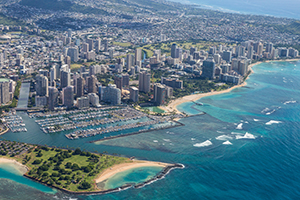 OAHU
If you've never been to Oahu or Honolulu before, then do take a gander at Waikiki—it's a must-see, iconic Hawaiian spot. For a cool place to sleep, try the Surfjack Hotel, a boutique hotel just off the beach, that boasts an iconic swimming pool and a terrific local farm-to-table restaurant called Mahina & Suns specializing in Hawaiian home cooking. Wander along the beach, take in the views of Diamond Head in the distance and get wet with a surfboard, stand-up paddleboard, or outrigger canoe rental. If you've timed your trip to coincide with the annual Aloha Festivals (the beautiful 72nd Annual Floral Parade is September 29th right in the heart of downtown Honolulu), you'll see get a month-long glimpse of many Hawaiian island traditions, too. But if you've been there, seen that, why not head West to our new favorite spot on Oahu, where the land is a bit wilder, and the natural beauty is spectacular. You'll notice that the population dwindles and the roads become clear; that's when you know you've made it to the Western side of the island. Choose a home base of either the incredibly serene Four Seasons Resort Oahu at Ko Olina or (if you have children along) Disney's Aulani Resort, both located on the calm Kohola Lagoon. A must-do is head out on a guided outrigger canoe trip for a fun-filled (and not too strenuous) afternoon. It's also the perfect place to watch as the sun sets on the horizon. After, take in the Hawaiian healing therapies found at the Naupaka Spa at the Four Seasons. We recommend the Lomi Lomi massage.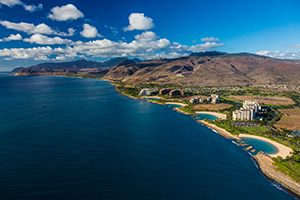 Oahu
There's plenty to see under the water on the Western side as well. Scuba diving to the old wreck, Sea Tiger, with Nani Kai Charter Dive Company is incredibly fun and educational. Sea turtles and tropical fish greet divers. The company offers bespoke dive tours complete with all the gear you need, allowing you to choose the perfect time (even at night) for your undersea excursion.
Staying on the Western side of Oahu allows visitors easy access to a real bucket-list experience: a helicopter tour like no other. Book a Paradise Helicopters Tour, at Kalaeloa Airport in Kapolei. Their Oahu Circle Experience provides an island tour along with a remote hilltop landing to pop a bottle of bubbly (be sure not to get too close to the edge)!
KAUAI
A visit to Kauai, "The Garden Island," is the least-visited of the four main Hawaiian Islands. You won't find massive traffic jams here, for this gorgeously green place is a quiet, more laid-back.
This is good especially for those wanting to commune with nature. Choose the lovely Koloa Landing Resort on the Southern Coast as your base. Here you'll be transported to a place that feels like home, complete with a historic old town that features a shave ice stand and an ice cream shop. Then let the adventures begin, with every day offering an exhilarating experience. Hit the beach for some snorkeling, or go for a few dives in the warm, clear waters. Go mountain river tubing with Kauai Backcountry Adventures. Be sure to head to Kipu Ranch, too, and jump into a UTV for an exhilarating off-road drive across beautiful landscapes until you reach a secluded waterfall. Both are exciting and unforgettable trips.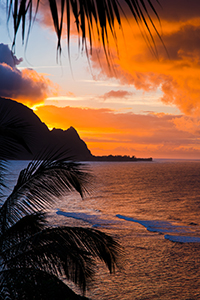 Kauai
For a less adrenaline-filled day, take in the massive Allerton Gardens where guides will be happy to identify all the exotic plants that call Hawaii home; be sure to watch for birds and other critters along the way, too. Then be sure to take a ride to the Northern tip of the island, where Limahuli Garden and Preserve awaits just before the road ends at the wild Na Pali Coast Wilderness Park. The preserve is keeping many Hawaiian growing traditions alive and is a fascinating place to learn about how ancient Hawaiians lived before Westerners arrived on the islands.
If you have time, be sure to take the helicopter tour (there are several offered near Princeville). The ride takes you to Waimea Canyon, the wildly lush canyon where the volcano that made the island imploded eons ago, as well as the Na Pali Coast, those iconic, rugged and mostly inaccessible cliffs filled with waterfalls, jagged peaks, and incredible landscapes.
That ride is a perfect way to complete your off-the-beaten-path Hawaii experience; and if these aren't remote enough to make you feel like you have left the world behind, consider going to Molokai on your next Hawaiian vacation, the out-of-the-way island that doesn't even have a single stoplight.
For more information on Oahu and Kauai (and all of Hawaii), visit gohawaii.com.