SAN LUIS OSBISPO
Exploring California's Central Coast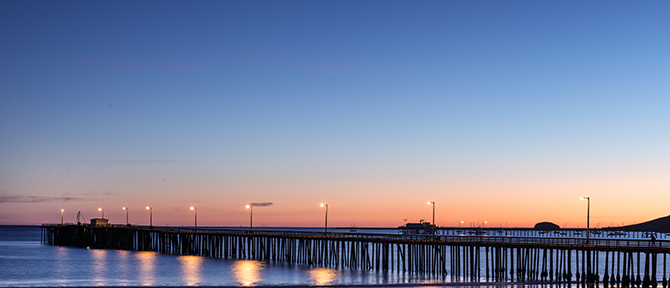 By Jeff & Stephanie Sylva
Thinking about a trip to sunny California, but you want to experience something away from the hustle and bustle of cities like Los Angeles and San Francisco? Why not try a SLO CAL—otherwise known as San Luis Obispo County. How does 315 days of sunshine; breathtaking landscapes; award-winning breweries, distilleries, and wineries; 80 miles of beautiful coastline; and a variety of hip, fresh culinary scenes sound? Located halfway between Los Angeles and San Francisco, the Central Coast radiates California's "laid-back" attitude in towns like Morro Bay, Pismo Beach, and Avila Beach.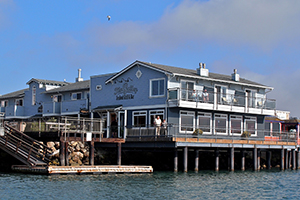 Anderson Inn - Morro Bay
MORRO BAY
Sitting on the balcony of our "over-the-water" room at the boutique Anderson Inn (andersoninnmorrobay.com) in Morro Bay, we enjoyed a spectacular view of the famed Morro Rock. Located directly on The Embarcadero, all eight rooms have a view of the harbor and all its wildlife: Sea lions, harbor seals, sea otters, and water fowl are abundant. Experience the beauty of the bay on a kayak tour with Central Coast Outdoors. Owner John Flaherty provides an informative narration on the ecology of Morro Bay and the National Estuary, its wildlife and its thriving oyster farms.
For landlubbers outdoor activities await visitors. Rent a bike to explore town, or if you prefer hop on the bike path at Coleman Park next to Morro Rock and cruise north along Morro Beach. Hike Black Hill for a spectacular 360-degree view. Other activities include paddle boarding, whale watching, bay cruises, and fishing charters. Golfers will love the chance to play Morro Bay Golf Course, dubbed "The Poor Man's Pebble Beach" with ocean and bay views from every hole. Don't miss Montana de Oro State Park, located six miles southwest of Morro Bay. The Bluff Trail, an easy-to-moderate walk, offers spectacular views of the rocky coast and cliffs.
Be sure to take a leisurely stroll along Morro Bay's waterfront and browse the shops and galleries, sample some wonderful regional wine at one of the tasting rooms or wine bars. Stop in at STAX Wine Bar & Bistro where you can choose from a large selection of local and international wines as well as a variety of craft beers.
Dining in Morro Bay, a working fishing village, is a treat for seafood lovers. Windows on the Water is an excellent dining choice with spectacular water views. Try the Pan-Seared Diver Scallops with Chorizo Cornbread Stuffing served with Grilled Squash. Dorn's Breakers Café is also a great choice for fresh seafood, and the sunsets from the patio are stunning. Established in 1942, Dorn's has been a family-run restaurant for three generations. A popular choice is Calamari Steak garnished with sautéed mushrooms in butter and wine.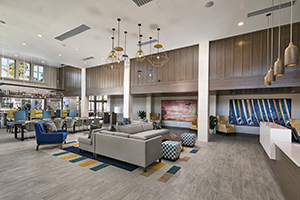 Inn at the Pier
PISMO BEACH
For a classic California beach town—one with a beautiful beach, festive boardwalk, active surf scene, boutique shops, and great food—check out Pismo Beach. Stroll the boardwalk and hang out on the pier to watch the surfers. Or rent some fishing gear and join the locals trying their luck. Shell Beach, a lovely beach community adjacent to Pismo Beach, is known for its outstanding vistas of the Pacific Ocean. Pack a picnic and catch the last rays of sun from the gazebo in Margo Dodd Park. For those planning a trip between October and February be sure to head to the Monarch Butterfly Grove where thousands of Monarchs cluster in the limbs of eucalyptus trees.
A great place to stay is The Inn at The Pier (theinnatthepier.com). This upscale inn sits just steps from the pier and boardwalk and offers great ocean views from nearly every room. The vibe at The Rooftop, a restaurant and bar offering small plates and signature cocktails, is infectious. With a collection of inviting fire pits, a dipping pool, hot tub, and killer sunset views, The Rooftop is sure to get you into that laid-back California mood. The Inn's restaurant, Blonde, was a true surprise. Much more than conveniently located in the hotel lobby, the restaurant serves "upscale casual contemporary beach fare." Call it what you like—we just know our meals were outstanding.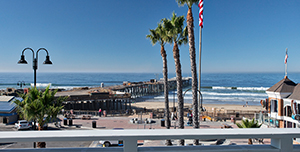 Pismo Beach Pier Hotel
AVILA BEACH
Here you will find the Land of Ahh's: Golfing, kayaking, paddle boarding, and biking the popular Bob Jones Trail. After an active day, treat yourself to a soothing soak in the therapeutic hot mineral soaking pool at Avila Hot Springs. After a rejuvenating experience, head to the boardwalk to enjoy a rewarding dining experience at Blue Moon over Avila, a delightful seaside wine bar and French bistro reminiscent of the French Riviera. Blue Moon focuses on wines from around the world and global cuisine prepared with the freshest local ingredients. Ask for a table on the patio and try the Free-Range Organic Mary's Chicken served with Lemon Risotto. You won't be disappointed.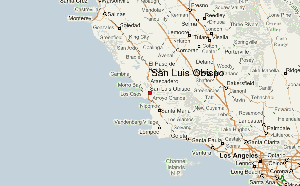 THE SLO LIFE
Your visit to SLO CAL should include a stop in the town touted as one of the "Happiest Places in America." A vibrant and walkable college town, San Luis Obispo has a Mediterranean marine climate and thousands of acres of protected open space, which beckon people to get outside and slow down. Hike one of the many surrounding trails or walk its quaint streets to explore the many shops, galleries, and eateries and cafes. Tour its world-class wine region, the Edna Valley. Maybe it's the pleasant climate; or the wonderful epicurean scene; or possibly the fact you can get from downtown to the beach and wine country in a matter of minutes.
For more information about San Luis Obispo County, visit slocal.com.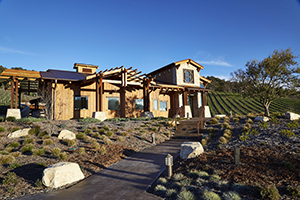 Halter Ranch Vineyard
FROM THE GRAPEVINE
Another must-see in SLO CAL is a tour of Paso Robles Wine Country, particularly the winding roads of the Adelaida District. Tasting rooms beckon guests to relax, sip, and soak in the beauty of the vine-covered hillsides. We especially enjoyed the Excursion Tour at Halter Ranch Vineyard, where our guide's jeep took us through the vineyard as he explained the history of Halter Ranch. We then toured the state-of-the-art winery and the caves, before ending with a tasting. A complimentary one-hour Winery & Cave Tour is available. (Reservations are required for all tours.)
For more information on Wine Tours, visit pasowine.com.