KALAHARI RESORTS
No Passport Required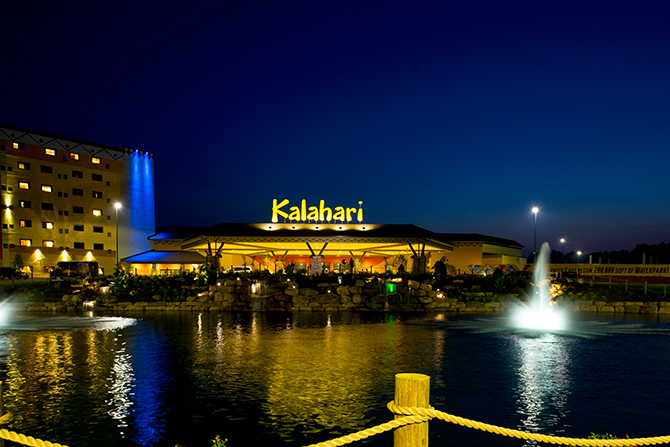 By Patricia Canole
Kalahari Resorts & Conventions isn't your typical resort. Its authentically African theme is designed to bring families together. The African spirit of "togetherness" is reflected in every aspect of the resort, like the handpicked African grown coffee beans, handcrafted artwork, and a welcoming ambiance like no other. "It's all part of Kalahari's commitment to bring guests a beyond-expectations experience," says Donald Pleau, General Manager of the resort.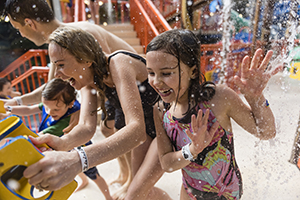 Back in the early '90s, Todd Nelson and family, who now own the Kalahari Resorts empire, completed a 23-day trip to Africa to reconnect with the land that inspired their vision, strengthen the ties with various communities throughout the continent, and source items for the Pocono Mountains property. Todd Nelson said, "The majesty of Africa and the continent's culture is our inspiration for the resort and a key driver in every decision we make. The spirit and culture of Africa have long inspired my family, ever since our first visit to the continent more than 20 years ago." The trip brought extraordinary family bonding: the Nelsons climbed Mount Kilimanjaro, saw the Big Five up close on a rugged safari, witnessed the Mara River crossing among lurking crocodiles, para-glided, and explored Zanzibar and Zimbabwe's delicious offerings.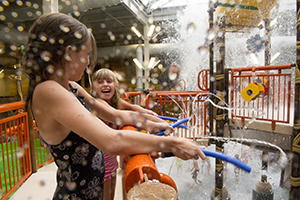 Today, there are a total of three Kalahari Resorts located throughout the U.S. with the latest—and largest—situated just 100 miles from NYC in Pennsylvania's Pocono Mountains. A fourth is already on the drawing board and to be located in Texas.
IT'S A JUNGLE IN THERE
"Kalahari was built by a family for families," explained Pleau "and we pride ourselves on offering amenities and activities for all ages.
Here, some of what to expect once you arrive:
Indoor Waterpark
Boasting 220,000 square feet of space, the indoor waterpark features a variety of thrilling slides, a wavepool, an extended lazy river and adult swim-up bars. The waterpark also houses an enhanced area called Coral Cove, where pint-size adventurers can enjoy a zero-depth entry water play area featuring slides, bouncers, mini-basketball and more. Other popular activities include: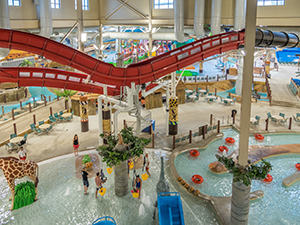 • Flowrider - Test your bodyboarding/surfing skills on a 5-foot wave simulator. The Flowrider is a safe and controlled environment for learning how to ride the waves.
• Mermaid/Shark Lessons - Here's the opportunity to dress up as a mermaid or shark and dive in to enjoy what it must be like to be a creature of the deep.
Family Entertainment Center
The Big Game Room features hundreds of the newest arcade games, simulators and redemption games for the entire family. Beyond games, families can enjoy other fantastic experiences including the 7-D motion theater, escape room and virtual reality experience with The Arena:
• The Arena Virtual Reality is powered by Zero Latency, where guests are transported into a digital realm. Taking on a new identity, their surroundings are an ever-changing, computer-generated landscape that will shock and amaze all senses. Players can choose experiences ranging from hunting zombies with Zombie Survival to flying through enchanted cities with Engineerium.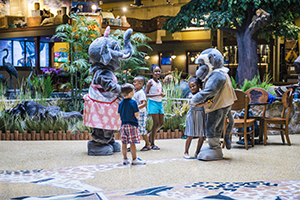 Spa Kalahari & Salon
Relax and rejuvenate at Spa Kalahari where guests are pampered with such treatments as the Hydro Oasis experience, Halotherapy, body treatments, salon services and more.
Bugs Burrow
The experience offers youngsters the chance to imagine what it would be like if they were the size of a bug. The community of Bugs Burrow features a myriad of lovable cartoon insects and critters that welcome Kalahari's smallest guests to splash, play and have fun.
Gorilla Grove TreeTop Adventures
The seasonal outdoor aerial adventure park features rope courses—a total of eight—comprised of 87 elements and designed for guests to enjoy at all levels from kids to beginners and experts. The aerial adventure park is the only one of its kind in the Pocono Mountains.
The Adventurer's Club
Guests enjoy the daily adventures of the resort's iconic characters and the Adventurers' Club. Every Saturday, guests are welcomed to join Kenya's Birthday Breakfast along with other activities including coloring contests and photo opportunities.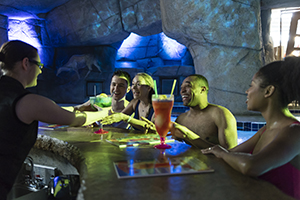 SUITE DREAMS
"The nearly 1,000 rooms of the resort capture the authenticity of the African continent," Pleau told us. The African-themed resort is filled with artifacts, stunning photos, and other items that Nelson and his family have personally gathered during the many trips they have taken to the continent. It helps give Kalahari a sense of authenticity. There are a variety of accommodations available from roomy suites for couples to suites for larger families. "There is even a honeymoon suite with a heart-shaped whirlpool," Pleau added. "After all, this is the Pocono Mountains. All guest rooms include a coffee maker, a vacation-sized refrigerator, a microwave, free WiFi, voicemail, HD-TV, an in-room safe, and lots more."
DELIGHTFUL DINING
The resort provides it all from grab-and-go snacks to fine cuisine and everything in between. Here, a selection of places to refuel or simply sit back and relax.
B-Lux Grill & Bar
Home of handcrafted burgers and shakes, the new restaurant captures the latest craves through its robust influence of American-style food with fresh ingredients that are locally sourced.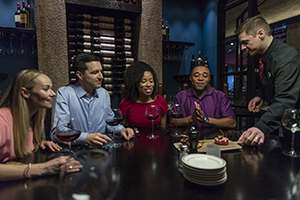 Double Cut Charcoal Grill
Kalahari's signature steakhouse experience featuring premium cuts of meat, craft cocktails, family-style sides and more.
Sortino's Italian Kitchen
A restaurant where the accent is on flavorful, excellently prepared Italian cuisine in a family atmosphere. Look for brick-oven pizza, homemade pastas and a large variety of cocktails and wine. Be sure to save room for the special cannoli cart dessert featuring three pastry shells filled tableside with ricotta and mascarpone.
Great Karoo
Features multiple food stations and picture-perfect pastries. The restaurant has a full African theme and serves breakfast and dinner.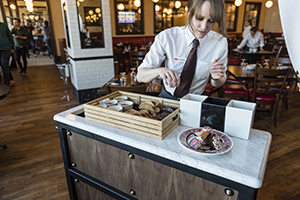 Ivory Coast
A relaxing atmosphere to enjoy breakfast, sandwiches, salads, appetizers and your favorite beverages.
Java Manjaro
The coffee shop serves a jolt of espresso and cappuccino drinks, smoothies, a variety of breakfast and lunch sandwiches, and assorted desserts. Features Rwandan blend coffee from Africa.
The Last Bite
Indulge in hand-dipped chocolate, fabulous caramel apples, homemade fudge, saltwater taffy, ice cream and more.
Marrakesh Market Grab-and-go foods and snacks, bazaar-style shopping, unique gifts and authentic-African items.
Felix's Bar/Paxton Grotto
Adult guests can enjoy savoring a cocktail or beer at this enclosed swim-up bar.
It's the perfect weekend getaway. At Kalahari, you will feel you've arrived home—and may not want to leave!
For more information on Kalahari Resorts and Conventions in the Poconos, visit kalahariresorts.com/pennsylvania.