100 EAST 53rd STREET
Contemporary Urban In Midtown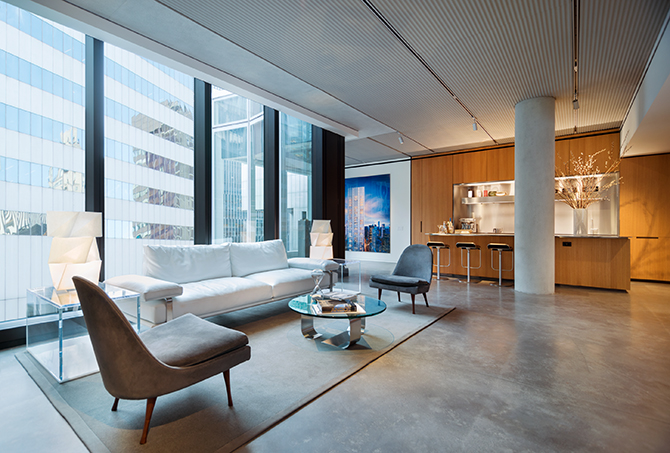 By Daniel J. Bollinger
Foster + Partners and Aby Rosen have teamed up to develop a genuinely stunning new development. With sixty-five floors consisting of 94 units from studios to four bedrooms, 100 East 53rd Street has something for everyone.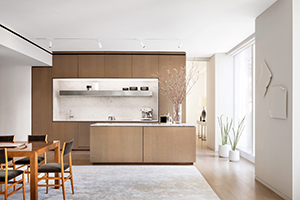 There are a variety of units, from loft apartments located on the fifth through ninth floors, tower units from floor ten up, ten full floors of 6,600-square-foot units featuring all four exposures and duplexes that are just as large and include outdoor space—all with great layouts and designs. The location is ideal and within proximity to MoMA, Rockefeller Center, and Radio City Music Hall as well as fine dining and shopping. This new development scores high marks from me in all my factors of value: location, building, light, space, air, view, amenities, and design details.
UNITS
All one-bedrooms in the tower face south while all two-bedrooms face north and feature 1.5 baths. Studios have east or west exposures. They all have great open layouts with sizeable kitchen spaces. The kitchens have integrated cabinets with a Gaggenau and Sub-Zero appliance package (with Miele washer/dryers). High ceilings with floor-to-ceiling windows allow for great light.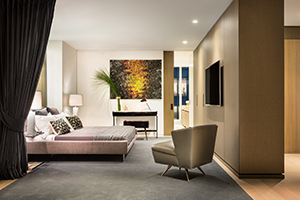 The two-bedrooms are mostly gallery style, and there are plenty of solid wood pocket doors to maximize space and layout. The studios are more than 1,000 square feet which is quite significant for this type of apartment. Some design details that make these condos stand out include the kitchens which are framed out with warm-hued integrated cabinetry with a full marble backsplash (loft designs differ). There is a long vented shelf made of stainless steel that runs close to the entire length of the prep area. The choice of warm-toned wood cabinets against the contrasting marble backsplash makes the stainless steel shelf "pop," which scores high marks from me regarding design and aesthetics. The baths are well-designed as well. Wet rooms with ceiling mounted rain shower heads, and a 'niche' factor with under mounted lighting and travertines floors.
One unique design detail that I had not seen in the luxury market to date related to the medicine cabinets. They are custom made by Foster + Partners. What makes them unique is that they open like a pocket door—you slide it open. It's just another design detail that makes 100 East 53rd Street a great development. All units also have zoned heating and vented windows for superb air circulation throughout the large residences.
The loft units have a different design aesthetic. Lofts have architectural concrete walls, ribbed concrete ceilings, and diamond-polished concrete flooring. They also have stainless steel backsplashes in place of marble in the kitchens. These design elements combine to emanate an industrial loft feel. There is also one lovely duplex unit, where the building's setback happens on the 10th and 11th floors, which allows it to have a 5,272-square-foot terrace. It is an exceptional unit.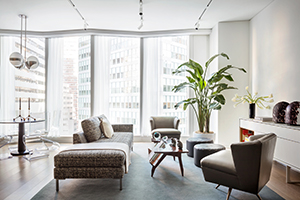 AMENITIES
There are some five-star stand out amenities. The wellness facility features a Ballet/Pilates room, sauna and steam room, and spa treatment rooms. One of the rarer amenities in the luxury market is the 60-ft sunlit swimming pool. The building also features a residential library along with multiple lounges.
In addition, acclaimed French chef Joel Robuchon, who has garnered a total of 32 Michelin stars, will occupy a two-level restaurant with a new dining concept. Architect Joseph Dirand will be designing the space. There is also Quintessentially Lifestyle which provides a members-only luxury lifestyle management service; it includes a dedicated lifestyle manager who offers global travel arrangements, concierge services to gain access to priority events and restaurants, personalized shopping services, and more.
RECAP
With the vast amount of new luxury developments in the marketplace it is becoming more difficult to stand out from the crowd. Aby Rosen and Foster + Partners have impressed me with 100 East 53rd Street because it exemplifies what great architecture and design should be. These units will hold their value over time because great design "will always be sought after." This is another example of architectural history being made in NYC.
For more information on 100 East 53rd Street, visit 100e53.com.