ENDOMETRIOSIS Breaking The Silence
By Elizabeth Easton
It's a disease few women want to talk about. Until now. Thanks to The Endometriosis Foundation of America (EndoFound), founded by Tamer Seckin, MD, and Padma Lakshmi, host of Bravo's Top Chef, which is creating awareness about endometriosis.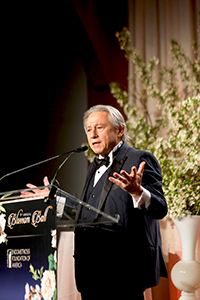 Dr. Tamer Seckin 8th Blossom Ball
Endometriosis is a disease associated with painful periods which has resulted in a lot of taboos and societal misconception about menstruation. Seckin, founder of the Seckin Endometriosis Center in New York City says, "Women are not comfortable talking about their periods openly making it hard to create a national dialogue about the disease. That is all changing now thanks to women like Padma Lakshmi, Lena Dunham, Whoopi Goldberg, Daisy Ridley, Julianne Hough, and Halsey, who are sharing their journeys with the disease. Finally, a national dialogue is happening."
Along with this increased awareness, the research priority at EndoFound has led to the launch of the MIT Center for Gynepathology Research, and the ROSE (Research Outsmarts Endometriosis) study at the Feinstein Institute for Medical Research. Last year EndoFound offered its first annual research awards to projects at institutions that include Stanford University, Johns Hopkins School of Medicine, Columbia University Medical Center and George Mason University Department of Global and Community Health. The studies range from understanding the pathogenesis of endometriosis to lead to improved treatments, developing a biomarker to predict endometriosis earlier while also potentially uncovering a therapeutic strategy for endometriosis-associated pain, to a mobile app to track and understand the disease.
GETTING THE WORD OUT
"And the work doesn't stop there," said Seckin. "The ENPOWR™ project that we piloted in New York City schools with funding from both New York State Senator Jeffrey Klein and Bloomberg Philanthropies has done so well that we are ready to take it national." EndoFound has the only school and community-based endometriosis education program in the United States. Through its New York City pilot program, over 27,000 students at 166 schools have learned about endometriosis. Feedback from the program has shown most of these students had never heard of endometriosis before, and the few who had were neither aware of the wide-ranging symptoms nor the type of treatment options available. "The lack of awareness among adolescents is staggering, despite the statistically high prevalence of female high school (and potentially middle school) students living with the disease and experiencing symptoms," said Seckin.
At EndoFound, awareness goes beyond educating the public. "Medical professionals are not trained in medical school about endometriosis," said Seckin. And so Seckin believes "EndoFound must reach out to the medical community to teach medical professionals about the disease and to advocate for endometriosis to be included in the medical school curricula."
CUTTING-EDGE RESEARCH
As EndoFound's Medical Director, Seckin makes it a priority every year to gather the top physicians, researchers, scientists, disease advocates and integrative service professionals from around the world to meet and learn from each other to improve patient experiences. At the Endometriosis Foundation of America Annual Medical Conference, discussions from cutting-edge research to the basic science and clinical management of the disease are covered. "In October 2017, at our Ninth Annual Conference, we explored the relationship between breast cancer and endometriosis," said Seckin.
There are plenty of opportunities to get involved with EndoFound, including volunteering to teach ENPOWR, running in one of the marathon events, or attending the Annual Medical Conference and Patient Awareness Days. Supporters can also submit original content to EndoFound's monthly newsletter The Blossom and apply to participate in the EndoFound Holiday Bazaar, held in December.
For more information on EndoFound, visit endofound.org. For more information on the Seckin Endometriosis Center, visit drseckin.com.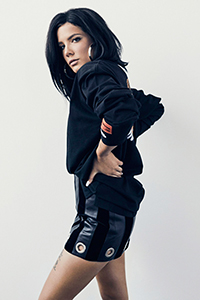 HALSEY'S JOURNEY
Last month at its Ninth Annual Blossom Ball, EndoFound honored Halsey with the Blossom Award. The twenty-three-year-old has shown incredible strength and has become a role model for so many young women. While she has enjoyed a meteoric rise as a recording artist, she's also simultaneously grappled with painful endometriosis resulting in multiple surgeries. Throughout it all, Halsey has been open with her fans, providing a raw honesty about the arduous journey so many women with this disease experience.
Halsey's courage has helped dispel the stigma that surrounds this disease, which affects 1 in 10 women of reproductive age. It is the third leading cause of female infertility and one of the most misdiagnosed—yet treatable—diseases. As a result, a woman can suffer for years before getting the correct diagnosis and care. The direct healthcare costs coupled with the indirect costs of time lost from work due to endometriosis amount to an estimated $110 billion annually in the United States.