ZAVO
Luxury Mediterranean Fare With Flair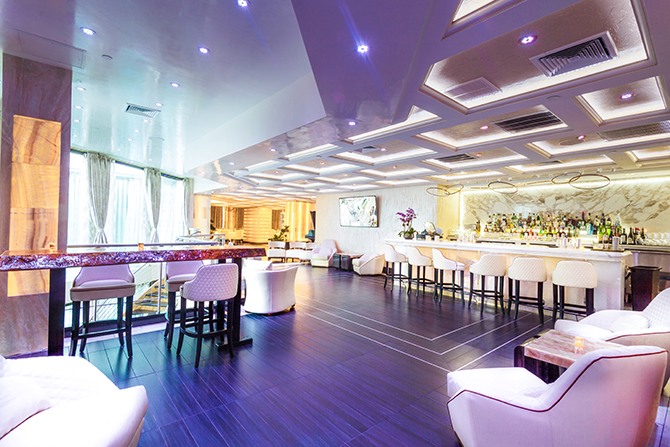 By Anne Raso
Restaurateur Ilya Zavolunov is a man with not only a tremendous amount of experience in the restaurant business both in New York and in Europe, but he had enough courage to sign a 15-year lease on a 15,000 square foot space in midtown Manhattan (on Third Avenue between 59th and 60th Streets). In the fickle restaurant business, that really takes confidence.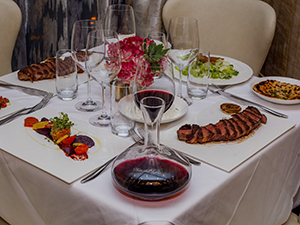 New York Lifestyles had to ask Zavolunov if he had any trepidation about taking over this huge space next to Dylan's Candy Bar that was most recently Texas De Brazil. He told us candidly, "Yes, especially knowing that other major restaurants didn't succeed at this location. For executive chef Sunil Sharma (a veteran of the beloved Capital Grille), it was challenging to take over the kitchen of this huge space. But we felt up to the task since we have decades of experience in the industry. We have operated several restaurants in Europe, including in Vienna." He continued to tell us his goal was to "introduce the Upper East Side to a very European modern Mediterranean concept." There's even a rotating exhibit of art from emerging artists.
TEMPTATIONS AWAIT
On a recent visit to Zavo, I had to try the favorite Burrata Salad, served with heirloom tomatoes, basil oil, and mint. My guest had The Beet Salad with roasted beets, citrus salad celery, and goat cheese. Everything was ultra-fresh and the portions generous. We found the large selection of steaks tempting and shared the 16 ounce Strip Steak and Filet Mignon. These prime cuts were cooked to perfection and did not require steak knives. We had to try the Forbidden Rice as a side just because the name was, well, so enticing. This fragrant rice dish turned out to be wild rice with saffron and an assortment of diced farm fresh veggies including carrots, corn and string beans.
For dessert, the Apple and Pistachio Baklava served with fresh Tahitian vanilla ice cream rocked my world—be aware that it has more of a "pie filling" texture than most baklava and it was not overly sweet! Sincerely, this is one of the best Mediterranean-style desserts that I have ever eaten and is artistically served on an extra-large white plate! It was spectacular on every level and truly an original take on an age-old Greek classic!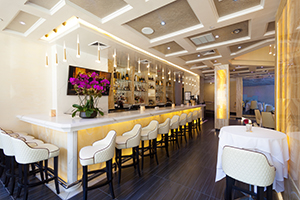 While the elegantly appointed Zavo is dubbed a Mediterranean eatery, Zavolunov is quick to point out that it is really "Modern American Cuisine with a Mediterranean twist. The Mediterranean region heavily influences the menu but another strong influence is the festive culture and the strong spirit of NYC. We buy local produce from local growers and beef from local butchers. Our fish is picked up fresh from the market daily."
SEAFOOD FAVORITES
We wondered what has turned out to be the most popular menu choices so far with New Yorkers. Executive Chef Sunil tells us that the seafood is getting the most accolades and gave us the "laundry list" of the top-selling dishes in the eatery's first few months of operation. "The Seafood Platter Flambé, the special Mezze Platter, and our Surf 'n' Turf Kebob are among the favorites." And for dessert, he told us it's the Molten Chocolate Cake.
We had to ask what the most health-conscious dishes on the menu are and if Zavolunov finds that guests order those dishes as much as the heartier fare like steaks. He revealed, "We pride ourselves on our healthy dishes, such as fresh salads without heavy or creamy vinaigrettes. You can add grilled chicken or grilled shrimp to any salad. We also offer a vegan cauliflower steak served over lentils and Romesco (classic Spanish almond and red pepper) sauce that is packed with flavor. Everything on the menu is sourced from ethical vendors ranging from our free-range organic chicken to our prime beef and fresh fish."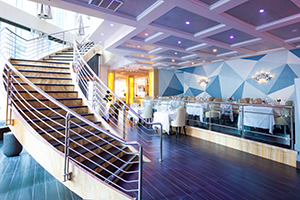 CREATIVE CUISINE IS A GOAL
As mentioned, Zavolunov is a veteran of the restaurant biz and tells NYLM, "We started our family restaurant business almost 34 years ago. We have operated several restaurants in Europe. It's a lifelong dream to own a restaurant in Manhattan. We have worked and continue to work extremely hard on this beautiful space serving fresh, creative cuisine."
What sort of crowd is Zavo aiming for—especially since it is one of the only restaurants in New York to feature a Saturday night floor show worthy of a Las Vegas A-List hotel? (The show features beautiful dancers, contortionists, singers and more in flashy costumes that Cher would envy!) Zavolunov revealed to us, "We serve to a very sophisticated clientele with an upscale taste, high-end expectations and the very best level of food, service, and presentation. We attract a big after-work crowd, which is boosted by our happy hour that is offered from 4 to 7 PM. We also attract shoppers since we are surrounded by boutiques and Bloomingdale's."
Not only is Zavo "cutting edge" but the service is some of the most friendly in the city with a staff who are truly accommodating. Attire is business chic and there are a couple of prix fixe menus available that are a real steal.
For more information on Zavo, visit zavonyc.com.