LA PULPERIA
Rustic Latin Cuisine In NYC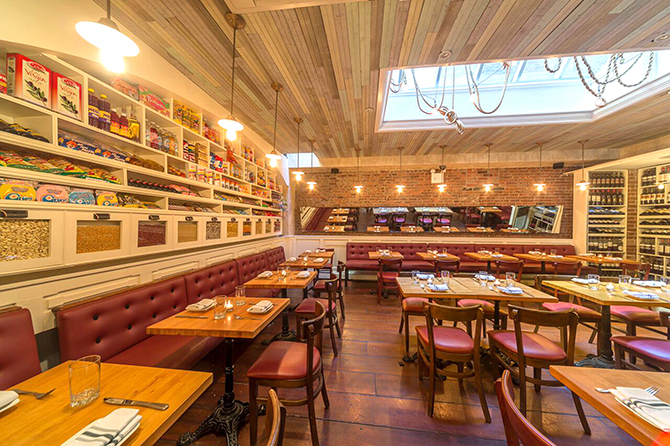 By Norah Bradford
Rustic Latin American restaurant group La Pulperia, co-owned by Victor Medina and head chef Carlos Barroz, has been satisfying New Yorkers since its opening in Hell's Kitchen four years ago. Since then, the partners have added two other locations on the Upper East Side and Midtown East. And no matter where you happen to dine, the food is always consistent.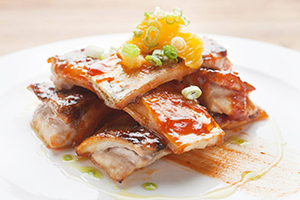 Fish Ribs
"La Pulperia draws inspiration from the authentic pulperias of South America, with handcrafted floor tiles from Mexico, walls, and ceilings of brick, reclaimed wood from Brazil on the ceiling and walls, rich red leather seating, and abundant shelving displaying top-shelf liquor, fresh produce, and wine," explains Medina. A native of Puebla, Mexico he has been a part of New York City's restaurant world for over 15 years. "I spent my entire culinary career in notable New York City venues, always in the forefront of foodie destinations," Medina told us. For his first five years in Manhattan, he worked for the renowned Jackson Hole and Joanna's Italian Restaurant at Madison & 92 Street (known for its famous clientele, such as Paul Newman, Woody Allen, and Al Pacino to mention a few). Additionally, he managed Richard Sandoval's acclaimed Maya and top-rated Mexican bistro Toloache.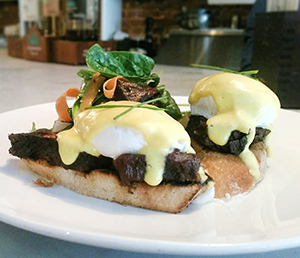 Benedict Brunch
Like Medina, chef Barroz came to the U.S. in search of a culinary dream. In Argentina, he was first drawn to the kitchen through his mother and how she prepared food for the family. "I then went on to work in my family's restaurant in Argentina. Working with my family is where my passion for cooking came to full flower," says Barroz. He is now responsible for all three La Pluperia kitchen operations, developing innovative and delicious cuisine, as well as running a cooking class at the Upper East Side location.
MENU CHOICES
La Pulperia's menu includes several fresh seafood dishes, accentuated by select meat and vegetarian options. Signature menu items include Las Tablas, which allow patrons to choose from a variety of grilled proteins such as their famous Pulpo (grilled octopus), accompanied by five seasonal cazuelitas: traditional side dishes such as Eggplant Chambota, Russian Potato Salad, Celery Root Gratin, and Pacu Fish Ribs. Then there's the always famous grilled Brazilian Pacu, a wild and sustainable freshwater fish, served with an orange chipotle BBQ sauce and coconut rice. The Warm Farro Salad with parsnips, beets, feta cheese, cherry tomatoes and butternut squash, tossed in orange maple vinaigrette, is an excellent lunchtime choice for guests of the Midtown East or Upper East Side locations.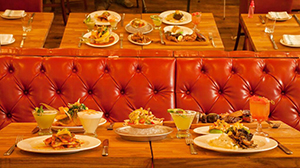 Hells Kitchen
Save room, however, for some of New York's incredibly delicious desserts including Mezcal Chocolate Mousse, made with Riazuleno Classico Juven, olive oil flourless cake, popcorn toffee, espresso crumbs and 24k edible gold flakes. There's also Mango & Lychee Tres Leches, a citrus sponge cake, topped with coconut mousse & sake soak, with a dollop of vanilla whipped cream, white chocolate shavings, mango and lychee pico de gallo. All are exceptionally good.
In a reflective tone, Medina says, "I believe that my passion for Latin flavors, and my belief in people, is what brought me the opportunity to begin a great partnership with Carlos. We are both proud to have conceived the highly successful restaurant concept of La Pulperia to spice up the culinary culture of New York City."
For more information on La Pulperia, visit pulperianyc.com.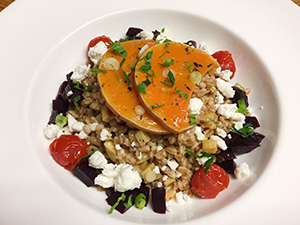 Farro salad
WEEKEND BRUNCH
"On Saturdays and Sundays, diners can enjoy a Latin twist to a classic brunch," says Medina. Menu items include Lobster & Baked Eggs seasoned with fresh herbs, and fresh cream and truffle-scented toasted bread. Another must is the La Pulperia Omelet with caramelized onion, roasted red peppers, tomato confit, Chihuahua cheese, a side of home fries and a house salad. The restaurant also offers an extensive selection of spirits and an ample cocktail menu featuring both classic and innovative cocktails.
For a genuinely entertaining addition to the weekend, join La Pulperia's 57th Street or Hell's Kitchen locations for Drag Brunch every Saturday (57th St) and Sunday (HK) between 12 - 4 PM, featuring $30 unlimited cocktails and performances by some of the city's most fabulous entertainers.