ROSE AND BASIL
NYC's Secret Garden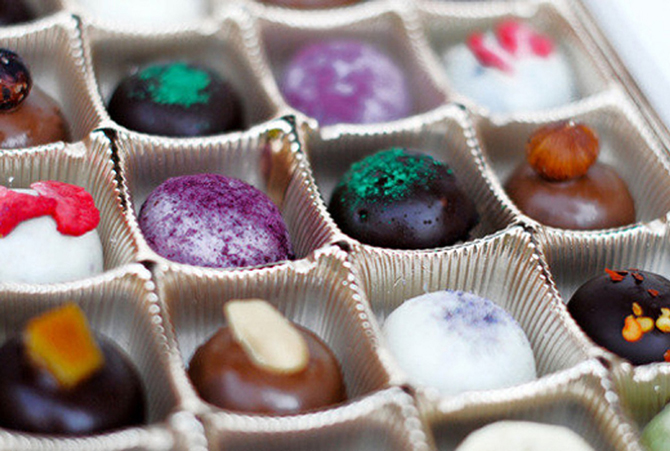 By Jenna Guarneri
When you step into this East Village establishment, you may think it's more a flower shop than a romantic café. Blooms of every shape and color are everywhere. Continue walking into the restaurant, and you'll find white garden-designed tables inviting you to stay for a relaxing cup of coffee and some of the city's best sweet treats.
Rose and Basil began to take physical form in 2014 when self-taught chef/co-owner Ioana Holt sketched two items that best represented her studies of natural ingredients and the beauty intrinsic in food: a rose and a basil leaf. Two years later, Rose and Basil opened its doors at 104 East 7th Street.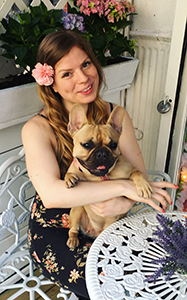 NATURE AT ITS BEST
Bridging natural, beautiful and tasty, edible flowers adorn brightly colored cakes while assorted spices, herbs, and flavorings embellish chocolate truffles and other desserts. Specialty coffees and cocktails are floral-inspired, while an adventurous menu has a multitude of past and present influences. The ambiance of the café and presentation of the food were designed to transport you out of the concrete jungle.
Growing up in Romania, Ioana identified herself as a cook—even from the tender age of five, when she would follow Grandmother Stela everywhere around the kitchen. Years later, Ioana was introduced to the art of creating sweets at the renowned Mozart Chocolates in the Austrian Alps. She marveled at how sweets heightened our senses and the interplay of flavors, smells and arrangement could provide so much joy.
While on her journey, Ioana found that many pre-mixed or favorite recipes weren't using natural ingredients. Instead, refined sugars, over-processed flour, trans fat and artificial flavors were clogging the food chain and the experience of eating. Ioana set out to not only use the most healthful ingredients, but she also succeeded in elevating the flavor, their aesthetic and olfactory aspects. For her, cooking became synonymous with ephemeral works of art.
We sat down recently with Ioana to find out her secret for success and marvel at her love of flowers—and everything beautiful.
Tell us a little about your childhood in Romania.
I was one of those kids who was good at many things, but I could never figure out what my real calling was. I was the epitome of "jack of all trades, master of none." It took me almost a decade to conclude that whatever my future held, it was going to belong to me and me alone.
When I was five years old, I decided I wanted to make people happy. When I was 10, I realized I loved being around plants and animals, and that I always wanted to be surrounded by nature. When I turned 15, I fell in love with programming. Working with numbers became another thing on my list of possible life purposes. I never had the one thing on my list that I was already doing every day: cooking. I never realized that the one thing I could do the best was the very thing I was already doing.
What made you want to leave your family and Romania?
I wanted to spread my wings academically, so I entered the International Baccalaureate Diploma Programme, in Austria. There, I fell in love with creating art and learned how to bake at my after-school job. Austria taught me it was that where you are can shape who you become. With that in mind, I decided to move to New York City wher e I attended college and worked organizing bake sales and working in a restaurant.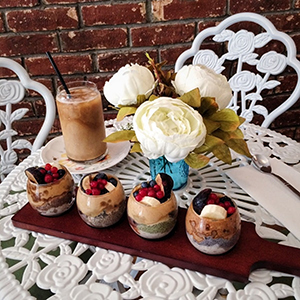 What inspired you to start thinking about owning a restaurant?
Those years were full of doubt, but it was the day to day of working in a restaurant that made me start dreaming about living that life; having my restaurant and creating, leading, and strategizing that next move on my own. I wasn't quite brave enough to take that leap quite so fast, but life found a way to force me into it. The restaurant I worked at closed down and I lost my job. It was the push I needed because five months after it did, Rose and Basil took form at 104 East 7th Street.
Now that you're an established owner and chef, what does a typical day entail?
My days now start with notes on recipes, marketing strategies, and emails. Afternoons revolve around numbers, and evenings are all about creating the next big thing at Rose and Basil. My sources of inspiration are the important people in my life, and each recipe is shaped with one of them in mind. There is a story in each, and every taste awakens memories. Because of that, I am fascinated with involving all senses into my recipes.
• First is visual: Be they food or beverages are what I think of as little works of art, to be enchanting and bring smiles.
• Second is olfactory: This stage involves a daring and pioneering use of herbs and flowers. Our drinks are adorned with fresh flowers, so before you sip, you get the delicate smell of the flower, making the experience much more special. In that same way, our cakes capture your attention from the moment you see them.
• Third is taste: Be it delicate and light or bold and innovative, we have something for everyone.
• Lastly is how you feel: I often overhear people commenting about eating out at various restaurants around town who feel terrible afterward. Our ingredients and my recipes are created in such way that minimizes all after-meal effects. It all makes my work complete.
There is a routine somewhere in there, but no day is the same. While I'm in the café, I can be lucky enough to interact with someone who looks at what we do, tastes, and wonders. Best of all, they appreciate.
For more information on Rose and Basil, visit roseandbasil.com.