DAN AYKROYD
Stirring Up The World Of Spirits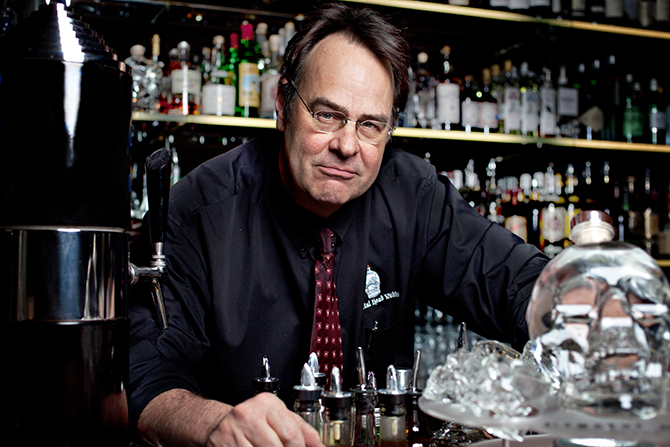 By Darren Paltrowitz
Alegendary actor, screenwriter, producer, director and musician, Dan Aykroyd has been at the forefront for over 40 years. Beyond being synonymous with New York through his work on Saturday Night Live and Ghostbusters, Aykroyd also holds his own as a co-founder of both The Blues Brothers and the House Of Blues chain of music venues. Beyond entertainment, Aykroyd has also succeeded as a philanthropist—he helped start the Blue Line Foundation—within the wine and spirits world.
In 2007, Aykroyd conceptualized Crystal Head Vodka alongside artist John Alexander. Crystal Head's vodka is quadruple-distilled and seven times filtered; the final three filtrations are done through Herkimer diamond crystals. Beyond the production quality, what is also unique about Crystal Head is that it is served in a skull-shaped glass bottle, as manufactured by the Milan-based Bruni Glass. The brand was the official vodka of the Rolling Stones 50th Anniversary Tour and received Gold Medals at the 2016 and 2017 editions of the San Francisco World Spirits Competition.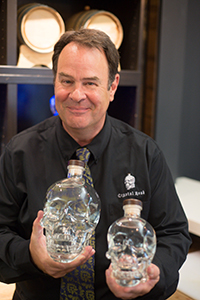 New York Lifestyles Magazine had the pleasure of speaking with Dan Aykroyd about Crystal Head Vodka—and plenty more.
I've read that Crystal Head Vodka came from your interest in having an additive-free vodka on the market. When did you first become aware of additives?
It probably was about 10 or 11 years ago, when a friend noticed the masked smell and taste of other vodka products on the market.
What came first: the Crystal Head name, or the design concept?
The bottle idea came first. Once we had the first prototype in our hands though, the name came pretty quick as it looks like one of the legendary crystal skulls found around the world. It seemed like a natural to us.
Did the design of the body always look like it does now? Or did it change over time?
The bottle didn't change much from the first drawings. There were a couple of minor tweaks to it, but that was it.
Has vodka always been your drink of choice?
I enjoy all kinds of alcoholic beverages if they are well-made. I have become more partial to vodka over the years because I just love that we have made such a clean, pure product. Until Crystal Head came along, I didn't drink nearly as much vodka.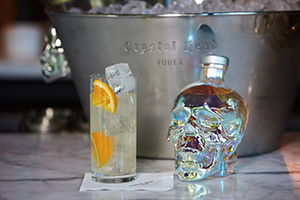 Do you usually drink Crystal Head straight? With a mixer?
I am a simple guy when it comes to cocktails. Because Crystal Head is so pure, I enjoy it on the rocks with a squeeze of lime. Also Crystal Head with freshly-squeezed tangerine juice—now that's refreshing.
Are there plans for new products or new varieties for Crystal Head?
We recently launched Aurora by Crystal Head. Aurora is an English wheat-based vodka that we make, additive-free. It is drier, bolder and a little spicier than our regular vodka. It is packaged in an iridescent metalized bottle that looks like the Aurora Borealis.
When do you feel Crystal Head went from being a "celebrity vodka" to an award-winning brand?
Within about a year of selling Crystal Head, we started entering competitions. The first one we entered we won the Double Gold at the San Francisco World Spirits Competition. Then we just kept winning more and more competitions.
You are often associated with New York City, thanks to your years with Saturday Night Live and starring in Ghostbusters. Do you still spend much time in New York?
Not as much time as I would like to. I've lived in New York City—there's just no other place like it.
Do you have a favorite restaurant in New York?
How can you possibly just have one favorite restaurant in a city like New York? The bar keeps getting higher and higher for New York restaurants. They only get better and better all the time. I don't know how I could just pick one restaurant.
A lot of people may not realize that you were one of the founders of the House of Blues chain. Has attending concerts always been one of your main hobbies?
I have always loved music, movies and entertainment in general. I still love going to concerts and watching movies. That will probably never change.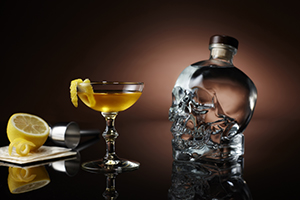 Do you have any upcoming film or work projects you would like to share?
I am pretty much spending my time with Crystal Head and doing some Blues Brothers concerts with Jimmy [Belushi]. I still may do the odd part in a movie, and I enjoy writing, but I really enjoy being in the alcohol business. There are some great people in the industry, and I have learned a lot in a short time.
Concerts aside, when not busy with Crystal Head or work projects, how do you like to spend your free time?
I love spending time with family and being up at my farm in Canada.
For more information on Crystal Head vodka, visit crystalheadvodka.com.