MUSEUM HAPPENINGS
Spring Art Shows Around Town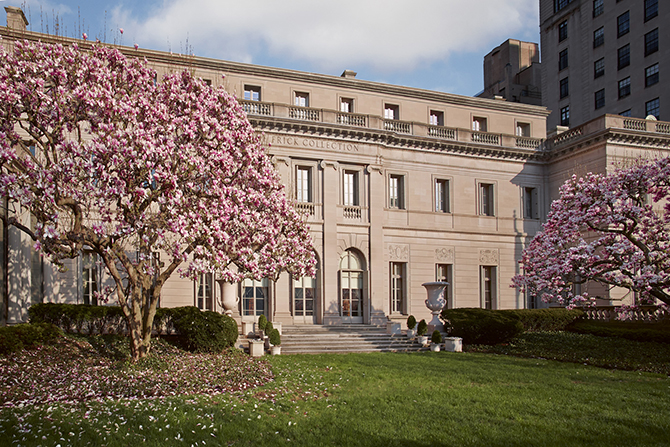 By Clint Brownfield
Spring ushers in a spectacular array of exhibitions around the city—proving once again that New York is indeed the art capital of the world.
THE FRICK COLLECTION
Zurbarán's Jacob and His Twelve Sons
(Through April 22nd)
The Frick Collection, or The Frick, as most New Yorks call it, has one of the best name recognitions in the city. You know Spring has arrived in New York when the Frick's famous pink magnolia trees begin to bloom—not to mention the riot of color that's also beginning to bloom across the street in Central Park. With it's location at 5th Avenue and 70th St., the museum is a dazzling blend of the mansion built and occupied by Henry Clay Frick (1849-1919) and the collections of art and objects he amassed during his lifetime. In addition to seeing the fabulous house and collections you can, at no extra charge, also view a number of special exhibitions during the year.
Running through April 22nd the Frick is showing, for the first time in North America, all of the13 bigger-than-life paintings from the Old Testament of Jacob and his Twelve Sons, by Spanish master Francisco de Zurbarán (1598-1664). This truly remarkable series is derived from the Blessings of Jacob in Chapter 49 of the Book of Genesis, a poem that has significance for Jews, Christians, and Muslims. On his deathbed, Jacob called together his sons, who would become the founders of the Twelve Tribes of Israel. He bestowed on each a blessing, which foretold their destinies and those of their tribes. Jacob's prophecies provide the basis for the manner in which the figures are represented in Zurbarán's series. On loan from Auckland Castle in England, this landmark exhibition is not to be missed. The opportunity to view them all at once, in a gorgeous room at the Frick, may never come along again. Info: frick.org.
---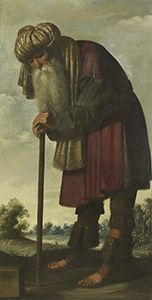 Jacob
METROPOLITAN MUSEUM OF ART
Thomas Coles Journey
Atlantic Crossings
(Through May 13th)
The Met's unparalleled comprehensive permanent collection and special exhibitions each year make this museum one of the city's most visited attractions. More than 7 million people visited the Met last year, including the Met Breuer and the Cloisters. This landmark exhibition of over 70 works coincides with the 200th anniversary of Cole's first Atlantic crossing in 1818, when at age 17 he emigrated from England to the United States. In just a few years he would become the founder of America's first art movement—the Hudson River School. Among the American artists he would mentor along the way include such budding superstars as Asher B. Durand and Frederic E. Church.
The show examines in depth Cole's return journey to England in 1829–31 and his travels in Italy in 1831–32. Two of his most iconic masterpieces are on view: The Oxbow and The Course of Empire—created between 1832 and 1837, shortly after his return to New York. Born in England in 1801, he became a naturalized U.S. citizen in 1834. He would only live to be 47 years old but to this day he is celebrated as one of America's most preeminent landscape painters. On view are many of his masterpieces from the Met's permanent collection as well as major works borrowed from other institutions such as the New York Historical Society and the Yale Center for British Art. Info: metmuseum.org.
Public Parks, Private Gardens: Paris to Provence
(Through July 29th)
Also at the Met, this exhibition is a great way to get into a very Spring mood. Some 150 works by more than 70 artists, spanning the late 19th through early 20th century are on view highlighting the importance of the rise of public parks and private and public gardens that reached a fever pitch in Paris and France in the mid-1800s—ushering in Impressionism and Art Nouveau. In addition to the flowers that may be blooming in Central Park, prepare yourself for a major look at the Met's vast holdings of works produced in this era as well as major works borrowed from institutions and private collections around the world. If an April shower should loom on the horizon you can see all the flowers you can imagine at this landmark exhibition.
---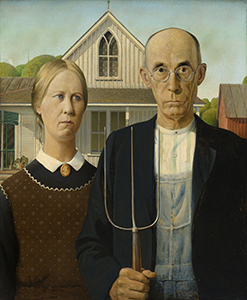 American Gothic
WHITNEY MUSEUM OF AMERICAN ART
Grant Wood: American Gothic and Other Fables
(Through June 10th)
Grant Wood's American Gothic is in New York! This iconic American classic rarely leaves the walls of the Art Institute of Chicago. But leave it to the folks at the Whitney to somehow manage to bring it to New York. The iconic (and much-spoofed) double portrait of a pitchfork-wielding farmer and a woman commonly presumed to be his wife (she was actually Wood's sister) is America's most recognized and recognizable painting--maybe only rivaled by the Mona Lisa, which rarely leaves the walls of the Louvre in Paris.
But wait, there is more…much more! Wood's career consists of far more than one single painting. This show brings together the full range of his art, from his early Arts and Crafts decorative objects and Impressionist oils through his mature paintings, murals, and book illustrations; revealing a complex, sophisticated artist whose image as a farmer-painter was as mythical as the fables he depicted in his art. More than 130 works by Grand Wood form this landmark retrospective exhibition, including such easily recognizable paintings as: The Midnight Ride of Paul Revere and Parson Weems' Fable. If you thought George Washington really chopped down a cherry tree and couldn't lie about it, then think again. This painting will enlighten you. Info: whitney.org.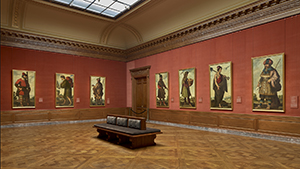 Zurbarán installation
AFTER THE WHITNEY
The Whitney is at the southernmost end of the High Line at the corner of Gansevoort and Washington Streets. So after taking in the Grand Wood exhibit you can do what just about every New Yorker and visitor to New York does these days—walk the High Line. This instant classic reaches up to West 34th Street, where along the way, you can take in the gorgeous landscaping and views of the Hudson River and also witness some off the most ambitious building projects in Manhattan. TThere are plenty of places to pause, catch your breath, and perhaps have a bite to eat or sip on a beverage to fortify yourself on the nearly two-mile walk. Info: thehighline.org
---
UP THE HUDSON This spring is a great time to travel up the Hudson where one can still see many of the scenes painted by Cole and his disciples. Cole's home and studio (thomascole.org) are open to the public in the town of Catskill and Frederic Church's home, Olana (olana.org), located just across the Hudson in Columbia County, is also open to the public as Olana State Historic Site. Put both of these on your Spring travel bucket list.