A COLLECTOR'S HAVEN
The Manhattan Art & Antiques Center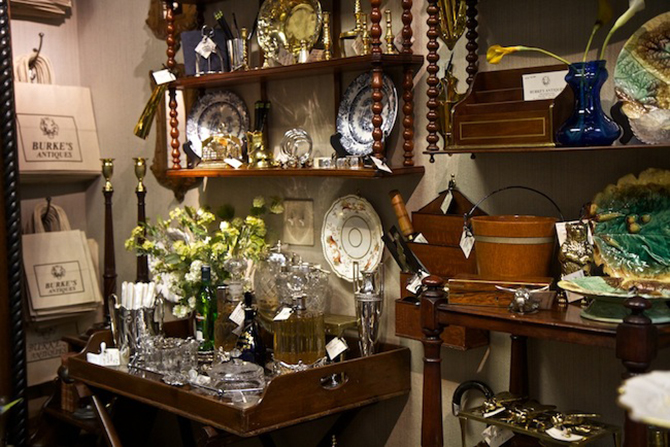 By Miriam Silverberg
The Manhattan Art & Antiques Center is one of the country's largest art and antiques centers. Three floors, close to 100 dealers showcasing fine art and antiques, vintage jewelry, silver, furniture and much more. European, Asian, and African art is also on display at this treasure trove of cultural antiquities.
Whether you're looking to buy, sell, or just take in some of the many wonders of the world, the Manhattan Art & Antiques Center is a must. It is where collectors and connoisseurs come to buy and add to their Collections.
---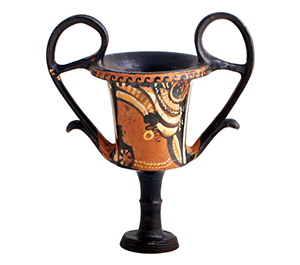 Palmyra greek apulian red figure kantharos
Palmyra Heritage Gallery
"What is this?" I asked as I held a silver Hemistater Sardes mint coin from 564-553BC. This was the first coin ever minted in ancient Greece, and it weighed 5.12 grams made of silver. Morris Khouli, the owner of the gallery, explained that "it is priced at $800." Something else that caught my eye was a Greek Hydria Vase with three handles dating from 340BC. This would be about $12,000. Khouli, one of the most important rare coin dealers in the world, is a life member of the American Numismatic Society, the American Numismatic Association, and The Florida Numismatic. Info: palmyraheritagegallery.com.
---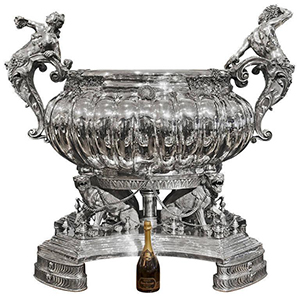 Anthony Mammon's Estate Silver
ESTATE SILVER CO.
Are you interested in buying a Sterling Silver Wine Cooler from the 20th century modeled after the original by Kandler in London 1735? The original is in the Hermitage Museum. However, there are some silver-plated copies in museums. Estate Silver Co. has the only sterling silver one for sale and it weighs around 400 lbs (it comes on wheels). If you want it, you'd better hurry as the price is $1.6 million. Don't be scared off, though, owner Anthony Mammon also has items starting at $100. Info: estatesilver.com.
---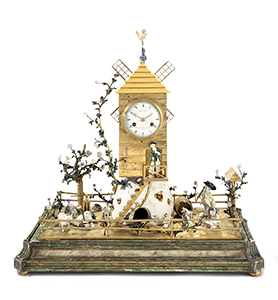 HADASSA ANTIQUES GALLERY
This gallery caught my eye with its display of porcelain, paintings, silver, furniture, and Ancient art. Isaac, one of the owners, showed me around and I was enthralled with the Louis XV Ormolu and Meissen Porcelain-mounted automaton centerpiece clock, circa 1760-1780. The clock is in an igloo surrounded with figures and animals. The price is $50,000. There was another French Empire clock dating from 1820 depicting a fortress and seaside tower; priced at $15,000. Before I left, a beautiful porcelain vase from 1878 Gustavsberg Stockholm, Sweden caught my eye. It depicted offerings to the Queen based on the various trades in Sweden at the time. Isaac said it was meant to commemorate a special occasion" and is indeed memorable and priced at $75,000. Info: hadassinc@aol.com.
---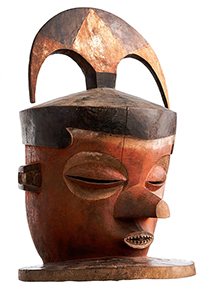 Pende Mask
HEMINGWAY AFRICAN GALLERY
Of course, the Hemingway Gallery is a must-see at MAAC. Logan Gaisford, one of the owners, told me, "We're the leading dealers in African art." They also do a great deal to stop the killing of animals in Africa. She showed me some pieces they had bought from the son of Jean-Pierre Hallet, a French adventurer in Africa who brought back some of the foremost pieces of art—"all made of wood and costing near $20,000." If you have the room, take a peek at the Cuba Helmet Masks from the Congo at $5,000. Info: hemingwayafricangallery.com.
---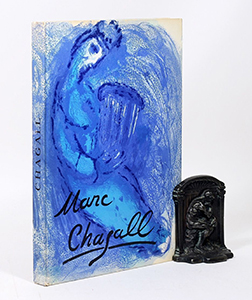 Chagall
MANHATTAN RARE BOOKS
I ended my tour at the Manhattan Rare Book Company—I didn't want to leave. Owner Michael DiRuggiero deals in first editions, autographed letters, manuscripts, and photographs. He showed me an original book by Chagall with his full-page color drawings from 1966 for $40,000. Another item that took my breath away was a Vitruvius architectural book with engravings by DaVinci from 1521. DiRuggiero said, "This is considered one of the most beautiful illustrated books in the world of the Italian Renaissance; it's $75,000." We looked at the earliest known signed photo of William Butler Yeats from 1904 for $17,500. He told me he is "one of the leading authorities on Albert Einstein" and showed me a letter from the genius to his son in 1937 giving advice and discussing Freud and Shakespeare. A rare find at $60,000. Info: manhattanrarebooks.com.
---
For more information on The Manhattan Arts & Antiques Center, visit the-maac.com.